Newsflash
Fujitsu launches 'Digital Factory' on Microsoft commercial marketplace
Fujitsu Limited
Tokyo, July 31, 2023
Fujitsu today announced that it has become a Microsoft Cloud for Manufacturing Partner in July 2023, launching its Digital Factory solution on Microsoft commercial marketplace.
Fujitsu's Digital Factory solution is designed to optimize enterprise operations and enhance availability, performance, and quality for customers in the manufacturing industry. By aligning all operations with end-to-end business value chains, the solution addresses challenges including craftsman shortage and labor enablement at manufacturing facilities. Leveraging Fujitsu's expertise in manufacturing end-to-end processes, the solution utilizes Microsoft Cloud Services as the foundation to enhance manufacturing processes, streamline data collection, analysis, visualization, and operations management, enabling real-time decision-making and improving productivity.
Fujitsu's Digital Factory solution incorporates IT/IoT/OT technologies to achieve higher levels of productivity and sustainability. It also leverages AI to provide the right processes, assisting craftsmen and offering clear visibility through back-end solutions and real-time information on the factory floor while ensuring factory cybersecurity.
Through this solution, factories can achieve data-driven decision-making to address manufacturing site issues such as productivity, quality, and cost. This improves the efficiency of human work, standardizes processes, and enables shorter labor enablement periods through AI assistance. It creates an attractive work environment for the younger generation and supports the goal of achieving Carbon Neutrality.
The Microsoft Cloud for Manufacturing relationship between Microsoft and Fujitsu aims to help customers transform their businesses by delivering impactful, human-centered solutions to the market. By combining advanced technologies and know-how from both companies, we are launching offerings that will have a significant impact on the market.
"We are honored to announce that Fujitsu has joined the Microsoft Cloud for Manufacturing partner program with the launch of our Digital Factory solution available on the Microsoft commercial marketplace. During Microsoft Inspire, where Fujitsu was recognized for its accomplishments in 2023 as the Microsoft Partner of the Year and Microsoft Japan Partner of the Year, we showcased our manufacturing solutions, including Digital Factory on the Microsoft commercial marketplace. These solutions contribute to digital transformation for the global market. Going forward, we are excited to leverage these capabilities and strengthen our relationship with Microsoft to accelerate customers' sustainability transformation (SX) and create a sustainable society through digital innovation," said Yoshinami Takahashi, SEVP, Head of Global Business Solutions Business Group, Fujitsu Limited.
"Microsoft Azure helps Fujitsu deliver solutions that allow customers to focus more on their factories and less on managing servers," said Dominik Wee, Corporate Vice President, Manufacturing and Mobility, Microsoft. "The Digital Factory addresses a variety of issues related to the manufacturing industry and allows customers to take advantage of the flexibility and enterprise-grade reliability that Azure provides."
Looking ahead, Fujitsu will continue to foster partnerships with manufacturing customers and business partners, focusing on innovative and reliable technologies. As a sustainability transformation partner, Fujitsu's "Sustainable Manufacturing" solutions support sustainable growth and the coexistence of nature and humankind through innovation in manufacturing and across the supply chain. We will collaborate with customers to address environmental challenges and transform businesses to realize sustainable economic growth, in line with our vision for "Fujitsu Uvance" – innovative solutions that tackle customers' business challenges and solve societal issues.
In the near future, Fujitsu will be launching an offering based on market demand: the MS HCI EDGE solution (1), which enables existing factories to become digital factories. HCI EDGE serves as a single point of contact for PLC, sensor, and application data intake, harmonizing various PLC data models into OPC UA. It enables on-site data-to-information conversion, local virtual Linux and Microsoft applications, and visualization. Fujitsu conducted the first proof-of-concept with a customer two years ago, and after transitioning to HCI hardware, agreed to perform two different pilots in a real factory environment.
Fujitsu PRIMEFLEX for Microsoft Azure Stack HCI is based on Fujitsu's design, has been validate by Microsoft . It is available to customers as a managed service. By integrating HCI EDGE with Fujitsu's Azure-based ISO 22400 OEE (Overall Equipment Effectiveness) dashboard offering, customers can enhance factory operations and benchmark different factories against each other. Looking ahead, Fujitsu is also conducting research on ChatGPT for manufacturing to leverage HCI EDGE factory data intake more effectively.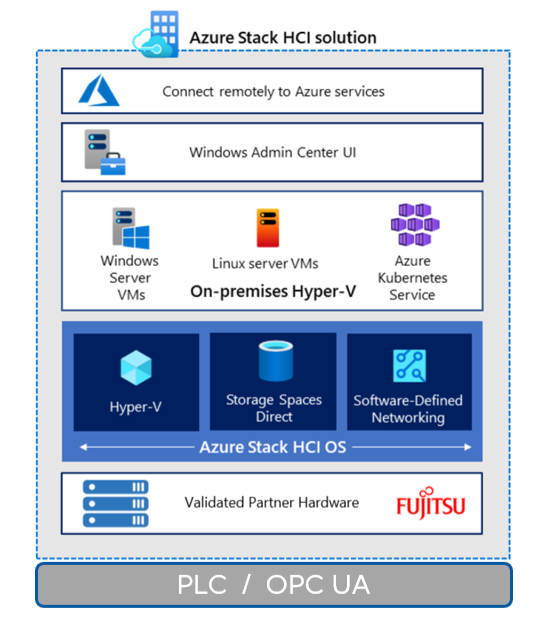 ---
[1]

Fujitsu Digital factory :
MS HCI EDGE solution landscape
Related Links
Microsoft Cloud For Manufacturing
Fujitsu Digital Factory at Microsoft Market Place
About Fujitsu
Fujitsu's purpose is to make the world more sustainable by building trust in society through innovation. As the digital transformation partner of choice for customers in over 100 countries, our 124,000 employees work to resolve some of the greatest challenges facing humanity. Our range of services and solutions draw on five key technologies: Computing, Networks, AI, Data & Security, and Converging Technologies, which we bring together to deliver sustainability transformation. Fujitsu Limited (TSE:6702) reported consolidated revenues of 3.7 trillion yen (US$28 billion) for the fiscal year ended March 31, 2023 and remains the top digital services company in Japan by market share. Find out more: www.fujitsu.com.
Press Contacts
Fujitsu Limited
Public and Investor Relations Division
Inquiries
---
All company or product names mentioned herein are trademarks or registered trademarks of their respective owners. Information provided in this press release is accurate at time of publication and is subject to change without advance notice.
Date:
31 July, 2023
City:
Tokyo, Japan
Company:
Fujitsu Limited