Fujitsu launches AI platform "Fujitsu Kozuchi," streamlining access to AI and ML solutions to contribute to a sustainable society
Fujitsu Limited
Tokyo, April 20, 2023
At its Fujitsu Activate Now Technology Summit in Madrid, Fujitsu unveiled a new platform, "Fujitsu Kozuchi (code name) – Fujitsu AI Platform," delivering access to a range of powerful AI and ML technologies to commercial users globally.
The new platform enables customers from a wide range of industries including manufacturing, retail, finance, and healthcare to accelerate the testing and deployment of advanced AI technologies for the unique business challenges they face with a portfolio of tools and software components based on Fujitsu's advanced AI technologies. The platform features best-of-breed tools including Fujitsu AutoML solution for automated generation of machine learning models, Fujitsu AI Ethics for Fairness for testing the fairness of AI models, Fujitsu's AI for causal discovery and Fujitsu Wide Learning to simulate scientific discovery processes, as well as streamlined access to open-source software (OSS) and AI technologies from partner companies.
Leveraging the expertise and feedback of various stakeholders including developers and users of AI, the new platform aims to ensure the reliability of AI solutions to accelerate social implementation of AI solutions and contribute to the realization of a sustainable society.
Fujitsu will start offering tools including AI innovation components and AI core engines via the new platform to global users starting April 20, 2023.
To further bolster the offerings of the new platform, Fujitsu will actively engage in open-source community activities with The Linux Foundation and promote co-creation activities with customers from the R&D stage to speed up the delivery of innovative AI solutions for its "Fujitsu Uvance" portfolio.
Connecting users to the right AI solution for their business challenges
AI and ML technologies represent a key element in efforts to transform and streamline operations across a wide range of industries and business areas. The choice of the right combination of AI solutions to resolve unique and often complex problems remains an ongoing challenge for many businesses, however, often hampering successful application of AI technologies in actual operations.
To address this issue, Fujitsu launched its new AI platform providing leading-edge AI innovation components and AI core engines, easing the path to applying AI in business operations by enabling faster verification of different potential AI solutions by customers.
To create an agile development cycle and continuously improve components and engines based on customers' feedback, Fujitsu will offer new advanced AI technologies from their R&D stage on the platform. Fujitsu further aims to enhance AI technologies through co-creation with customers and explore the application of AI to new use cases.
New platform overview:
The "Fujitsu Kozuchi (code name) – Fujitsu AI Platform" features the following solutions:
AI innovation components include:
AI solutions for workflow analysis and product defect inspection in smart factories, consumer behavior analysis in smart stores, and suspicious behavior detection in smart cities
AI core engines include:
Fujitsu AutoML for automated generation of machine learning models
Fujitsu AI Ethics for Fairness for testing the fairness of AI models
AI for causal discovery to comprehensively extract important causal relationships from various data to derive new discoveries
Fujitsu Wide Learning for simulation of scientific discovery processes

Contributing to faster development and implementation of advanced AI solutions
1. Customer-oriented AI innovation components to speed up AI implementation processes
The new platform offers a combination of AI solutions tailored to customers' problems within individual use cases. By providing Fujitsu's cutting-edge AI technologies as well as OSS and AI technologies of partner companies in a standardized and optimized form, the platform enables demonstration trials without requiring technological research or selection processes by customers, thus significantly speeding up the verification of AI technologies. Within a previous use case, a customer from the manufacturing industry using the platform's components for work-flow analysis succeeded in reducing time required for the construction of a demonstration system from three months to three days.
2. AI core engines to provide customers access to advanced AI technologies
In addition to AI innovation components, the platform features "AI core engines," tools and software components that are based on Fujitsu's advanced AI technologies. By offering direct access to its cutting-edge technologies, Fujitsu aims to support customers in exploring new business areas and improving efficiency of their own AI development and operation processes
Fujitsu AutoML, an AI core engine for automated generation of machine learning models enables customers to quickly develop individual high-precision AI models.
3. Technologies to support reliability of AI
Reliability of AI solutions represents an increasingly important issue. To contribute to the realization of a safe and secure utilization of AI, the platform provides Fujitsu's trusted AI technologies including AI ethics technology to ensure ethical development and use of AI, AI quality technology to guarantee accuracy and precision of AI models, as well as AI security technology to protect AI models from cyber-attacks.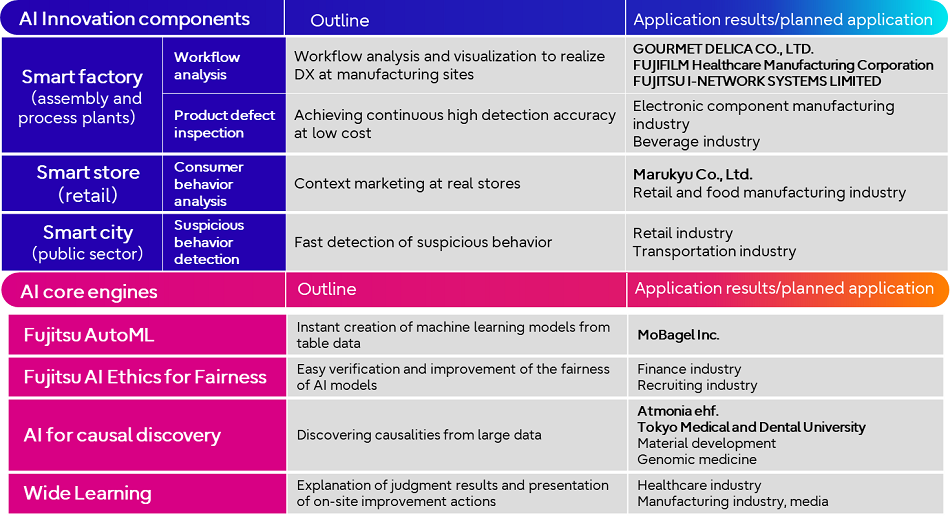 Future Plans
Moving forward, Fujitsu will add new AI innovation components and AI core engines for areas including smart factories, smart stores and smart cities, as well as finance and healthcare. Fujitsu will further promote open innovation with customers and partners from a wide range of industries, starting with a joint project with The Linux Foundation, an open-source community, to enhance AI innovation components and AI core engines in cooperation with the global developer community.
Fujitsu will continue cooperation with external partners to further bolster offerings of the new platform and contribute to the resolution of various societal and business challenges through AI.
Attachment:

Comments from customers and partners
Related Links
Fujitsu's Commitment to the Sustainable Development Goals (SDGs)
The Sustainable Development Goals (SDGs) adopted by the United Nations in 2015 represent a set of common goals to be achieved worldwide by 2030.
Fujitsu's purpose — "to make the world more sustainable by building trust in society through innovation" — is a promise to contribute to the vision of a better future empowered by the SDGs.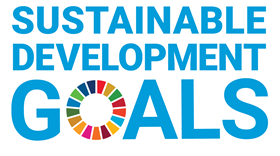 About Fujitsu
Fujitsu's purpose is to make the world more sustainable by building trust in society through innovation. As the digital transformation partner of choice for customers in over 100 countries, our 124,000 employees work to resolve some of the greatest challenges facing humanity. Our range of services and solutions draw on five key technologies: Computing, Networks, AI, Data & Security, and Converging Technologies, which we bring together to deliver sustainability transformation. Fujitsu Limited (TSE:6702) reported consolidated revenues of 3.6 trillion yen (US$32 billion) for the fiscal year ended March 31, 2022 and remains the top digital services company in Japan by market share. Find out more: www.fujitsu.com.
Press Contacts
Fujitsu Limited
Public and Investor Relations Division
Inquiries
---
All company or product names mentioned herein are trademarks or registered trademarks of their respective owners. Information provided in this press release is accurate at time of publication and is subject to change without advance notice.
Date:
20 April, 2023
City:
Tokyo, Japan
Company:
Fujitsu Limited