Sumitomo, Tokyu Railways, and Fujitsu Conduct Demonstration Experiment on the Use of Private 5G Systems in the Railway Industry
Sumitomo Corporation, TOKYU RAILWAYS Co., Ltd., Fujitsu Limited
Tokyo, August 31, 2021
Sumitomo Corporation (Head Office: Chiyoda-ku, Tokyo; Representative Director, President and Chief Executive Officer: Masayuki Hyodo), TOKYU RAILWAYS Co., Ltd. (Head Office: Shibuya-ku, Tokyo; President & Director and President: Isao Watanabe, hereinafter, "TOKYU RAILWAYS") and Fujitsu Limited (Head Office: Minato-ku, Tokyo, Representative Director and President: Takahito Tokita, hereinafter, "Fujitsu") (collectively, "the three companies") will start conducting a demonstration experiment to promote the use of private 5G systems to enhance railway track abnormality detection and train operation support functions (hereinafter, "the demonstration experiment"). The demonstration experiment will be started at Jiyugaoka Station on the Tokyu Toyoko and Oimachi Lines in December 2021, having been selected today to be one of the projects to be implemented under the Ministry of Internal Affairs and Communications' "FY2021 Development Demonstrations for Realizing Private 5G to Solve Local Issues."
Recently, the Japanese railway industry has been facing workforce shortages of workforce and of skilled engineers in the face of a decreasing birthrate and aging society. Against this backdrop, local 5G systems are expected to provide an infrastructure necessary to foster the automation, labor-saving and safety of on-site operations conducted by railway companies. Private 5G systems refer to private wireless communication systems that enable local governments, companies and others to build 5G networks flexibly in local areas. By building a private 5G network for a specific area, it is possible to own a communication network that provides high-speed, large-capacity, ultra-low latency and massive machine-type communications and is also stable, being independent of the external environment.
The demonstration experiment will be conducted in a private 5G environment to be built at Jiyugaoka Station for the period from December 2021 to March 2022. Specifically, images captured by train- and platform-mounted high-resolution 4K cameras will be transmitted via the private 5G system and analyzed by AI to increase the efficiency and promote the sophistication of the railway track patrols and signaling to have train car doors closed, for which visual inspections have been necessary. In the experiment, the effectiveness of the use of the private 5G system and its performance will be evaluated to identify any problems and to examine the practicality of further spreading the use of private 5G systems. Sumitomo Corporation will serve as supervisor of the experiment by concluding a contract agreement with Mitsubishi Research Institute, Inc., which has concluded an agreement with the Ministry of Internal Affairs and Communications. TOKYU RAILWAYS will provide the site for the experiment and verify the effectiveness of the experiment, while Fujitsu will build a private 5G wireless network for the experiment and evaluate its performance.
The three companies aim to build a general-purpose model for the future use of private 5G systems across the railway industry and will also create a new digital solution to ensure railroad safety and increase operational efficiency, thereby contributing to solving a range of issues confronting the railway industry.
<Reference>
Outline of the demonstration experiment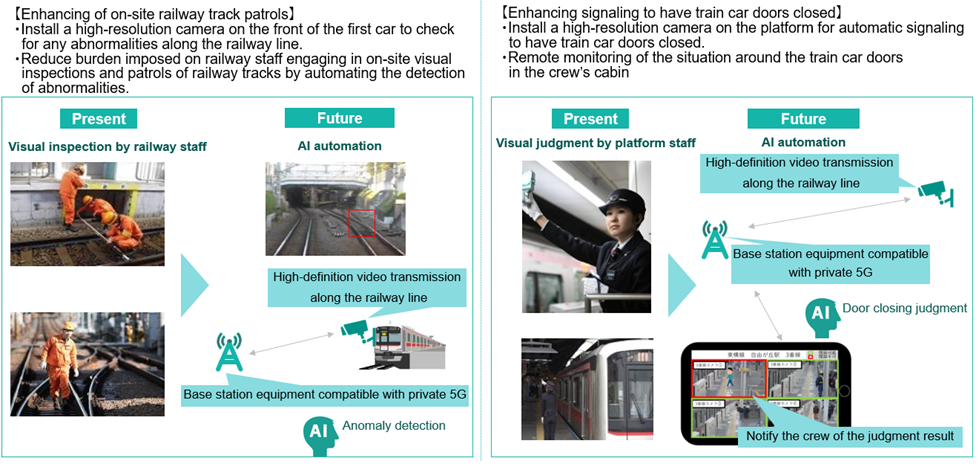 Companies supporting this demonstration experiment
SCSK Corporation, West Japan Railway Company, TOKYU CORPORATION, GRAPE ONE LTD., Insight Edge, Inc.
About 5G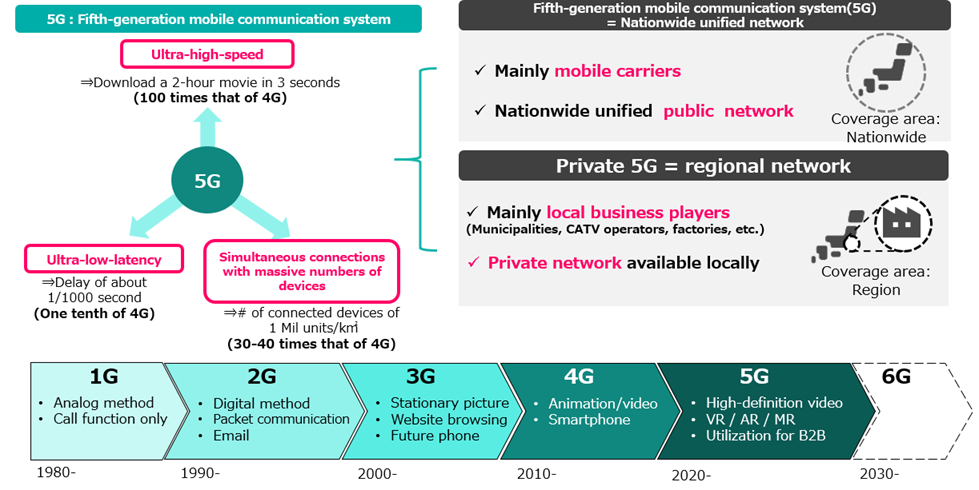 5G-related initiatives taken by the three companies
・Sumitomo Corporation
Sumitomo Corporation has been fostering the use of 5G technology by conducting demonstration experiments for the use of private 5G systems at manufacturing facilities as well as by providing base station sharing services. In June 2019, the company performed the first demonstration experiment for private 5G systems in Japan and in December of the same year launched GRAPE ONE LTD. to conduct business for wireless platforms, which are necessary to make use of private 5G systems
For details: https://www.sumitomocorp.com/en/jp/business/case/group/dx
・TOKYU RAILWAYS
In February 2021, TOKYU CORPORATION established Sharing Design Inc. jointly with Sumitomo Corporation to provide 5G-centered base station sharing services to mobile communications carriers. TOKYU RAILWAYS plans to set up base stations at its stations through Sharing Design.
・Fujitsu
Fujitsu actively leverages a range of advanced technologies including 5G to achieve its group purpose—"to make the world more sustainable by building trust in society through innovation." In March 2020, Fujitsu acquired Japan's first commercial license for private 5G and has since endeavored continuously to create new value through co-creation projects with partners and by implementing initiatives at its own plants and facilities.
For details: https://www.fujitsu.com/global/about/resources/news/press-releases/2020/0327-01.html
About Fujitsu
Fujitsu is the leading Japanese information and communication technology (ICT) company offering a full range of technology products, solutions and services. Approximately 126,000 Fujitsu people support customers in more than 100 countries. We use our experience and the power of ICT to shape the future of society with our customers. Fujitsu Limited (TSE:6702) reported consolidated revenues of 3.6 trillion yen (US$34 billion) for the fiscal year ended March 31, 2021. For more information, please see www.fujitsu.com.
Press Contacts
Public and Investor Relations Division
Inquiries
Company: Fujitsu Limited
---
All company or product names mentioned herein are trademarks or registered trademarks of their respective owners. Information provided in this press release is accurate at time of publication and is subject to change without advance notice.
Date:
31 August, 2021
City:
Tokyo, Japan
Company:
Sumitomo Corporation, TOKYU RAILWAYS Co., Ltd., Fujitsu Limited