Liberate your makers to be more creative, collaborative and customer focused
Industry 4.0 streamlines production, but it also empowers people at all levels. Machines can't replace humans when it comes to working creatively and thinking critically. Your makers' potential is unleashed by the mastery of their tools. And their 21st century toolbox is digital transformation. Liberate your makers to become changemakers, who are constantly optimizing, inventing, designing and innovating.
Smart factory transformation will empower your people, whatever their level of expertise, to make better goods, faster and more cost-effectively, while creating new services, customer experiences and business models.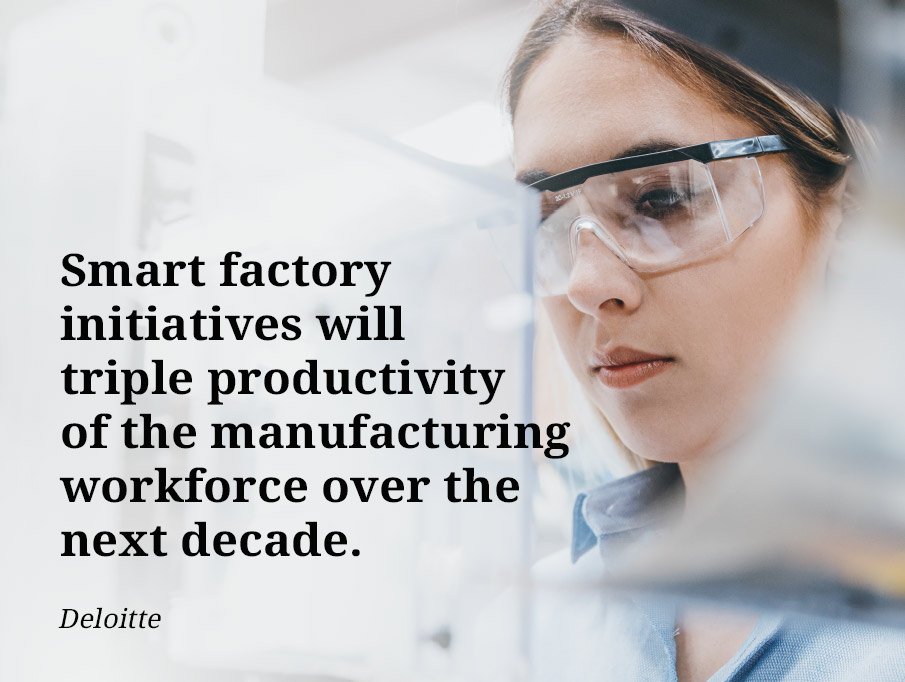 History in the making
Now is a critical moment for transforming the power of makers – because the manufacturing workforce is undergoing its biggest skills shift in a generation.
Older workers are retiring and taking their experience with them. And while younger employees are digitally savvy and keen to learn, they lack manufacturing knowledge.
Digital transformation connects your changing workforce, by transferring knowledge and enabling new, powerful ways to improve productivity and encourage innovation.
This co-creation between makers and machinery will lead to 'superjobs', which combine technical precision and automated data analysis with human ingenuity and communication.
8 reasons your makers need digital transformation technology
Easier knowledge sharing, with reduced training needs/costs
New/seasonal workers get up to speed quicker
Enhanced agility, as employee skills can be utilized flexibly
Workforce empowered to respond quickly to customer demands
Inefficient line changeovers and ramp-ups eliminated
Minimize non-compliant processes and safety incidents
Maximize product/service quality and customer experience
Build great employee experiences to reduce turnover and attrition
Deep Dive: 63% of manufacturers have already planned or deployed connected worker initiatives – discover why.
Trust a manufacturer to transform a manufacturer
Fujitsu is your ideal strategic partner as we're a manufacturer too; we have 'making' in our identity, our nature, our heritage and our passions.
Digital transformation is a journey best made one step at a time. Now is the time to take your first step.
Unlike many of our competitors, we build direct relationships with your makers. We observe them, listen, learn and question – before filling skills gaps and liberating human intelligence through artificial intelligence.
Plus, we can support your team with internal innovation tools around health, wellness, collaboration and mobility, to build employee experiences that increase people's happiness and loyalty.
Let's co-create a roadmap to smarter manufacturing, using digital transformation technologies as your 21st century makers' toolbox. Fill out the contact form and we'll get in touch.
Customer story

The challenge
Bridgestone Sales (Thailand) is a subsidiary of Bridgestone Corporation, the world' largest manufacturer of automotive tires and rubber products. They wanted to use the automation system and AI technologies to improve efficiencies of routine operations or standard work processes. These processes require staff to repeatedly do tasks.
The solution
The company decided to use RPA technology and were able to:
save 90% of the operation time, from 4 hours to 2 minutes
to save 85% of paper (from 700 pages to 100 pages)
to reduce 50% of the manual processes
to reduce mistakes in filling data and document preparation
to improve customer satisfaction with faster service
to create new business opportunities.