Oracle Services and Solutions Snapshot
Fujitsu is the only Oracle partner that covers the entire Red Stack from Applications to Storage. Beyond the technology, our key focus areas include: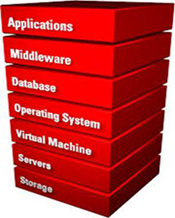 Cloud Migration Services: Moving your Oracle and non-Oracle workloads to the cloud has never been easier. We work with multiple cloud service providers including AWS, Azure, Oracle, and Fujitsu's own K5 platform. Additional options include turn-key solutions to manage your entire infrastructure and applications. Supporting public, private, and hybrid clouds, Fujitsu is here to help on your journey to the cloud.
ERP Transformations: Our templatized approach leveraging change management helps with the adoption of standard functionality and minimizes customization requests. Whether you're looking for a new implementation, an upgrade, some enhancements or optimizations, or even an assessment, Fujitsu offers a full range of options and services to meet your needs.
SmarTAMS: FUJITSU Smart Transformational Application Managed Services is a complete lifecycle solution providing proactive management of the application landscape, generating actionable business insights which guide next generation transformations.