Fujitsu - Helping veterans to transition from the military to the commercial sector
Fujitsu has a long-standing affiliation with the British Armed Forces that spans decades. Our extensive experience working within Defence and National Security, has enabled us to recognise the significant contribution that veterans and reserve personnel bring to the commercial sector.
For many years, we have helped Service Leavers to transition from military to civilian life, and have provided the opportunity for veterans to develop rewarding careers within our organisation. Our role in helping ex-military personnel to work within the commercial sector, is recognised by the UK MOD. We are exceptionally proud to say that we are Gold Award winners in the Defence Employer Recognition Scheme (ERS), which was created to encourage UK employers to support Defence and inspire other businesses to do the same.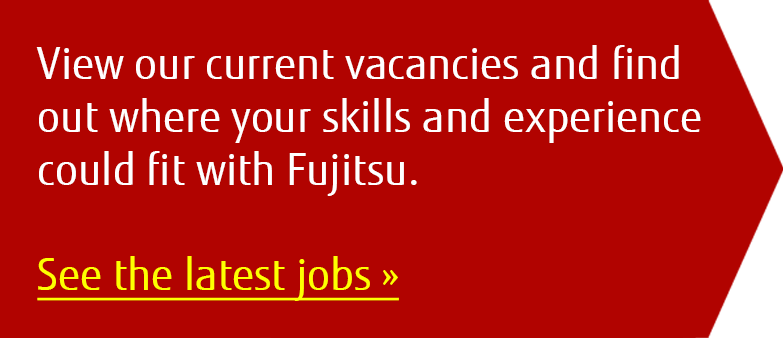 "At Fujitsu, we're proud of our long history working alongside and supporting the MOD. It's the strength of this relationship and the experience we've gained that allows us to recognise that those individuals, previously employed by the Armed Forces, can contribute a wealth of transferable skills and expertise that can benefit the individual, business and the wider community. We also recognise the important contribution made by the many citizens who form part of the voluntary reserve forces. That's why we see our continued commitment to support these contributions as a crucial aspect of our Fujitsu and Defence & National Security business"
Defence IT career opportunities
Recruitment of service leaders
Service Leavers are exactly the type of talented people that we at Fujitsu need to join our organisation. We want to help ex-military personnel develop their careers, and build upon the knowledge they have gained from their time spent serving in the Armed Forces.
Military experience of ICT makes Service Leavers a great match for Fujitsu, and we are currently recruiting for Defence business roles in areas such as; Desktop Support, Project/Programme Management, Integration, Architecture and Testing. All our positions require either DV or SC (role dependent).
Veterans
Working closely with Career Transition Partnership (CTP) and CTP Assist, we;
widely promote our vacancies to the Service leaver community
facilitate a recruitment process that recognises Armed Forces skills and qualifications
create a strong pipeline of opportunity and talent that benefits both veterans and our organisation
We have formally introduced a wide number of policies to better support veterans and their families, including the Enhanced Learning Credits Administration Scheme (ELCAS). The scheme is designed to assist service personnel with training that will enhance their current or future career prospects. Eligible employees are entitled to a number of benefits, including being able to obtain leave for one ELC claim per academic year for up to three consecutive years.
Reservists
At Fujitsu, we recognise how valuable and integral reservists are to both the UK Armed Forces and our organisation. We have therefore developed a comprehensive policy to provide commitment and support for employees who are volunteer or regular reserves, our support also extends to their spouses and family. We provide a flexible environment where reservists are given leave to attend training events and be mobilised for reservist duties as required.
Visit our Fujitsu/CTP partnering page to find out more, and see where your skills and experience could take you.
You can also contact Defence Recruitment directly.