<!-Subtext (optional)->
Responsible Business
Delivering for our people, our customers, society and the planet.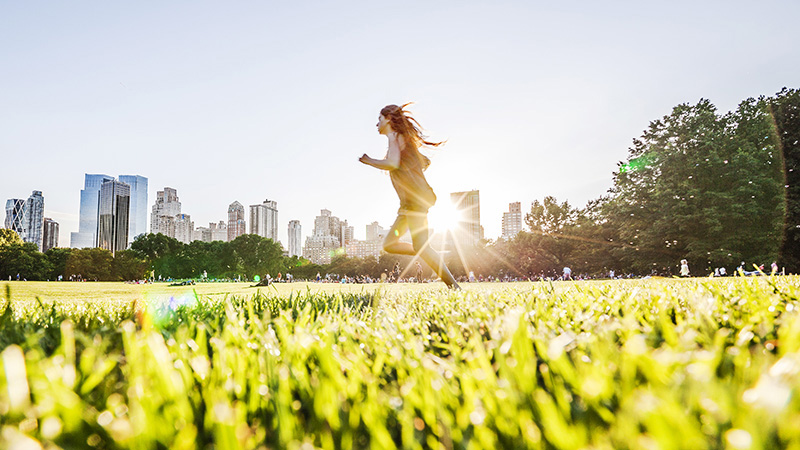 Across Fujitsu we recognise that, when implemented correctly and genuinely, responsible and ethical behaviours create shared value. Responsible Business has been a substantial part of the Fujitsu Way (our corporate philosophy) since its inception, making it an integral part of our company DNA.
In this digital age, IT is essential to our everyday lives. As a global technology organization, Fujitsu strives to make a positive impact to the society in which we operate through the solutions we develop and through our commitment to the UN Sustainable Business Goals. Our practices have been recognised and applauded externally in many benchmarks and indices, but there's always more we can do.
The approach and framework outlined below relate to the work we do across Europe. This fully aligns to our global policy and the vision of Fujitsu's President Tokita.
Our approach in Europe
Responsible practices are driven across the entire company, from protecting intellectual property rights and enforcing our human rights policy to encouraging all employees to get involved with community action projects. Our responsible business pillars – Environment, Community Involvement & Development, Diversity & Inclusion, Wellbeing and Operating Practices - are the foundation for our country level strategy whilst defining common themes across Fujitsu.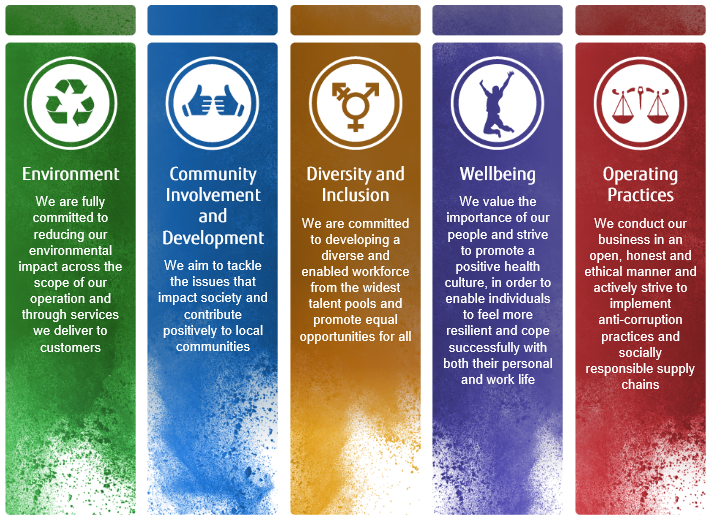 Fujitsu's Responsible Business activities in the UK and Ireland
Since 2011 our programme has continually grown and become well established. Strong leadership has ensured we have become thought leaders in topics that's surround Responsible Business, including responding to global megatrends. We have full support of our colleagues who live our values and help us to achieve our goals. We run a number of employee champion's programmes which support for example our biodiversity efforts and corporate charity partnership.
Our regional framework enables all employees to present and speak about Responsible Business in an aligned way, building a powerful narrative and strong cohesion. It helps to translate global policy into practical guidance. This includes our work with ISO26000, where we are forerunners in applying globally, and where the UK are already aligned.
A UK Responsible Business Board, including local executives, external advisors and the Managing Director is established to inspire colleagues, ensure focus on material issues, and ensure responsible business practices are firmly embedded in business planning. We also use this forum to invite external speakers to continue the learning and development of our executive team.
Working with our customers
Fujitsu is taking a leadership role, proactively pursuing our goals across our entire global value chain, with customers, partners and suppliers. We want to work with organisations who share our values and collaborate to make positive change. We continue to respond to social and environmental challenges by increasing sustainable ICT products and solutions and developing innovative technologies which reduce the environmental impact of our customers' businesses. 
In the UK we work to transform our customers' businesses across both the private and public sector. Our Responsible Business report covers our work with customers in supporting them as well as the work we do internally with and for our employees and externally to support society and the communities we reach.
Our Sustainability Engagement Team aims to increase the value of both Fujitsu and our customer's brands with consumers and stakeholders, to meet legislation targets, and deliver solutions which reduce power consumption and emissions. We are able to quantify the environmental benefits of activities carried out across the business. Through the carbon foot printing tool the team has created, a wide range of analyses can be carried out, and "next steps" consultancy services can be applied. This is further detailed in our report.
Siemens Gamesa partnered with Fujitsu to create an Artificial Intelligence platform that can identify flaws in wind turbines.