The emerging ideal workplace
Moving towards transformation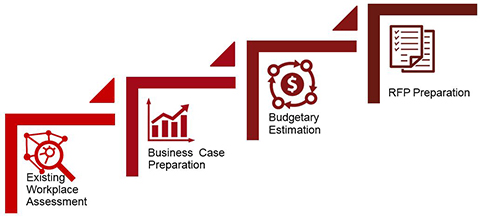 Consulting approach
As Thai businesses continue to grapple with the changing needs and demands of a workplace that must cater to the different requirements of various generations of workers, digital transformation is emerging as the way forward. Digital solutions can help address the challenges of collaboration, mobility, and security. Addressing these challenges successfully can help organizations drive growth and success.
However, for many organizations that already have a mix of legacy and new technologies in place, it can be hard to know where to start when it comes to workplace transformation. Each organization has unique requirements and the right solution can only be identified once the context of the business is completely understood.
Fujitsu's consulting model
Fujitsu Thailand takes a unique consulting approach to helping businesses set a roadmap for success.
Most vendors focus on a single project and center their discussions with customers on that project alone. However, Fujitsu's approach is to understand the challenges facing the entire business, not just in a single area. This lets Fujitsu's experts provide broad advice and recommend solutions that can work in concert to solve many challenges instead of just one.
Fujitsu does this by acting as a business partner instead of a vendor. The team works to understand the customer's business and challenges intimately. It can then develop a roadmap of solutions that the organization can implement over time to improve its performance.
Importantly, the Fujitsu Thailand team will also help the customer develop the business case that can be presented to decision-makers in the organization, helping get projects over the line. This is unique in the Thai market.
Choosing the right solution
Fujitsu Thailand offers a range of smart workplace solutions that can help organizations achieve improved collaboration, mobility, and security. These include:
Collaboration
Smart meeting rooms let all team members contribute to projects, no matter where they are in the world. It starts with clever booking systems that let team members book a meeting room using a web browser, their email, a dedicated app, a chatbot, or even the digital signage out the front of the room. Once the room is booked, the system automatically invites the participants via email.
When participants enter the meeting room, a beacon on their smart device automatically checks them into the meeting. If no one checks in within a certain timeframe, the meeting room is released so others can use it.
Meeting room lights are turned off to save energy until the first attendee arrives, at which time the lights turn on automatically. Using Internet of Things (Io) sensors, the lights brighten or dim according to the amount of natural light in the room, creating a stable lighting environment. As the presenter begins to present, lights are automatically dimmed and window blinds are automatically lowered.
The lights turn off and on to provide a warning close to the end of the meeting time to ensure the meeting finishes on time so the next group waiting to use the room can gain access on time.
Smart meeting rooms also make it easier for presenters to get straight into their presentation. Rather than plug their device into a projector using cables, they can use the room's Wi-Fi to present directly from their device. This means the presenter can deliver their presentation from anywhere in the room without being tethered to a specific location. It also means they can use their smartphone to present, simply by accessing their presentation from their team's virtual workspace. This eliminates the need to carry bulky laptops, plug in potentially-harmful USBs, or tie up IT resources to help with set-up.
Smart whiteboards let everyone in the meeting contribute their ideas even if they're not in the room physically.
Mobility
Work is no longer a place; it's an activity. Letting all staff members be productive from anywhere is a minimum standard of the modern workplace. Fujitsu takes it a step further with virtual workspaces that put all project team members on the same page, no matter where they are in the world.
Fujitsu can help organizations put all business tools at their mobile workers' fingertips. This means more than just email, it means every business app the worker requires to do their job effectively.
Fujitsu also offers state-of-the-art hotdesking for workers who are seldom in the office, letting them reserve their preferred space and making all their applications available at the desk.
Security
Managing visitors starts with lobby sign-in solutions that let people self-serve at a kiosk that can check them in and provide an access card for the facility. The card acts as a locator, so the business can track the person's location throughout their visit, which is important for both safety and security.
Workspaces are secured with access prevented for unauthorized visitors. Facial recognition and behaviour analytics help security guards to respond to incidents faster and investigate them more effectively, and track stolen or misplaced assets.
Co-creation for success with Fujitsu
At Fujitsu, we are world-leading experts in digital business transformation. We have in-depth knowledge of workplace trends and experience as a solutions integrator. We believe that digital co-creation is the fastest and most effective route to innovation and growth. Contact us to find out how our digital workplace solutions can transform your business and empower your employees.
Explore our offerings
Sakon Khiewlamyong
Smart Workplace Specialist,
Fujitsu (Thailand) Co., Ltd.

Sakon is a Smart Workplace specialist and member of Fujitsu Thailand's new pioneering team focused on digital innovation. He has more than 15 years' background in network and security designing, consulting, supporting, and troubleshooting. Sakon is focused on supporting customers for digital transformation that helps them meet business goals.