<!-Subtext (optional)->
Manage Mental Health
Mental Health Software
MasterCare+
Comprehensive Mental Health Management for Australian health systems
Global Health and Fujitsu have joined forces to bring the proven MasterCare+ mental health application to community and acute mental health facilities. Mental health professionals can now choose a single, integrated, digital client record across multiple teams, sites, programs and services.




A Complete Solution
Global Health and Fujitsu's solution for mental health provides a centralised client record with tools specific to psychologists, psychiatrists, nurses and allied health professionals in the patient care team. MasterCare+ supports the multi-disciplinary, team-based care needs of patients in a modern mental health service. Specifically, our software assists with relieving common issues:
Online Appointment Booking and Scheduling
Patient Assessment and Treatment Planning
Measuring/
Tracking Progress
Progress Notes and Clinical Documentation


Billing and Invoicing


Reporting


AOD Management


A Specialised Solution
MasterCare+ provides ample capacity to cover specialist private and public mental health services. It has a proven track record for supporting health professionals in management plans, outcome measures, data collection and reporting of all major Federal and State mental health and Drug & Alcohol programs. MasterCare+ comes ready to support specific needs such as:
Outcome Measure Collection protocols
Treatment events including Seclusion, Restraint, ECT and TMS
Review events
Mental Health Act Forms
Consent Management
A Technically Advanced SaaS Solution
MasterCare+ is licensed as a cloud-based Software as a Service. That leaves the technical management to us and allows the latest, evergreen solution version to be securely accessible from anywhere, at any time, on any connected device. The ease of use and accessibility of the solution helps mental health providers to concentrate on core business without the technical burden. The day-to-day management of the system is all handled by our experts, including:
General functionality updates
Updates to meet new regulatory requirements
Updates to reference materials (e.g. MIMS medication)
Security monitoring
Performance monitoring
Technical resource management
Business continuity and Disaster Recovery
Availability of the solution from wherever it is needed.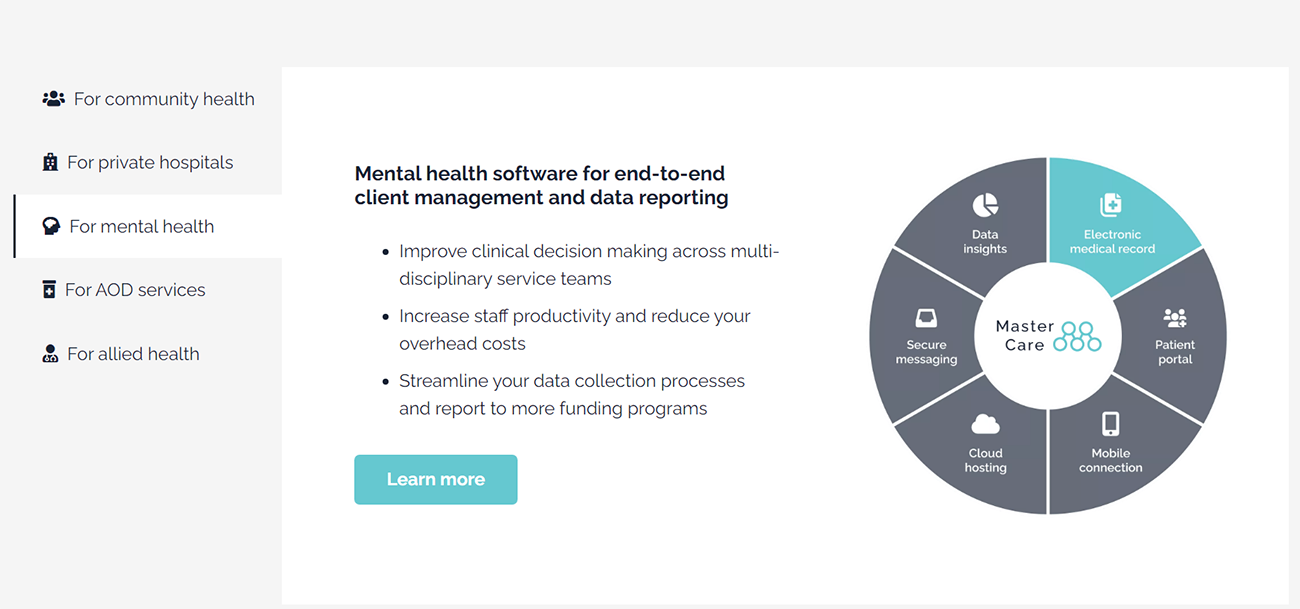 Why Fujitsu and Global Health?
Global Health and Fujitsu combine complementary skills to serve mental health providers.
Fujitsu has delivered leading technology solutions to health systems in Australia and New Zealand for over 50 years. Fujitsu hosts and manages clinical systems for hundreds of health providers from small private providers up to state-wide, public health services.
Global Health has decades of experience with solutions supporting mental health and community health requirements. Our expertise in Australian mental health requirements is unparalleled. Our specialised understanding and knowledge of provider operating environments ensures a positive experience for mental health clinicians and administrators.
Together, we improve the patient and clinician experience, improve the quality, safety and efficiency of healthcare and improve the health of the communities we serve. Fujitsu and Global Health are actively scheduling and rolling out the MasterCare+ mental health application across multiple sites and are able to provide a demonstrator site visit to interested parties.
" We feel like we get a personalised service. We have been able to make changes to the software to suit our purposes and any troubles have been dealt with promptly and professionally."  
Perinatal and Infant Mental Health Specialist

Working in partnership
 



Get in touch
Let us assist you in solving your business challenges.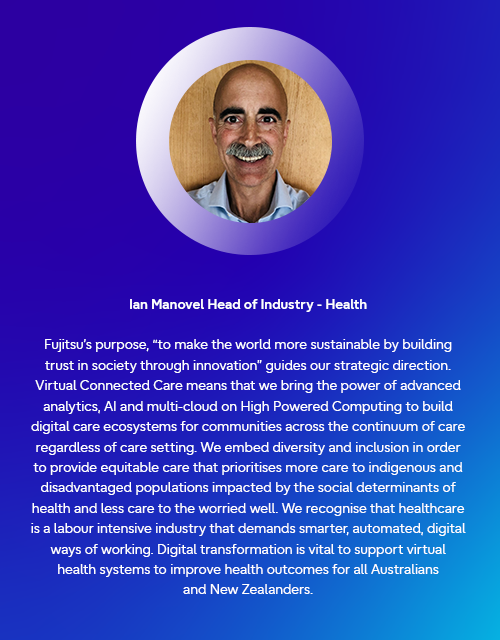 Thank you. We have received your request and will get back to you shortly.
Fujitsu Australia acknowledges all Aboriginal and Torres Strait Islander Traditional Custodians of Country and recognises their continuing connection to land, sea, culture, and community. We pay our respects to Elders past and present.