Go Beyond with Fujitsu AI Solutions
Transparent, ethical and accountable AI technologies you can trust
Now, more than ever, organisations are encountering unparalleled levels of complexity, whether that's shock pandemics, sprawling globalised supply chains, rising customer expectations or ever-increasing digital demands. To succeed and grow in this challenging world, businesses must adapt at speed and find new ways of working to generate ongoing business value.
However, businesses can only be as successful as the data they capture and integrate into their enterprise operations, which is why applying data and analytics at every opportunity is fast becoming a prerequisite for organisational success and disruptive decision making. Owing to the sheer volume, velocity and variety of data available, AI is proving instrumental in driving business insights, minimising the probability of human error, improving overall business efficiency and increasing innovation in today's connected world.
AI can analyse in an hour what would take us a lifetime, making it a strategic technology to tackle the most pressing of challenges. But it takes leadership with a clear and concise AI strategy, a knowledgeable workforce, standardised processes and the right mix of tools to convert AI-powered intelligence to practical use.

Versor, our data and AI consulting partners
As a Fujitsu company, Versor offers full breadth, end-to-end advanced analytics, business intelligence and artificial intelligence capabilities to accelerate data-driven business performance for enterprise and medium sized organisations. It has expertise across a range of industries, including Public Sector, Energy, Water Utilities, Entertainment and Retail. Underpinning its growth and customer success is its unique ability to accelerate the delivery of Data Analytics & AI solutions using its ResultsNow® Accelerators and Methodology. Versor is a Databricks Strategic Partner, Microsoft GOLD partner, and AWS Advanced consulting partner.
Co-create with Fujitsu and realise the benefits of AI
AI technology utilises data to automate and amplify human capabilities, eliminate repetitive and mundane tasks, enable accurate unbiased decision making, reduce time to market and generate additional revenue streams. While AI has many clear benefits, there are challenges to overcome to realise them - ranging from creating a deliverable strategy through to ongoing implementation.
Fujitsu is one of the few vendors capable of deploying end-to-end AI solutions - leveraging our Data-Driven Transformation Strategy we help you build the right foundation for your digital transformation. With so many potential applications for Fujitsu AI, it can be hard to know where to start, so we begin by consulting with you to co-create your AI deployment around your organisational goals.
Our human-centric approach to AI is solutions first and technology second. Instead of finding problems to solve with specific technology, we start by identifying the real, human and business challenges your organisation faces. Using our co-creation methodology, we then design an AI solution matched to your specific needs that can be deployed in weeks, not months – refer to our Network Rail case study. We draw on our broad range of capabilities to identify the most appropriate approach to help you overcome the challenges you face.
We help you to understand what AI can achieve within your organisation and how to lay the right AI technology foundations to meet your needs both now and into the future.
Our ready-to-use AI solutions leverage existing systems and infrastructure to unlock value rather than rip-and-replace.
Our focus on ethics, transparency and trust makes Fujitsu AI the benchmark for responsible, explainable AI.
AI is applying advanced analysis and logic-based techniques, including machine learning, to interpret events, support and automate decisions, and take action
Ethics by Design – Powering our AI
At Fujitsu, we believe AI is intrinsic to our future lives and commercial success, but it needs to be transparent, fair and accountable. Which is why 'Ethics by design' is a core component of Fujitsu AI.
We take an active role in AI ethics research and share our findings.
We are a founding partner of the AI4People global forum - focused on driving forward technological solutions that advance the UN's Sustainable Development Goals.
We have formed an External Advisory Committee in Japan on AI ethics to ensure the safe and secure deployment of AI in society. How Fujitsu AI solutions have helped our customers solve their business challenges
Sohan Domingo - Principal Architect
"Through co-creation we work with our clients to transform their business leveraging data, AI and new technology to provide human centric needs and goals. We support our customers by focusing on their business challenge then looking at the art of the possible to fundamentally change how our customers operate in this digital era."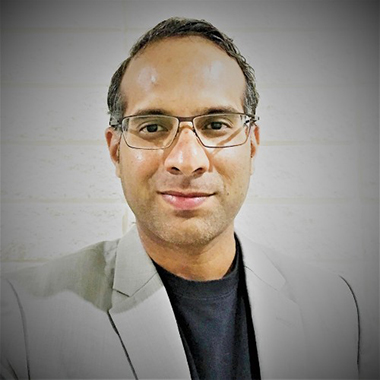 Get in touch
Let us assist you in solving your business challenges.
Thank you. We have received your request and will get back to you shortly.
Fujitsu Australia acknowledges all Aboriginal and Torres Strait Islander Traditional Custodians of Country and recognises their continuing connection to land, sea, culture, and community. We pay our respects to Elders past and present.