<!-Subtext (optional)->
Reimagining manufacturing with AI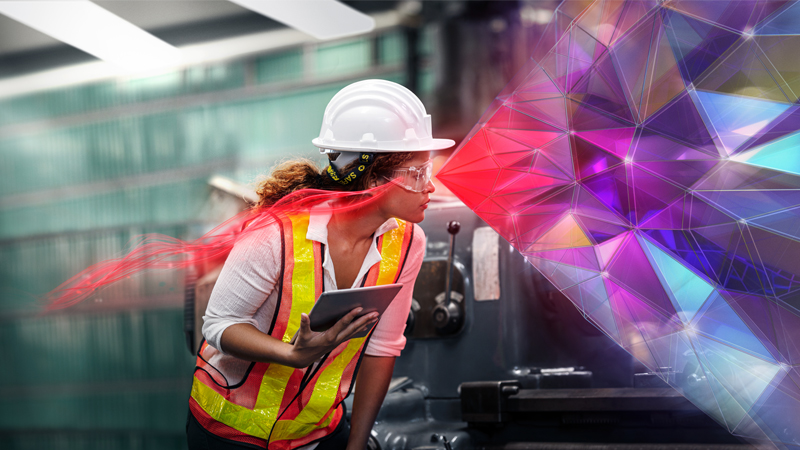 Smart Manufacturing AI Solutions
Transparent, fair and accountable AI technologies you can trust
Harnessing AI technologies is enabling manufacturers to deliver productivity improvements and intelligence to operations. Within the factory, quality control is an area that remains heavily reliant on manual inspection processes, and today, it's ripe for AI-based automation. By adding AI-driven optical inspections manufacturers can automate finding defects in product manufacturing – even those invisible to the human eye. However, quality control is about far more than just making sure each product item is flawless. It also enables manufacturers to:
better classify and differentiate their products – for instance, higher quality products can be sold at a premium
detect errors at any stage in the manufacturing process to help manage costs more effectively by reducing the amount of reworking that needs to be done
automatically adapt machine calibration in a way that increases quality without wasting materials
free workers from the performing monotonous leaving them to focus on adding value-added
Fujitsu Manufacturing AI - delivering solutions that focus on business outcomes
As well as being a world-leading AI technology partner, we're also a manufacturer with 80 years of 'making' under our belt. This means we understand the challenges you face on the road to AI adoption. Making is part of our identity, and that makes us best placed to help you because we've been there too - we've transformed our own production, making it smarter and more efficient.
Working in close partnership with our manufacturing customers, we co-create factory AI solutions that focus on delivering business outcomes. Combining the strength of our own AI capabilities with 'best of breed' global technologies, we deliver optimal AI supported solutions that directly tackle and overcome the challenges our customers face.
Artificial Intelligence in Manufacturing - Use Cases
Improving Quality Control
Repetitive visual inspection across quality control adds significant cost and time to production.
Artificial Intelligence in quality control increases product quality through automated accurate product defect identification and classification. It prevents the release of poor quality products to customers to reduce return shipments and reclamation costs. Fujitsu simplifies the application of AI to the automation of critical inspection processes, replicating the vision and judgment that only employees could previously provide.
Fujitsu AI Quality Control recognizes even tiny product defects to dramatically reduce the time needed for quality control checks by workers.
Reducing Downtime and Increasing Productivity - AI predictive maintenance
As part of Smart Manufacturing and industry 4.0, AI predictive maintenance analytics is transforming the maintenance process. Adopting a proactive predictive maintenance and condition-based monitoring model means factory maintenance will no longer be reactive, time-consuming and expensive, instead, critical issues will be predicted and prevented before they arise and cause downtime.
Predictive maintenance forms a critical part of the Fujitsu cloud-based manufacturing optimization solution. Our engineers proactively monitor your entire estate using advanced analytics to predict potential problems and resolve them before they arise. With fewer incidents and outages you are enabled to drive down costs and increase your productivity.
Financial Services AI
Fujitsu AI, a new era for banking and insurance
One example of Artificial Intelligence in Financial Services is for a bank to optimise a delivery round of money to ATM cashpoint machines, prioritised by amount. The Fujitsu Digital Annealer can instantly work out which ATMs a particular driver should visit, calculate the optimal route to take, while simultaneously suggesting how much to deposit in each machine. In financial services, companies are leveraging the technology to optimise its mix of liquid assets. The Digital Annealer has enabled the bank to complete highly-complex calculations significantly faster than traditional systems with an even higher degree of accuracy. As a result, companies are able to identify new, profitable investment opportunities while achieving full regulatory risk compliance and at the same time helps to reduce the risk of human error.
Retail AI Solutions
Fujitsu AI for retail - improving the customer experience and boosting efficiency
Within the retail industry, artificial intelligence is already helping to deliver an improved customer experience without consumers even realising. For instance, webchats with a brand or retailer use AI to respond to basic questions. As AI becomes more advanced these webchats will become more sophisticated and could provide customers with their own 24-hour personalised support. In addition, retailers are also making use of deep learning to analyse data coming from multiple channels, both digital and in-store, via sensors or video analysis, which is enabling them to deliver an enhanced and more personalised customer experience.
Mobility Services – Driven by AI
Fujitsu AI - optimal solutions that overcome mobility challenges
Artificial intelligence is set to revolutionise the transport sector – as the brains of autonomous (self-driving) vehicles. Among the early wins in this field are logistics companies, who can already optimise delivery routes in real-time to avoid delays caused by traffic congestion.
Public Sector AI Solutions
Fujitsu AI – enabling public sector transformation
Today, within both smart cities and the Public Sector the use of AI is rapidly growing - for example, surveillance cameras are increasingly active in solving incidents. Fujitsu Greenages technology is already being utilised for people and vehicle image analysis. Movies or still images taken with surveillance cameras installed around cities are being analysed using the latest AI technology to identify vehicles by type, model, and colour, to support the discovery of stolen vehicles. In addition, image recognisers can detect information about people such as sex, clothing colour, and personal belongings to support the detection of suspicious persons. In addition, it is also being used for large city events to facilitate connecting the necessary number of security personnel based on the number and flow of people.
How Fujitsu AI solutions have helped our customers solve their business challenges
Improving your Predictive Maintenance with Artificial Intelligence
Vessel Fuel Optimization for Maritime Digital Transformation
Artificial Intelligence in Retail - Less shrinkage, greater revenue and improved customer experience
Fujitsu Australia acknowledges all Aboriginal and Torres Strait Islander Traditional Custodians of Country and recognises their continuing connection to land, sea, culture, and community. We pay our respects to Elders past and present.