Smart workplaces: moving from foundation to innovation
The maturity model for a smart workplace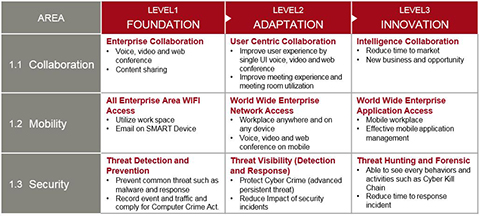 Smart workplace maturity model
When it comes to workplace transformation, Thai organizations need to understand where they are right now versus where they want to be before they can set a roadmap for transformation. To help businesses understand their smart workplace maturity levels, Fujitsu Thailand has created a maturity model.
The model describes the characteristics of an organization in the foundation stages of maturity, in the adaptation stage, and in the most advanced stage known as innovation.
The model covers the three main areas of workplace transformation: collaboration; mobility; and security.
Collaboration
Foundation: enterprise collaboration is possible with voice, video, and web conference capabilities and content-sharing.
Adaptation: user-centric collaboration improves the user experience with a single user interface for voice, video, and web conferencing, and improved meeting room experiences and utilization.
Innovation: organizations have moved towards intelligent collaboration which reduces time to market and lets businesses identify and leverage new opportunities faster.
Mobility
Foundation: Wi-Fi access is available across all areas and email is available on smart devices.
Adaptation: network access is available from everywhere, and users can access their workplace from anywhere, on any device. Voice, video, and web conferencing capabilities are available on mobile devices.
Innovation: users can access enterprise applications from anywhere with a fully-mobile workplace and effective mobile application management.
Security
Foundation: detecting and preventing common threats such as malware is possible, and events and traffic can be recorded for compliance with the Computer Crime Act.
Adaptation: organizations can protect against advanced persistent threats and gain visibility to reduce the impact of security incidents.
Innovation: organizations can move towards threat hunting and forensic investigation, with the ability to see every behavior and activity in the network, and reduce the time to respond to any incidents.
Moving from foundation to innovation
Clearly, for organizations to make the most of a transformed workplace, the goal is to move from foundation to innovation on the maturity model across all three areas of collaboration, mobility, and security. However, not all organizations are ready to move directly to an innovation model immediately. This could be due to budgetary concerns or a lack of resources to devote to projects, or it could be because the organization prefers to take a step-by-step approach to introducing new technologies.
Moving to an innovation state is the ideal for organizations that want to stand out from the crowd when attracting new talent, enabling improved productivity, and empowering employees to unleash their potential.
As workplace demographics change to incorporate more young workers who were born into a digital world, it will become essential for organizations to make themselves attractive to this young talent. Technology and smart solutions will rapidly go from being nice to have to being utterly integral to the way the younger generation works. Failing to provide the modern workplace these workers expect will mean companies are left behind in the race for top talent.
By contrast, putting smart solutions in place sooner rather than later, and creating an innovative organization, will deliver massive benefits to organizations. They'll be able to improve collaboration and productivity, letting team members contribute in meaningful ways and extending their involvement in the business for maximum results.
Consequently, innovative organizations will decrease costs and increase agility, collaboration, and productivity. Ultimately, this will add up to a more competitive and successful organization.
How Fujitsu Thailand can help: the roadmap to success
Fujitsu Thailand is unique in that it takes a consulting approach to helping clients move from foundation to innovation. Rather than simply focus on a single project, as most vendors do, Fujitsu Thailand takes a holistic view of the business and provides broader recommendations to help the business drive growth.
As part of this process, Fujitsu Thailand provides a clear roadmap that demonstrates how the business can start small, with foundation solutions, then build on these successes and create ever-increasing business value as it moves through the adaptation stage and, finally, to innovation.
Fujitsu Thailand maps this out alongside the timeframe and budget allocation that makes the most sense for the client, creating a realistic and achievable program for transformation that delivers results.
Fujitsu consultants work with clients through the process that starts with an existing workplace assessment. The team then creates recommendations and a roadmap, then helps the client prepare a business case, budget estimates, and RFP. The team works closely with clients throughout the process so the client is never on their own. It's called co-creation.
Co-creation for success with Fujitsu
At Fujitsu, we are world-leading experts in digital business transformation. We have in-depth knowledge of workplace trends and experience as a solutions integrator. We believe that digital co-creation is the fastest and most effective route to innovation and growth. Contact us to find out how our digital workplace solutions can transform your business and empower your employees.
Explore our offerings
Sakon Khiewlamyong
Smart Workplace Specialist,
Fujitsu (Thailand) Co., Ltd.

Sakon is a Smart Workplace specialist and member of Fujitsu Thailand's new pioneering team focused on digital innovation. He has more than 15 years' background in network and security designing, consulting, supporting, and troubleshooting. Sakon is focused on supporting customers for digital transformation that helps them meet business goals.