How to succeed with workplace transformation
The importance of return on investment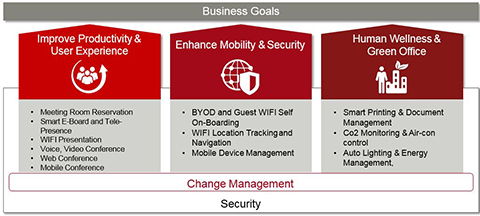 Smart workplace solution overview
As the lines between personal and professional lives continue to blur, and workers increasingly expect IT solutions at work that mirror the ones they use at home, more Thai workplaces are committing to transformation. This often requires significant investment so businesses are looking for ways to modernize and transform without introducing excessive risk.
A transformation failure is one where employees can't use the new systems, refuse to use them, or simply don't get any benefit from using them. When that happens, the investment the company has made in those new technologies is wasted.
But transformational technology should let the company save money, increase productivity, and compete more effectively as long as the new technology is used correctly by all team members.


Why change management is so crucial

A workplace transformation must, by definition, change the working style of the people in the organization. This is essential; workplaces that can't map to new generations' preferred working style won't be attractive and employees will simply take their talents elsewhere.
However, change is also inherently challenging for most people. This can lead to people feeling overwhelmed by new systems and technologies, or refusing to use them.
Change management is therefore a non-negotiable part of any transformation project.
Change management is a structured approach to prepare individuals within an organization for new systems. It requires a methodical, strategic plan that incorporates strong communication and training aspects so that people feel mentally and emotionally prepared for the new way of working.


How Fujitsu Thailand helps manage change

Fujitsu Thailand incorporates a change management element in all workplace transformation projects.
The first step is to segment key groups within the organization according to their job functions, existing technology capabilities, and how significantly they will be affected by the new technology.
The second step is to create a tailored communication and training plan for each group. This includes informing them well in advance about the changes that are coming, and giving them a clear roadmap for the change so they know exactly what to expect.
It's important to communicate consistently and transparently with all team members so there are no surprises. Letting them gradually become accustomed to the concept of change before introducing the actual technology is a good approach especially for groups that are most likely to be resistant to change.
As the technology is set to be deployed, it's crucial to provide effective training for all users. This ensures that, once the technology goes live, they know how to use it and can hit the ground running. Failing to provide training virtually ensures the project will fail because employees simply won't know what to do with the new tools. By contrast, effective training will give all team members ample time to ask questions and move past any fears they may have regarding the new technology.
At Fujitsu Thailand, a key aspect of change management is identifying change agents within each group. These aren't technology experts but, rather, peers that can encourage their colleagues to use the technology because it will make their jobs easier. These colleagues' opinions carry more weight than a stark instruction from the IT team that people must use a new technology.
When all of these aspects come together successfully, the transformation project is far more likely to deliver results and a strong return on investment.


Success stories with Fujitsu Thailand

Transforming a public company
Fujitsu Thailand was engaged to provide a smart workplace to 1,200 users at a public company. The solution included Wi-Fi networks, virtual workspaces, advanced IP phones, video conferencing solutions and a smart meeting room, as well as hotdesk reservation capabilities. It also included a wireless office with no cables, no landline phones, and no fixed seating.
This was a different way of working for the organization, so Fujitsu Thailand provided a comprehensive change management program that included user profiling and, ultimately, guaranteed a successful implementation.
Converting to a new way of working
Fujitsu Thailand worked with a large enterprise to transform the workplace for 2,500 employees. The project included moving the entire company from Lotus Notes to Microsoft Office 365, which was an enormous leap for the organization. The solution also included smart conferencing capabilities and a virtual workspace to let employees collaborate and work on projects regardless of physical location.
The challenge for this organization was converting such a large number of users to an entirely new way of working. Fujitsu Thailand implemented a sophisticated change management methodology that incorporated user group profiling and change agents, as well as training that was tailored to each group. The result was a hugely successful transformation that delivered a strong return on investment.


Co-creation for success with Fujitsu

At Fujitsu, we are world-leading experts in digital business transformation. We have in-depth knowledge of workplace trends and experience as a solutions integrator. We believe that digital co-creation is the fastest and most effective route to innovation and growth. Contact us to find out how our digital workplace solutions can transform your business and empower your employees.
Explore our offerings
Sakon Khiewlamyong
Smart Workplace Specialist,
Fujitsu (Thailand) Co., Ltd.

Sakon is a Smart Workplace specialist and member of Fujitsu Thailand's new pioneering team focused on digital innovation. He has more than 15 years' background in network and security designing, consulting, supporting, and troubleshooting. Sakon is focused on supporting customers for digital transformation that helps them meet business goals.