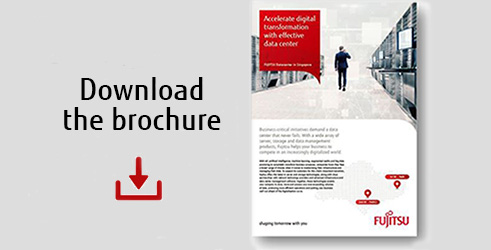 Managed Facility
High availability is the keyword of our data center. This is true because the facilities are built to be the best-in-class. All this is to ensure that your mission-critical operations will always run regardless of any critical situation that may happen. All critical facility operations are constantly monitored through our sophisticated monitoring system to ensure the highest standards of reliability and availability. Our data center is especially designed in such a way that regular equipment and system maintenance can be carried out without causing interruption to your business-critical systems and operations.
Physical Infrastructure
iDC is built on raised floor space in an enclosed and secured room where you can install and operate your server hardware and network equipment. The main specifications of our floor space are as follows:
Raised floor (height: 400mm) with uniformed distributed loading capacity of 32kN/m2 to allow co-location of heavy M&E equipment as well as high-end servers, communications and data storage equipments.
Laminated raised floor tiles for electrostatic discharge.
Clearance height of 4.9 m from floor slab to ceiling slab.
HCFC free fire-retardant insulation for under-slab to prevent condensation, and epoxy sealant for under-slab and wall skirting to prevent emission of concrete dust that may affect system performance.
The iDC floor space is divided into common server farm and private suites. You can choose to use private suite or use our dedicated racks inside the common server farm for your co-location need.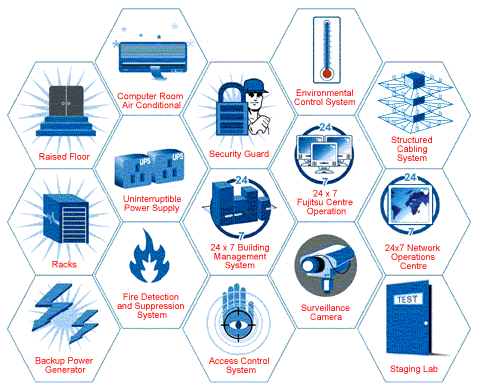 Private suites
are dedicated areas built within the centre, physically separated by hard panel partitions. These private suites offer you a high level of privacy and security for your hosted equipment.
Each suite is designed with its own secure door access for all access points. Suites are available in various sizes and configurations from a minimum floor space of 200 square feet, complete with the following specifications for power:
AC power to each suite is supplied from two separate Uninterruptible Power Supply (UPS). Standard AC power to each suite is 230 VAC with maximum sustained power rating of 550W/m2.
As required, a team of consultants will work with you to build an area within our centre, where you will enjoy private secure access to your servers and equipment.
Inside the Server Farm, Space and Rack is provided for you to house your equipment. The rack can be configured according to your requirement.
Racks
Each dedicated rack comes with following specifications:
Standard 19" or 22" mounting rails within a 600mm or 800 mm wide, 900mm deep and 47U high metal frame.
Each rack comes with detachable metal side panels; single, swing-open metal lockable rear door; and single, swing-open lockable glass front door.
Each rack has 2 independent power strips connected to two independent power sources (A and B feeds).
Each power strip is protected with separate MCB and ELCB for fault isolation and added protection in the case of a power trip on one of the feed.
Standard power supply to each enclosure is 230 VAC with maximum sustained power rating of 1.5 kVA.
Each standard rack is equipped with two fixed equipment trays and dual roof-mounted exhaust fans for forced cooling.
Security Control System
Our stringent security policies ensure that only authorized staffs and customer representatives are allowed access into the iDC restricted areas where customer systems are hosted.
Surveillance and access control systems aim to provide customer systems with the highest level of security. Access is controlled by a sophisticated distributed intelligence microprocessor-based access control and alarm system.
All access points and strategic locations in Fujitsu iDC technical areas are monitored by state of the art surveillance cameras on a 24 x 7 basis.
Power Supply System
All electrical work is designed and carried out in accordance with the relevant Singapore Regulatory Requirements. The Power Supply system, backed-up by UPS and generator, provides redundant continuous and seamless power to the equipment. Each rack is equipped with two independent power feeds from independent Power Distribution Unit (PDU). Some important features of our Power Supply System can be summarized as follows:
All racks are installed with 2 power strips feed by 2 separate PDU to provide diversity in power source for the equipment installed in the racks. Equipment which has 2 power supply units (PSU) shall be connected to the power system in such a way that each PSU is connected to different power strip.
Captive locking mechanism on each connector to connect the rack to the main power to prevent accidental plug removal.
Redundant UPS inter supporting each power feed.
Seamless, no break power transfer.
Emergency Power Plant comprises of Backup Generator Cluster and underground fuel tank.
In conclusion: The Power System is designed in such a way with no single-point of failure.
Environmental Control System
Most optimum and stable operating environment are achieved through lighting, temperature and humidity monitoring and control. The Computer Room Air-conditioning (CRAC) units with the cooling capacity of 750W/m2 are sufficient to provide cooling to equipment located in the enclosed area. It will also maintain constant surrounding temperature and humidity levels. This constant temperature provides an idyllic working environment for all the equipment. It also removes any chance of 'hot spots' within the racks.
In addition, spot and water leakage detection system are deployed to provide early warning of water leakage and condensation hazards that may lead to system failure.
Features of our Environmental Control System:
Lighting is maintained at approximately 500 Lux.
Room temperature is maintained at 22±2 °C.
Humidity is maintained at 55%±10%.
CRAC is backed up by Power Generator
Fire Detection and Suppression System
Fire Detection system in this iDC is designed to provide early warning and isolation of potential fire hazards that may be disastrous to Customer's system. In the unlikely event of fire, the dual Fire Suppression system will kick in to put out the fire with minimal damage to the systems. Early detection of any possible hazard is extremely important to prevent a minor hazard from escalating into a disaster.
Very Early Smoke Detection Apparatus (VESDA) is installed both under and above the raised floor system of the technical areas to provide early warning to the presence of potential fire hazards.
Smoke/heat detectors place both above and under the raised floor system provide a second level of warning.
Upon detection of fire, the environmentally friendly and non-corrosive FM200 gas fire suppression system will be activated to suppress the fire. Fire suppression systems are time-delayed for 30 seconds with provision for manual override in case of false alarm.
Pre-action dry sprinkler system provides the second level of fire suppression should the FM200 system fails to suppress the fire completely.
Fujitsu Network Operation Centre
With our Centre for operational, monitoring and support, you can be assured that your system is monitored and looked after round the clock. We provide 24x7x365 advanced monitoring services tailored to your requirement. With the right tools and skills, our engineers can effectively deliver operational and monitoring tasks and proactively notify customer for any incident that needs immediate attention.
Staging Lab
Staging Lab is available for customers who wish to assemble, configure and test their equipment prior to actual move in to the data center. This is available on a first come first serve basis and is subjected to additional charge.
Structured Cabling System
Structured Cabling System provides interconnect service to customers located in Private Suites and Server Farms. This is the most cost effective and efficient connectivity solution for interconnecting with each other and with network service providers, using industrial standard structured cabling systems. The following cabling types are available: UTP Cat 6, Multi-pair Telco Cable (25-pair per bundle), 75 Ohm Coaxial Cable, Fibre-optic Multi-mode, Fibre-optic Single-mode.
Each run of the structured interconnect cable originates from the designated customer's rack or private suite to the nearest Meet-Me-Room (MMR) where interconnection to a structured cable belonging to another customer or a network service provider takes place. Customer is responsible for connecting the structured interconnect cable terminated at the designated location to his own equipment.