The Importance of Data Management for Digital Transformation
The concept of digital transformation has morphed into a business imperative, with organisations racing to see who can be the first to achieve a digital nirvana. However, digital transformation can mean different things for different organisations, and the extent to which a business needs to transform depends on its current maturity state in terms of the data it uses, where that data resides, and what value the organisation can extract from the data.
Data is the currency for digital transformation. Therefore, for businesses to successfully transform and achieve tangible benefits (such as increased revenue and profits, improved overall performance, and stronger competitive advantage), they need to be able to manage their data in a way that lets the business extract maximum value from it.
Doing this means making the data accessible in a shared way across the entire organization. The businesses that can succeed in doing this will future-proof their data management strategy by laying the right foundations for delivering data. Crucial to this will be security; organizations must protect data as it is their most valuable asset. Once it's compromised, it can be very difficult, although not impossible, to recover.
This means organisations need to consider data storage and disaster recovery, security, and automation. All organisations must determine which data to store in data centers and what data can reside in the cloud.
For most organisations, it is simply impossible to manage data and make these decisions without engaging an expert partner that can help illuminate the pathway to success. A strong partner can help organizations ensure their data is discoverable, accessible without undue complexity, consistent and accurate, high quality, resilient, and scalable. The right partner will deliver data management and governance processes that are adaptable for changes in volume, data sources, new technologies, and new users. And, underpinning all this, the partner must have a strong strategy for data protection and privacy.
Two key questions for data management
Before organizations can leverage their data to improve company performance and facilitate digital transformation, they must answer two key questions:
How secure is the organization's data?
How does the organization access its data?
The answers to these questions will determine the optimal approach for data management for that organization. Each organization will have different needs and challenges, so it's important to demand a bespoke approach rather than a one-size-fits-all strategy.
The solution will likely involve a combination of data centers and public cloud. Some organizations may even use multiple providers for various data and workloads.
The case for a hybrid IT approach
In most cases, organizations can benefit from a hybrid IT strategy that uses a combination of public cloud and data center or on-premise storage. This is because it lets organisations reap the benefits of public cloud, including scalability and cost management, while retaining the benefits of data centers, including security and control.
While the public cloud can be secure, and organizations can overlay their own security solutions to improve its security, the fact remains that it is somewhat less secure and controllable than a data center or on-premise solution. Therefore, some workloads can't be moved to the cloud for security reasons. Organizations need to understand what data can be moved to the cloud to take advantage of cost savings and flexibility, as well as what data must remain in a more secure environment such as a data center.
Regardless of the security aspects of data management, many organizations continue to rely on mission-critical legacy systems which preclude the business from moving that data to the cloud.
Deciding which data to move to the cloud
Because there is no one right answer, it's up to each individual organization to determine which data can move to the cloud. While partners such as Fujitsu can provide advice and guidance, enterprises are best-placed to determine the value and vulnerability of their own data. Typically, mission-critical data is hosted either on-premise or in a data center due to the increased security features offered in these models.
Data that is less mission-critical but still necessary for business can be stored in the public cloud. This is because the risk of a damaging data breach is far lower given the lower value of the data. Even if a breach occurs, the loss or compromise of that data won't necessarily impact the business adversely. Therefore, it might make sense for this data to be stored in the public cloud where storage is relatively cheap and very flexible.
In some cases, the decision may be to retire certain data rather than retain and/or relocate it. If the data doesn't create business value and there are no regulations around its retention, safely deleting it may be the best option.
Coping with data growth
The more digitalized a business becomes, the more data it collects just as an organic part of doing business. As more aspects of the business go online, more data sources accumulate. This can put incredible strain on existing resources, so it's important to have a plan to cope with data growth.
Organizations experiencing data growth require IT architectures that can scale flexibly to cope with fluctuating demand. Fujitsu offers software-defined data centers that use end-to-end virtualization to meet even the most extreme demands for scalability. This makes it easier to shift workloads into the cloud as appropriate by connecting on-premise IT with the cloud.
Moving forward with Fujitsu
Fujitsu is a leading provider of hybrid IT solutions with extensive experience in the Asia-Pacific region. Fujitsu offers a range of solutions depending on the organization's requirements and existing skills and experience. We have the expertise to help customers find the right balance of cloud-based services and legacy applications.
To find out more about how Fujitsu can help you manage your data for successful digital transformation, contact us today.
See how our customers solved their challenges
Meet our Data Center expert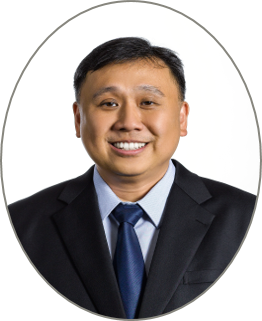 Colin Lim
Head, Managed Services,
Fujitsu Asia Pte Ltd