<!-Subtext (optional)->
Reimagining how work gets done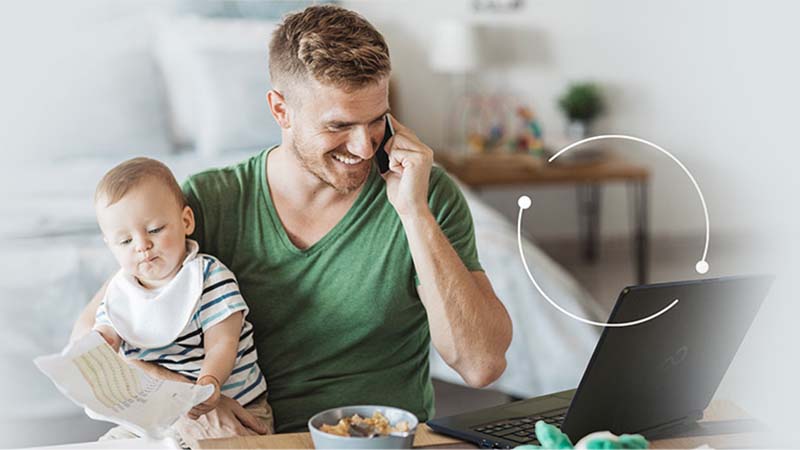 Fujitsu Smart Working
Reimagining with AI and Workplace Automation - driving talent and fostering innovation
Get the best out of your people with Fujitsu Smart Working. Our portfolio of AI and smart office automation solutions empowers you to improve your business resilience, agility, and profitability whilst maintaining a sustainable and productive workforce. With Smart Working, your people are enabled to be more creative and find innovative new ways to approach their work – wherever, whenever, and however they choose.
Freed from routine, mundane and monotonous tasks such as data transference and form filling, they have more time to focus on higher-value tasks such as delivering high-quality customer services and experiences.
Transform your workplace experience with Fujitsu Smart Working and reimagine how work gets done using automation, AI and No/Low-Code solutions.
Increases employee engagement and productivity
Accelerates pace with scalability
Drives customer focus and experience
Empowers an innovative culture and helps reduce time to market
Fujitsu Smart Working
How we work and live is now unrecognizable. But with change comes opportunity. A chance to do things differently – better.
Smart Working Solutions
Workforce Automation
Fujitsu Workforce Automation and AI technology frees your people from mundane and repetitive tasks to increase employee engagement and drive productivity.
Intelligent Workspace
Using micro-apps and AI, Fujitsu Intelligent Workspace provides personalized curated information feeds that improve employee experiences and productivity.
Fujitsu Smartforms
Fujitsu Smartforms provide flexible digital platforms to quickly and efficiently capture data from both employees and customers. Using data analytics we help you to gain actionable insight to improve your operational actions.
Why co-create your smart workplace with Fujitsu?
People are central to the success of any organization. They thrive and are more productive when they feel empowered, which is why when creating a smart working environment, it's vital to focus on the human-centric benefits of any technology deployed. At Fujitsu, we take a human-centric approach to delivering real change. Working in close partnership with you we leverage advanced co-creation methodologies to deliver smart workplace solutions that drive collaboration and unleash creativity.
We have approximately 130,000 Fujitsu people supporting customers in over 100 countries
We're world leaders in IT security with customers that include central government, the military, and major financial services organizations.
We are independently recognized by Gartner as a Magic Quadrant Leader for Managed Workplace Services, Europe in the execution and vision of workplace transformation
We support approximately 3.7 million users and over 8 million end-user devices globally
We have 5 global delivery centres providing 24/7 services