How Has the COVID-19 Pandemic Changed the Future?
Digital mobility - reimagining our places and spaces in the new normal
The COVID-19 pandemic has caused terrible damage in the travel and transportation industries. Fortunately, however, it has also caused a leap in digitalization that is changing our perception of mobility, leading to a broader reimagination of how we view places and spaces in the physical world. Let's rethink how we work, shop and live in light of newly established digital alternatives.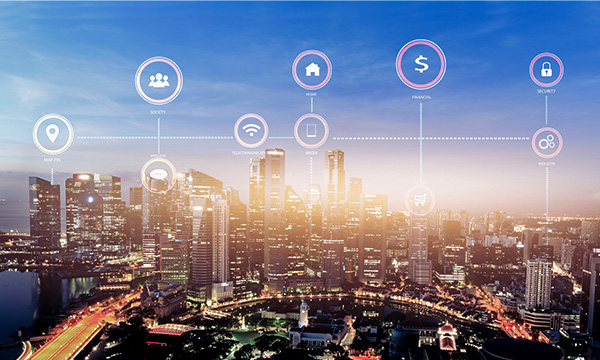 Digital acceleration is changing mobility
The sudden halt of mobility during the COVID-19 pandemic has become an important accelerator of digitalization. People have reconnected in the digital world from home while the physical world has been unsafe. During the lockdown, communication without social platforms, entertainment without streaming and shopping without ordering online would have been impossible. At work, companies have relied on digital platforms to enable them to expand their office environments into employees' homes. Digitally reconnecting with employees, suppliers and customers has allowed companies to establish an ad-hoc resilience that many would have thought impossible before.
This leap in digitalization is changing our perception of mobility, leading to a broader reimagination of how we view places and spaces in the physical world. Households, companies, and entire communities are now rethinking how they work, shop and live in light of these newly established alternatives.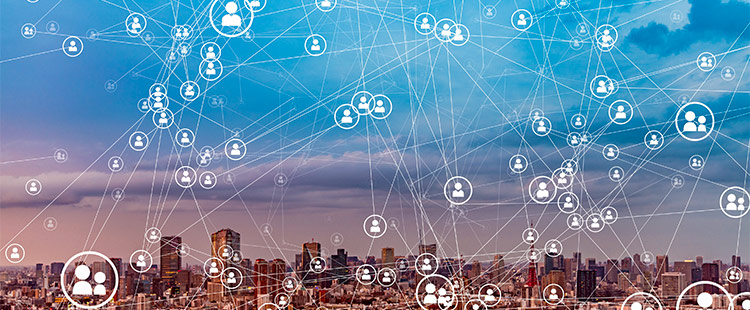 The consequences are far-reaching. Not only does increasing digital mobility expand cyberspace, it also changes how we use our physical places. With work and life now integrating digitally, we have reduced need for cars and transport, while regained city space is becoming available for new mixes of work, life, shopping and entertainment.
While such changes initially seem daunting for traditional companies, the integration of digital mobility and services will result in opportunities far larger than the challenges. In recent years, digitally-native companies have been dominating and disrupting traditional companies with services that did not require production space or remained tied to specific locations.
However, in the new normal, where digital and city space are more integrated, traditional companies are seeing new opportunities. They know their places, they can offer services to help upscale local neighborhoods and they can introduce and seamlessly integrate a far greater range of digital services. Fujitsu, for example, is strengthening its role as a DX (digital transformation) company in the new normal. Instead of just building its established position as Japan's foremost IT services provider, it is now focusing on supporting customers to connect their traditional markets with the digital world at unprecedented speed.
Initially, the slowdown of mobility came as a shock
COVID-19 had immediate, significant impacts on tourism, transport and business travel. With mobility down by 80% in urban areas and close to zero at many airports, entire industries have had to be rescued by government support. Some of these challenges will last for years or even become permanent. The airline industry expects higher costs from social distancing, a slow recovery of tourism, a permanent cut-back of business travel in favor of telecommuting and a general slowdown of globalization in favor of shorter supply chains. Major airlines are therefore planning reductions of their fleets and workforce by up to one third.
Fortunately, government support programs are buffering the impact of the crisis in most countries, to avoid the most extreme doomsday scenarios. Given time, tourism will almost certainly make a comeback. Increasingly digital lifestyles will increase the interest in seeing and experiencing foreign countries and catching up with distant relatives. Business travel will be essential, especially when new contacts need to be solidified and trusted relationships built, while globalization with shorter supply chains will require more maintenance at diverse locations. Urban mobility, on the other hand, will change in far more complex ways than initially expected.
Urban mobility has changed dramatically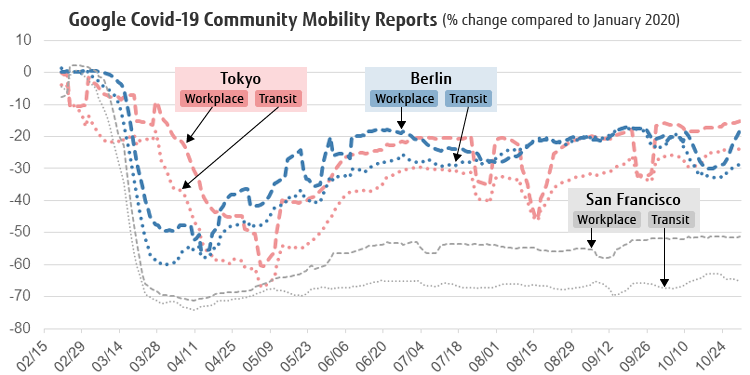 Digital mobility turns car-centric cities into human-centric urban spaces
During the lockdown period, public transport was initially emptied and then burdened by social distancing regulations that reduced their use in major cities by 60%. Instead of increasing the use of private cars, however, urban trips have been done by foot, bicycle or replaced by delivery. Cities have been clearing roads for additional bicycle lanes to avoid congestion, and it seems unlikely that they will hand them back when life returns to a new normal. On the contrary, cities will have to think about how to integrate this new mobility into sustainable solutions for a more digital future.
In one headline grabbing move, Paris is planning to become a '15-minute city', with all necessities within a short walk or bike ride from people's homes. Other capital cities like London, Berlin and Brussels are now all following the original trailblazers of car-less life, work and shopping, such as Copenhagen, Barcelona, Melbourne and Portland. After a century of car-based separation of (sub-urban) living quarters, shopping centers and industry parks, the shift to digital workstyles encourages the creation of integrated work/life neighborhoods, such as Barcelona's 'super blocks'.
Smart Cities – Barcelona's Super-Blocks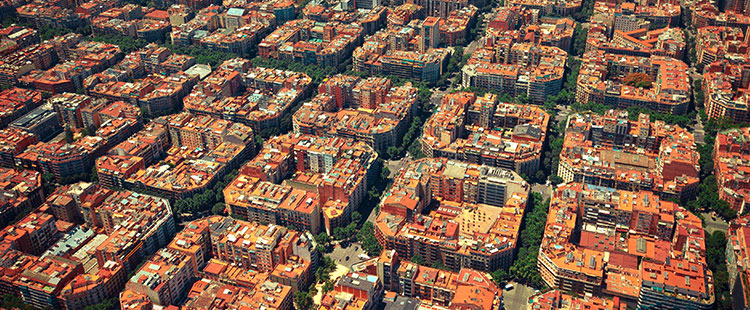 While the long-term reduction of traffic congestion and environmental impact post-COVID-19 is certainly welcome, the consequences are huge and immediate. Cars will cease to be the default mode of transportation much earlier than expected, in favor of much broader concepts of 'mobility as a service' (MaaS), based around trains, bicycles and walking. To leverage this potential, Fujitsu has joined forces with Ford's Autonomic to create new mobility platforms that can link millions of cars with almost any service and object in their environment. In this new normal, cars will not only become 'smartphones on wheels', as the president of the VW group has put it, they will also need to be even better integrated into the new city spaces.
Digital mobile youth continues to reshape Tokyo's city spaces
Digital mobility has been adopted very quickly, partly because the younger generation has already been using digital technology for a long time. Life in social networks, shopping online, and working in the 'gig economy' are hardly new, and they have changed how the younger generation moves across city spaces. In metropolitan areas, for example, 20-29 years old averaged just 1.8 daily trips in 2015 compared to 2.6 trips in 1992 (MLIT 2017). As they stick closer to their apartments, they like to be close to city centers, resulting in a building boom for high-rise apartment buildings.
City Mobility: Digital Lifestyles Follow the Young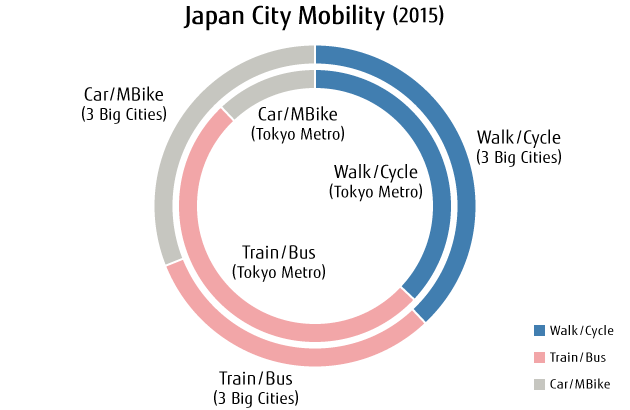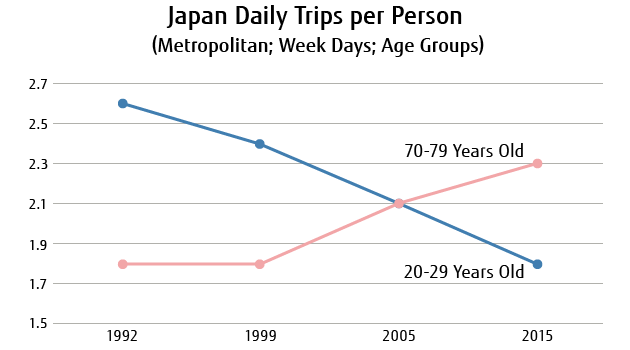 At the same time, fewer cars are being used and public transport infrastructures have been further upgraded. With the increasing availability of public transport, citizens are able to cycle and walk for almost 40% of their weekday trips. As a result, private cars are only being used for about 12% of daily trips in the city centers and bicycle lanes have been added to many roads (Urban Land Institute 2018). This has turned entire quarters into more convenient spaces for older citizens, too. People aged 70-79 are living more active lives, averaging 2.3 daily trips compared to 1.8 before (MLIT 2017). In the new normal, the digitally enhanced lifestyles of the young are spreading across the working generation, which has previously followed more traditional work/life flows. When business districts turn into livelier centers with shopping and entertainment options, the transformation of city spaces will reach a new dimension.
New 'places' for business and 'spaces' for workstyles
So far, digitalization has not been kind to the workplace environment. Some digital native companies have built shiny integrated work-life campuses for their employees, while WeWork has shown the potential for digital shared workspaces in city centers. Mostly, however, digitalization has been used by traditional companies for cost-cutting, for example by becoming paperless, for space-saving, by moving to hot-desking, and for rent-saving, by moving jobs out of city centers. After the crisis, many employees will question whether to return to faceless offices when it is not necessary, whether they need to sit in sight of superiors when this only adds to commuting time and whether they need to attend long meetings in person, when they could achieve the same outcomes digitally.
In the new normal, companies will have to expand their online/offline meeting areas and remodel their office spaces to integrate their more hybrid workforce. Major companies, including Fujitsu in Japan, have already announced that they will reduce office space (Fujitsu by half) and create new co-working spaces and satellite offices instead. The benefit of such complex changes is that companies become able to integrate a broader range of employees, including stay-at-home parents and local employees far from the office. They will also be able to expand their teams globally, without having to rely on creating offshore facilities or dealing with national visas and work permits.
Fujitsu - Three pillars in "Work Life Shift"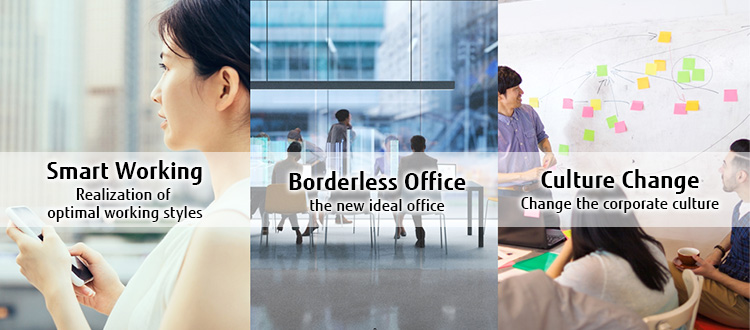 Since changes in workstyles will be broad, multilayered, and diverse, Fujitsu is supporting new workstyles at all levels with a wide variety of applications and services. From secure teleworking and virtual workplaces with Office365, Teams and Box service integration through to advanced Zinrai AI and offshoring solutions, mixing and matching digital tools with new workstyles is enabling employees to be seamlessly supported, wherever their location.
Reimagining urban life spaces beyond city centers
It is easy to reimagine a new normal of work and lifestyles in dynamic city centers. However, cities also depend on their ecosystems of suburbs and local supply chains and will remain closely integrated in with their traditional environment. When Europe's old cities were built, work/life was still integrated in narrow spaces. With more digital mobility, they might revert from their car-based separation of functions and further build their roles and relationships in local centers. In the US, where cities have been built around automotive transportation and long commuting hours, digital mobility might have its strongest impact. Attractive city centers with healthier lifestyles on foot, bicycle and with a growing variety of MaaS options are fast becoming the new normal. In Asia, megacities are increasingly relying on strong public transport systems to solve the problem of automotive congestion. Suburban commuter hubs, which have been traditionally built as efficient transport nodes, with often bland shopping centers and office blocks, now have the chance to upgrade their appearance to become much more appealing meeting spaces and evolve into connected work/life centers.
While these changes provide opportunities for private companies, they are also challenges for governments, city planners and the companies that support them. Fujitsu has therefore supported Riken, Japan's foremost life science research institute, to develop the Fugaku supercomputer. The world's fastest computer, Fugaku will help to develop 'Society 5.0' models and simulations to help cities become better managed and more future proof. With its quantum-inspired Digital Annealer services, it is also helping logistics companies, warehouses and retailers to find the shortest routes, optimized portfolios and the lowest costs across increasingly diverse and complex city spaces.
With more digital services and telework available, families will be able to leave the crowded city centers while keeping their jobs and children connected with city-based cultural and learning institutions. The popularity of suburbs and regional cities might increase again. The situation remains different for rural areas however. The pull of regional cities becomes stronger when cash-strapped local governments realize that remote areas can be serviced online with e-commerce and telemedicine. The ongoing reduction of social infrastructure, such as local hospitals, community centers and post offices could gain pace. Centralized services and infrastructures, on the other hand, would increase together with the public transport that connects them.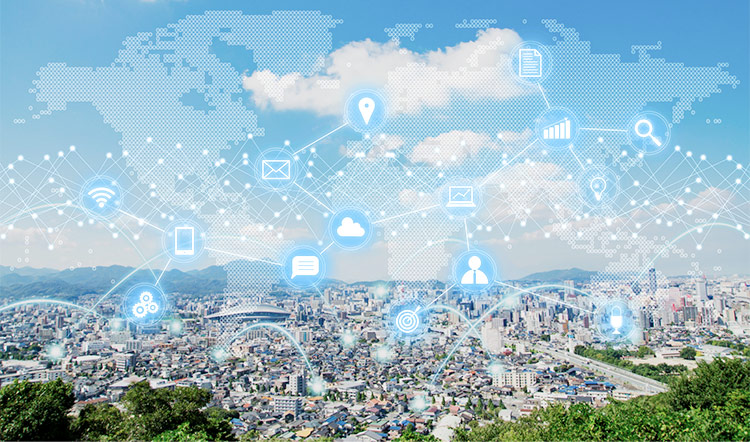 To avoid creating barriers between digitally advanced city centers and regional areas, Fujitsu supports the development of 5G services beyond inner-city communication, helping to connect everyone with everything in real-time with its Dracena mobility cloud architecture. By exploiting technologies like this, the seamless integration of mobility will become an important part of the new normal after the COVID-19 crisis, connecting inner-cities, creating local centers with more integrated social infrastructures and supporting digitally-connected rural areas.
About the author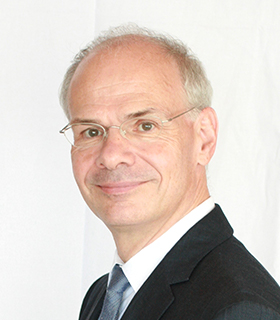 Dr. Martin Schulz
2020 Fujitsu Ltd., Strategy Planning Division, Chief Policy Economist
2000 Fujitsu Research Institute, Senior Research Fellow
New articles
Global Sustainability Transformation Survey Report 2023
READ MORE
LEO Satellite Broadband
READ MORE
Workforce augmentation maybe the next big disrupter?
READ MORE