Fujitsu 24GHz Doppler Radar Sensor Module Wins 2020 Best of Sensors: Most Innovative Product Award
Fujitsu Components America Inc.
Sunnyvale, CA, November 16, 2020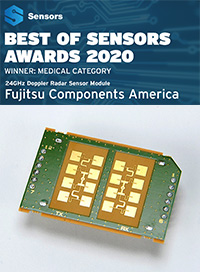 Today at the Sensors Innovation Week Fall virtual event, Fujitsu Components America, Inc. received the 2020 Best of Sensors: Most Innovative Product award in the medical category for its 3-channel, 24GHz Doppler radar sensor module (FWM7RAZ01).

The awards recognize advancements in sensors technology across a diversity of applications based on: value to the marketplace, impact on the problems it solves or issues it addresses, and uniqueness of the design. Judges were Sensors Expo Advisory Board Members and FierceElectronics editors.

Fujitsu's new FWM7RA01 sensor module enables engineers to quickly develop highly sensitive, non-contact, movement sensing and monitoring products for the medical, health and wellness, and safety markets -- even without high-frequency RF electronics expertise. Target applications include fall monitoring systems, respiration/heartbeat monitors and baby monitors.

According to Akio Nezu, product manager for wireless modules at Fujitsu Components America, the sensor module addresses the shift occurring in wellness and healthcare patient monitoring products toward wireless, non-contact technologies.

"While the market has successfully adopted portable and wearable activity tracking devices to wirelessly collect and analyze data from bodily vital signs and/or movement, these products can sometimes limit mobility or cause discomfort if worn for extended periods of time. Using our 3-channel 24GHz Doppler radar sensor module can help drive design improvements for future requirements," Nezu said.

The FWM7RAZ01 offers a wide, 1Hz-to-1MHz output signal range, low IQ output noise, and high-interference tolerance, enabling it to accurately detect movement speeds from 6mm-per-second to 6km-per-second within a 30-meter range. It consists of a 24GHz transceiver, TX and RX array antennas, IF amplifier, MCU, DAC, E2PROM and an LDO voltage regulator, integrated into a single, compact module measuring 30mm x 44mm x 9.5mm.

Additionally, the module is equally applicable for industrial sensing and monitoring uses, such as structural and mechanical movement detection and predictive machine maintenance.

Learn more information at FMW7RAZ01 Doppler Radar Sensor Module.


About Fujitsu Components America, Inc.
Fujitsu Components America, Inc. markets and distributes electronic and system components and sub-systems throughout North and South America. Products include relays, touch panels, thermal printers, wireless modules, and input and pointing devices. The company is headquartered at 1230 E. Arques Ave., M/S 160, Sunnyvale, CA 94085. For product information, contact FCAI via telephone at 1-800-380-0059 or by email at 
components@us.fujitsu.com
. 
For more information, please see: 
https://www.fujitsu.com/us/products/devices/components/
Press Contact - Fujitsu Components America
Mary Jo Carlone
Phone: 414-425-6164
E-mail: mjccomm@att.net
Company: MJC Communications
---
All trademarks or registered trademarks are the property of their respective owners.

Date: November 16, 2020
City: Sunnyvale, CA
Company: Fujitsu Components America, Inc.