Fujitsu Hybrid IT and Cloud Services
Hybrid IT: Fujitsu delivers the perfect balance of Cloud services and on-premises IT
With our Hybrid IT offering, we seamlessly blend your existing IT with public, private, and managed Cloud to improve accessibility, business agility, and deliver better business outcomes. We do all of this within a prudent IT budget, to ensure that your Hybrid IT integration is as cost-efficient as possible.
With over 5,000 large-scale global implementations, nobody does Hybrid IT better than us, we:

Provide a perfect blend of Hybrid IT services and cloud-based solutions deployed at speed.
Deliver a seamlessly integrated and cleverly architected IT environment with a governance framework that adapts with your changing business needs.
Enable secure 24/7/365 data availability across devices and geographies.
Ensure security and privacy are not breached.
Ensure compliance governance is not compromised.
How can a Hybrid IT model benefit your business?
Business Enablement & Growth
| | | |
| --- | --- | --- |
| Enables transformation into a digital business, allowing faster time to market and improved collaboration between partners, suppliers and customers | Supports growth into new geographies and market segments | On-demand, pay-as-you-go IT services, deliver scalability and improve competitiveness and innovation across industry sectors and globally |
| | | |
| --- | --- | --- |
| Improves customer experience while delivering services more efficiently and effectively via data analytics and better availability of information | Delivers the customer & business outcomes that organizations need now, while paving the way to foster more flexible adoption of the technologies and services that they will use in the future | Allows clients' business units to have the cloud services they need with governance, integration and cost managed appropriately |
| | | |
| --- | --- | --- |
| Manages security and cost risks while innovating at the same pace | Fujitsu's delivery centers manage the global network of cloud platforms to ensure that systems are managed securely while clients have the flexibility to place their data within a specific region or country | Fujitsu protects clients' data in its data centers certified to Uptime Institute's Tier III standard |
| | | |
| --- | --- | --- |
| | | |
| Empower people on several levels, users get access to services much faster, for example through self-service | Effective applications integration | Enhance business user mobility by making applications and information available across time, space and devices |
Why choose Fujitsu Hybrid IT and Cloud solutions?
We are a world-class Hybrid IT and Cloud provider, with vast experience delivering IT services to customers on a global scale. We understand that the individual requirements of businesses wanting to migrate to the Cloud vary greatly, and for that reason, we provide singular solutions that are tailored to each customer's needs and business goals.
We have the expertise to ensure you find and implement the right blend of cloud-based services and existing applications. We can help you work out which services should be left in-house, and which should be migrated to the Cloud.

Explore our Hybrid IT & Cloud Solutions to discover the benefits they can bring to your business.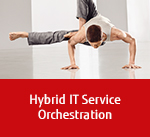 Hybrid IT solutions downloads
White Book of Managing Hybrid
IT (2.09 MB)

White paper: Hybrid IT and a
growth agenda for banking (153 KB)

White paper: The organizational
impact of bimodal IT (2.68 MB)

White paper: New security
challenges for delivering
bimodal IT (499 KB)

White paper: Future of the data
centre in the age of Hybrid IT
(1.20 MB)

White paper: Building the
business case for Hybrid IT
(816 KB)
Top of Page