Fujitsu Cloud Service for Microsoft Azure
A fully managed end-to-end Microsoft Azure experience
Cloud Service Azure offers the wide portfolio of Microsoft Azure services as a platform for new digital applications and business innovation, with Fujitsu as an overarching Azure Managed Service Provider.
This service delivers commercial flexibility and simplicity, and through inclusion of essential Fujitsu Hybrid IT orchestration services, it enables successful turnkey adoption of Azure in enterprises. It is an end-to-end Azure Managed Service from a single Microsoft Cloud Solution Provider partner.

Azure enablement ranging from planning services to development of cloud native solutions.

Design, deployment and management of a best-of-both-worlds hybrid infrastructure with Azure as a fast IT extension of the existing data center.

End to end digital transformation for business, application, platform and service.

Optimal licensing of the Microsoft cloud estate with the best Azure rates.
Design, Transform, Manage and Create with Multi-Cloud services for Microsoft Azure
With Fujitsu Multi-Cloud your path to the cloud is crystal clear. When you partner with a certified Azure expert, you can focus on building your eco-system and seizing new business opportunities.
Design - Design and architect a secure, fit for purpose Azure foundation, so that Azure services can be utilized in confidence.
Transform - Assess, plan and action the migration of workloads to Azure utilizing our Multi-Cloud Transformation Services.
Manage - keep control of workloads on Azure with Multi-Cloud Managed Services and the tools to orchestrate Azure through a single pane of glass.
Create - partner with a specialist in digital technology to help drive business innovation and co-create success.
The need to migrate…
and a design to get there
We realize that pressure on your traditional business and IT landscape is intensifying. The demand greater agility and lower costs; the need to build new applications and services to remain competitive.
In response, cloud is now a 'must' for your organization, but how can you get there? Together, we can assess and build your cloud strategy, using Azure as a key platform.

Making the move to transform your business
Making the move from traditional on premise, towards agile cloud-based can't happen fast enough… but how can you make it happen safely and securely whilst minimizing risk to live services?
Fujitsu's Multi-Cloud Transformation Service enables you to discover, migrate and modernize your legacy applications on to Azure with complete confidence.

Transition with confidence
Cloud migration is a complex issue. How can you avoid the common pitfalls capable of causing business risk and service downtime? The answer lies in our trusted migration methodology – delivered by our expert Azure engineers and industry-leading tools.
Your Cloud Framework
Move and Transform
Optimize etc.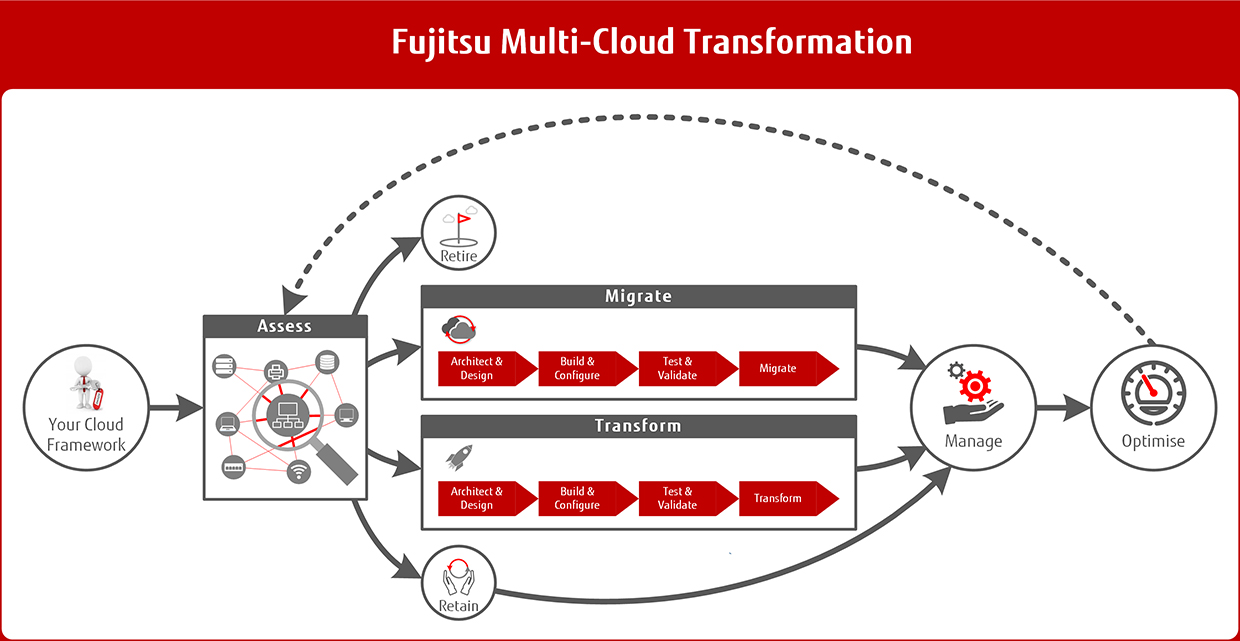 Click here for more information on our cloud migration service
Maximizing and Managing Azure
Adopting a powerful platform like Azure opens up a range of opportunities. Leveraging it's range of cutting-edge cloud-native capabilities can be a real game-changer for your organization.
Fujitsu's agile managed services allow you to continuously evolve, using the very latest Azure releases – and orchestrate them as part of a healthy, highly visible and intelligently optimized multi-cloud environment.

Creating your future: Get started fast with the Azure Migration Program
Getting started with public cloud can be a daunting task: overwhelming choice, organizational red-tape and a host of strategic considerations may be holding you back.
Fujitsu makes it easy for you to overcome these. Using our Multi-Cloud Adoption Framework in tandem with the Azure Migration Programme, it's really easy to adopt and start using Microsoft Azure at rapid pace.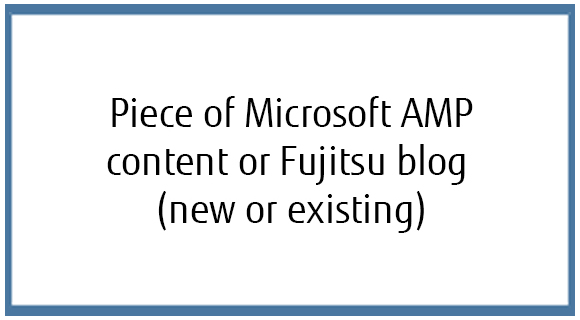 Customer Stories
Organizations around the world are working with Fujitsu and Microsoft together, to co-create their transformational cloud strategy on Azure.
Discover some of our customers' success stories below:
More Fujitsu managed services for Azure
Our Azure services extend well beyond the infrastructure. We provide ready made managed services for enterprise resource planning, IoT & analytics solutions, and application delivery & life-cycle management. Through digital co-creation we will tailor solutions on the best Azure services, together with you, living up to your business aspirations, whatever they may be.

Innovative IoT & Analytics solutions
with GlobeRanger® on Azure

Combining SAP and Azure capabilities to
deliver business benefits with our Cloud
Service SAP on Microsoft Azure
Get started with Cloud Service for Microsoft Azure
Contact us to discover how Multi-Cloud could transform your organization