Fujitsu PalmSecure ID Login - Active Directory login enhanced with biometric security
PalmSecure, Fujitsu's contactless palm vein pattern recognition technology, accurately identifies individuals by scanning the complex vein pattern in the palm of their hand. With the addition of ID Login, you can ensure secure login using biometric palm vein authentication via Active Directory. PalmSecure doesn't replace passwords, instead ID Login enhances password-based login networks with biometric technology to:
increase systems security
prevent misuse of stolen or unsecured passwords
provide biometric user authentication with Active Directory support
How does Fujitsu PalmSecure ID Login work?
PalmSecure ID Login is designed to support data privacy protection and achieve high levels of user convenience. All required data is stored and managed centrally in the Active Directory service. Once enrolled, users can log into the system by providing their username and scanning their palm using any device within the Active Directory environment. PalmSecure ID Login provides:
centralized biometric user enrolment
administration of palm vein data at Active Directory
modification of user data at Active Directory
integration into existing Active Directory environments
unique application key (optional) for maximum security
Test the next level of IT security with biometric authentication
Do you want to experience the power of biometric enhanced Active Directory? If you are already working with Fujitsu devices with built-in palm vein sensors, then you can try it today.
Download the software, install and configure and experience the power of biometric authentication. The evaluation package comes with three user licenses.
Please note: Installation and connection to Active Directory requires PalmSecure hardware, and in addition, administration rights and should be taken care of by the IT department. See documentation below for full details.

Benefits of PalmSecure ID Login
cost-effective – savings can be made on costly password reset requests
increased user convenience
login at active directory to administrate users centrally
highly accurate and secure - the technology only works when it detects blood circulation
hygienic and easy to use
fast enrolment and verification process
Further information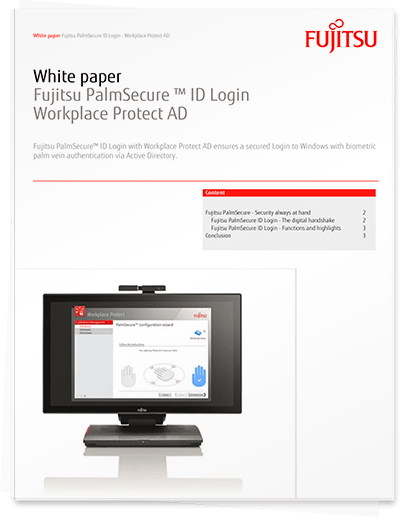 Download white paper PDF »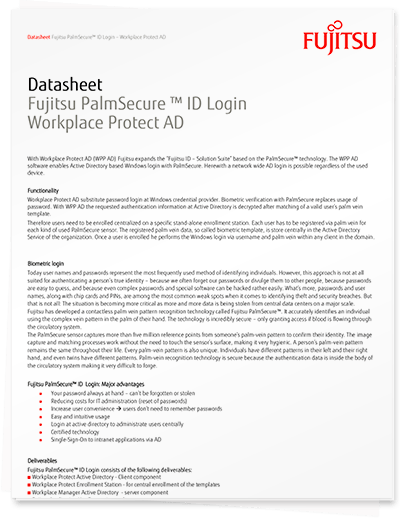 Download datasheet PDF »
Download datasheet PDF »
Contact us

To find out more about Fujitsu's Enterprise & Cyber Security services and how they protect your business, please complete this form.