Biometrics-as-a-Service™ Solution
In today's digital landscape, enterprises and consumers alike are rapidly embracing the shift towards a more flexible and mobile era. As more enterprises adopt a faster, more efficient, "on-the-go" business approach, portable mobile devices such as smartphones, tablets, notebooks are poised to become powerful tools for conducting everyday business transactions for users and staff working in a multi-device and location-independent environment.
While businesses strive to implement the right mix of technologies and security policies for the digital age cyber attacks are likely to become more frequent, sophisticated and capable of targeting a particular segment of population or institution. The constantly-evolving threats, cyber security, operational and legal considerations make it necessary for companies to evaluate how best to implement a business security strategy while protecting customer and business data.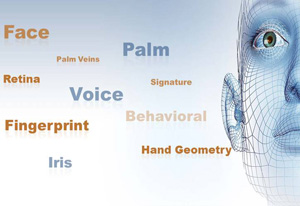 Biometrics-based authentication uses an individual's physical traits to verify his or her identity. It is like your own personal password that cannot be forgotten, lost, or stolen. Users no longer need to remember the answers to security questions, nor do they need to carry a separate single-purpose hardware token. Biometrics data is intrinsically connected to a person. It is the "What the person 'is' factor" (biometrics), versus a "what a person 'has' factor" (e.g., token or phone), versus a "What a person 'knows' factor" (e.g., password, PIN). It cannot be forgotten or easily compromised.

Biometrics solutions are gaining momentum in a number of domains creating security measures that are more convenient than in other approaches. Biometrics provides greater security measures for intellectual assets as well as workplace and individual information in comparison to common user authentication including passwords, user IDs, single sign-on and other traditional access management methods. Growing awareness of using biometrics for identification is expected to spur greater global commercial markets (biometrics devices and applications), and user adoption as many current applications such as banking, healthcare, immigration and border control and access to buildings require user authentication.
Fujitsu is transforming the market with its cloud-based identity platform, or Biometrics-as-a-Service, through quick deployment that lowers costs and allows customers to choose and blend modalities to develop the best use case for their particular organization and requirements, permitting rapid integration with existing business intelligence and systems.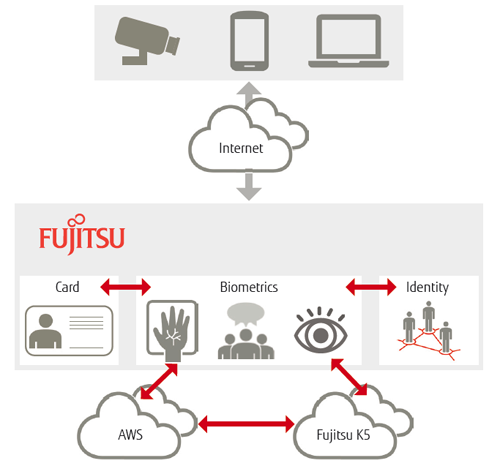 In addition to providing a complete Biometrics as a Service back end solution the Fujitsu offering includes the ability to include complex biometrics data encryption, persistence accelerators, and seamlessly leverage the biometrics capture capabilities of each user's mobile device, allowing it to: 
Create a baseline biometrics enrollment profile
Store a user's biometrics data in the cloud
Perform biometrics verification of a user's identity against their enrolled profile
Send customized messages to users
Perform two-way messaging communications
Fujitsu provides pay per use, plug-n-play biometric-enabled solutions that enable support for more than 50 biometric devices while instantaneously responding to different types of modalities.
Our services can provide you huge benefits by:
Offering a rapid deployment cycle and lower costs of biometric enablement with a pay for use business model
Providing financial services, retail, healthcare and manufacturing industries with an agnostic approach, permitting multiple modalities such as voice, facial and fingerprinting applications
Enabling easy deployment of biometric security for mobile and traditional applications
Downloads

Top of Page