Data Agility & Protection Services (DAPS)

Data is growing at phenomenal rates and there are now more opportunities than ever for organisations to exploit the information that data contains to grow their business and expand into new markets. However, the unprecedented growth in data brings with it significant business challenges, organisations are struggling like never before to manage, store, access, secure and analyse their data. It is this inability to fully understand and protect their data and align it to business requirements, regulations and strategy that is severely restricting their ability to grow and remain compliant.
Fujitsu recognises that data is an organisation's most relevant and valuable business asset and it lies at the heart of any digital transformation journey. That is why Fujitsu created a portfolio of Data Agility & Protection Services (DAPS) to deliver on our customers' business requirements and data strategy.



Data is a critical strategic asset




For many CIO/CTOs today, the situation is challenging. Traditional IT, with its solid processes and relatively slow pace of change, is under attack. Consumer-led expectations and the desire to monetise mobile, social, cloud and big data capabilities demand a rapid response and much higher levels of innovation from IT. Data is growing at an astronomical speed every year, and companies don't know what to do with all the data, let alone how to manage it, protect it or ensure compliance.




So, what does all this mean?




Historically, backing up and managing data has been an obligation, something that needs to be done for simple logistic reasons: you need a copy of the data in case something happens.

However, with the proliferation of data, and the clear examples in the world of the value of data it has become obvious that customers are not doing enough with their data.




How can Fujitsu help?




The Fujitsu Data Agility & Protection Service (DAPS) portfolio offers a business consultancy and a set of consumption based offerings that support customers most common data management needs of protection, compliance, archive, migration, backup & restore, disaster recovery & endpoint protection on a consumption based platform across all industries deployed "as-a-service", on premise, across mobile platforms, to and from the cloud. The business consultancy is our Global Data Practice (GDP).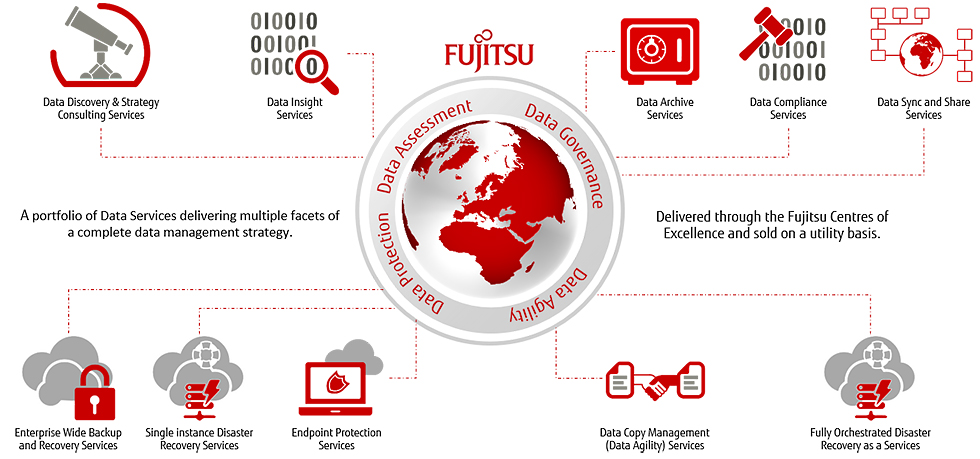 Global Data Practice (GDP)
The Fujitsu Global Data Practice (GDP)

takes a totally business centric approach to looking at an organisation's data requirements, from how the data is created and ingested into the infrastructure, to how it flows and is accessed throughout the organisation, down to its business criticality and how its stored, protected and analysed so that a detailed picture of the data can be built up and then correctly aligned to the business strategy.
While Fujitsu fully understand that technology will always play a fundamental part when it comes to business data, the technology that is deployed must be correctly aligned to both the organisation's strategy and requirements in order to maximise the investment and deliver the required business benefits.
The GDP utilises the Five Pillars of Data as a bridge to bring together both the business and the technology to ensure the correct alignment thereby significantly increasing the chances of a successful business outcome. The associated white paper describes why the Five Pillars of Data should be the focus point for any organisation that is looking to exist and grow in today's rapidly evolving Digital World.

Top of Page