<!-Subtext (optional)->
Automation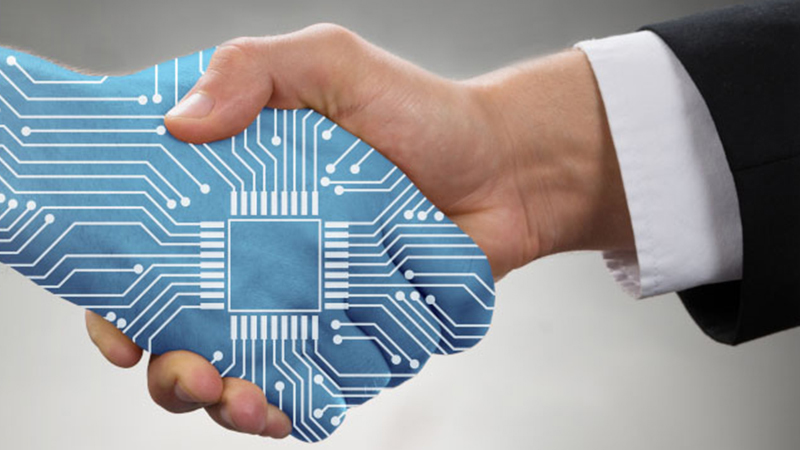 It's time to embrace the true strategic value of Robotic Process Automation (RPA)
Organizations are using automation to help them cut costs, increase efficiency, accelerate speed-to-market and achieve compliance. By automating repetitive, rule-based tasks, businesses are able to optimize their business operations for example– running operational processes, monitoring inputs and work queues, updating system records, creating incident logs and enabling continuous business improvements.
Perhaps less obvious is the positive impact on employee satisfaction. Free from the burden of mundane, repetitive processes, your people have more time for interaction, innovation and delivering better value to your customers.
Fujitsu and automation
Fujitsu helps you to implement a customer-centric, technology-independent approach by working alongside your own people to adopt, manage and scale automation appropriately, across your organization.
From planning your automation strategy, and aligning this to your broader digital vision, through connecting end-to-end processes, to artificial intelligence and cognitive capabilities, we'll work with you to achieve rapid deployment, robust operation and governance.
As Robotics Process Automation (RPA) technology and its adoption matures the market has reached a watershed moment. There are significant benefits realised in RPA pilots and initial deployments that can be rapidly scaled out across the enterprise. Yet business and IT leaders are struggling to move the needle with only an additional 1% of enterprises scaling to over 50 robots in the past year. IT Security concerns, challenges in supporting robot farms in the thousands, as well as a war on talent are paralysing the traditional RPA CoE.
The Industrialised RPA Operating Model
The traditional RPA CoE model is not designed to tackle scale out challenges around rapid scalable deployment, robust support and the supply of a new army of automation specialists to delivery this change. Fujitsu has reimagined the CoE to deliver an industrialised Automation Operating Model to overcome these new scale out challenges comprising an Agile Automation Factory with modular, self-organising delivery pods that may be easily scaled. Our Robotics Operations Centre operates on a 24/7 basis leveraging Operational Analytics to drive structural continuous improvement while our Automation Academy design to tackle the war on talent and supply the required resource pools needed to deliver automation maturity.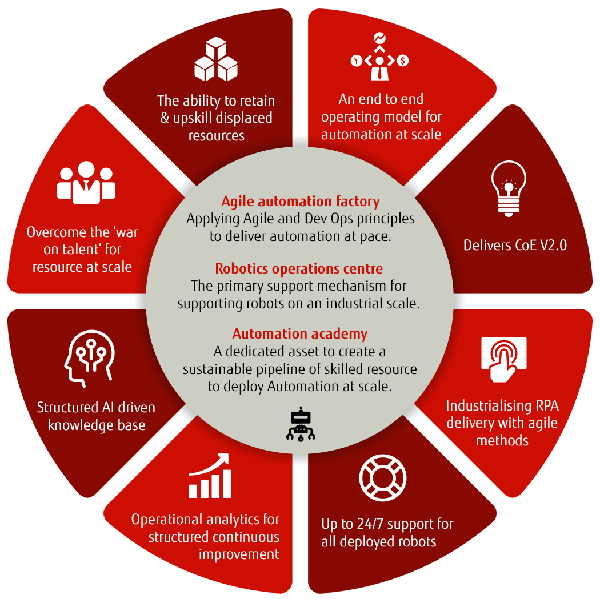 Features and Benefits
Why Fujitsu's industrialised automation operating model?
Because we deliver all the services needed to establish and scale your RPA program, you can enjoy rapid deployment, robust operation and cost-effective maintenance – ensuring all business benefits are monitored and realised.
Non disruptive solution
No replacement of systems required
No deployment of agents, software, development or system integration
Cloud based solution

Completeness of vision
Unique Industrialised RPA Operating Model - Targeted at overcoming barriers to scale out
Automation Academy - To mobilise both Fujitsu and Client resources
Agile Automation Factory - Maximising RPA Delivery Effeciency
Robotics Operations Centre

24/7 support
Structural continuous improvement with Operational Analytics
Development sandbox Cognitive Automation and AI enabled Robotics
Ability to Execute
Pilot to mobilisation in as little as 4 weeks
Zero to 300 Resources in 12 weeks or less
3,000 RPA professionals
50 million Euro investment in complimentary technologies such as NLP, Chat bots Computer Vision and Machine Learning
Full EMEA and Global Coverage
Support in 41 Languages
Contact Fujitsu
Contact us to find out more about our Application Transformation services