Fujitsu Financial Technologies & Services – Transforming your Customer Experience
Life has changed for most of your customers. It's vital that you understand how they've been affected by the crisis and how their needs have changed. It's a balance between maintaining fundamentals and finding new ways of delivering your products and services.
Transforming customer experience in your financial services sector means creating a customer experience that's innovative and flexible as well as secure (both in terms of their money and their personal safety).
What's needed is a reimagination of your financial services business and how it interacts with both customers and employees leading to a robust, agile, sustainable and resilient business.
At Fujitsu, we see digital transformation in financial services as the key to achieving that balance. It's about providing great digital banking customer experience through great employees who can engage directly with your customers. For example, deploying automation to reduce the repetitive tasks which take up their time in order that they are able to focus on what matters most, engaging with your customers in better, more personalized, more value-added ways.
It's about driving internal efficiencies by targeting automation to cut costs and eliminate errors, as well as ensuring that your business is more resilient. As the pandemic proved, digitally-enabled enterprises were better able to quickly adapt their operations and workforces to maintain the integrity of their brand and deliver secure, high-quality customer engagement.
Data is key to your trusted future
Successfully enhancing customer experience in financial services relies on data. The banking and Insurance sector has always been a data-rich business because customers and their transactions generate huge volumes of information.
It's a rich source of insights, ideas, and knowledge on what's happening not just in real-time, but what the future might hold. Banks and Insurers have always thrived on data – in fact, they pioneered most collection and analytical methods.
Again, the experience of 2020 forced most customers to rely on digital channels to interact with financial services organizations. That put the spotlight on those businesses unable to offer a truly personalized, context-specific digital banking customer experience. To achieve that Fujitsu can deliver high quality data to make it real at every touchpoint.
We help you leverage data to enhance the customer experience at every touchpoint so that you can get ahead of disruption and build on your brand legacy. You can be powerfully digital while delivering a very human customer experience.
Webcast: Aligning Financial Services and Consumer Experience for the New Normal
Together with NatWest, we explore what being purpose-led means for Financial Services companies. We find out how far Financial Services is on the journey to becoming purpose-led, ask where it will take them, and outline the digital economy's role in supporting that journey.
Listen to our webcast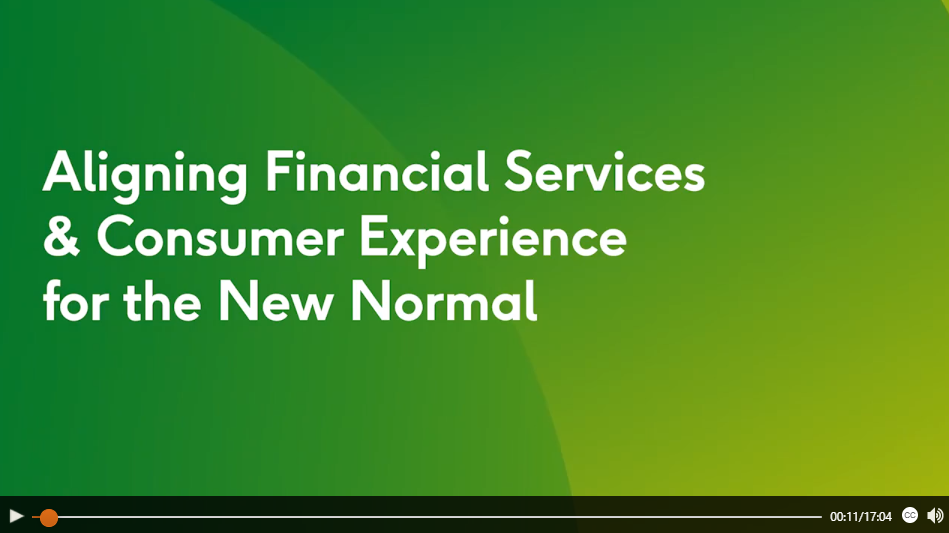 Fujitsu Quantum-Inspired Optimization Services - a quantum shift in trust
Our Quantum-Inspired Optimization Services give you the ability to achieve what we call Always Optimal – the ability to optimize every aspect of your business at lightning speed.
Until now, that's been difficult because the number of options that must be considered for each optimization challenge is numerically vast. Quantum-Inspired Optimization Services enable you to gain a critical edge in a challenging environment where change can be sudden and game-changing, by going far beyond the power of ordinary computing.
You can ask increasingly complex questions more often through the power of combinatorial optimization to reveal insights which support better (and faster) decision making. In a survey we conducted, over half of the organizations recognized the power of Quantum-Inspired Optimization Services to improve automation and achieve greater flexibility, with significant numbers seeing benefits in terms of improving customer experience and gaining customer insights.
Find out more about Quantum-Inspired Optimization Services
New: Fujitsu Al solutions for finance help you go from reactive to proactive to build a truly intelligent future
Nearly 40% of financial services organizations* believe that implementing Artificial Intelligence (AI) can improve their operations efficiency and effectiveness. As well as enable them to become better at using data to improve decision making and forecasting.
AI for financial services is being used to focus computing power on pattern recognition to aid portfolio managers and investment specialists as they try to get ahead of the markets and boost returns for the business. In fact, it's been shown that it results in revenue growth as cited by 37% of respondents in a commissioned study conducted by Forrester Consulting on behalf of Fujitsu.
In terms of cyber security AI can scan signatures and other data entries to spot anomalies or fraud and protect both the business and customers. It also means you can provide services to customers much faster. 43% of respondents told Forrester that security and AI was a key benefit. Fujitsu has also been working with banks to add facial recognition to ATMs; it helps to personalize service whilst making security more robust.
In short, our AI proposition for the financial services sector is not a pre-set product or service. It is a highly adaptable framework which can be matched to any application. That includes including accelerating your business into an agile future.
* a commissioned study conducted by Forrester Consulting on behalf of Fujitsu
Find out how our AI solutions can improve your financial services business
Intelligent Automation of Financial Services
Disruptors are making the most of automation to transform the customer experience in financial services. Fujitsu is working with customers to fast-track (at scale and speed) their automation journey by leveraging the power of Robotic Process Automation (RPA). It's already delivering benefits to areas like bank reconciliation and customer remediation.
The point is to free your people to be more customer focused and effective.