FUJITSU Server PRIMEQUEST
Combining the power of Intel® Xeon® Processor Scalable Family, the standard specifications of Microsoft Windows and Linux operating systems and the wealth of market solutions with innovative RAS features for highest availability and business continuity, FUJITSU Server PRIMEQUEST systems provide new levels of operational efficiency for business and mission critical computing with truly open standards and deliver highest performance. FUJITSU Server PRIMEQUEST systems combine the efficiency of an x86-architecture with the reliability levels rivaling that of a UNIX/mainframe architecture. This makes it ideal for processing Big Data, In-memory solutions such as SAP HANA® and Business Intelligence applications, while preserving all the RAS qualities for maximum uptime.
How can you maximize mission-critical system efficiency and performance?
Selecting the right server infrastructure is crucial for mission-critical computing. One thing's certain: failure isn't an option.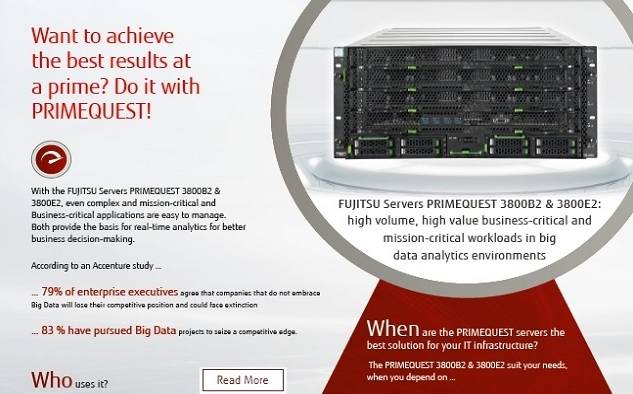 Need more help?
Find out how Fujitsu can help you