ESPRIMO G558 Micro-Desktop PC
Offers advanced desktop PC functionality in an ultra-compact, space-saving design.
With the latest 8th Gen Intel® Core™ processors, PCI Express® SSD, USB Type-C interface and dual-display support, the ESPRIMO G558 provides the performance to meet your daily office needs. Its small size and wide range of interfaces make this PC a great choice for space-constrained workplaces.
Download our Complete G558 Info Pack / Book A Consultation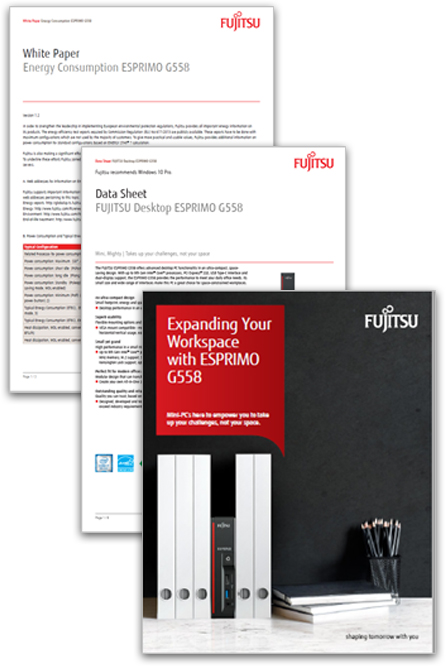 Download our info pack to learn how Fujitsu can assist your Clean Desk initiatives, while maximising your workplace productivity, with our Mini Mighty desktop.
eGuide: "Expanding Your Workspace"
Datasheet: ESPRIMO G558
Global White Paper: Energy Consumption on G558
To instantly download this pack, please enter your details below:
Product Specifications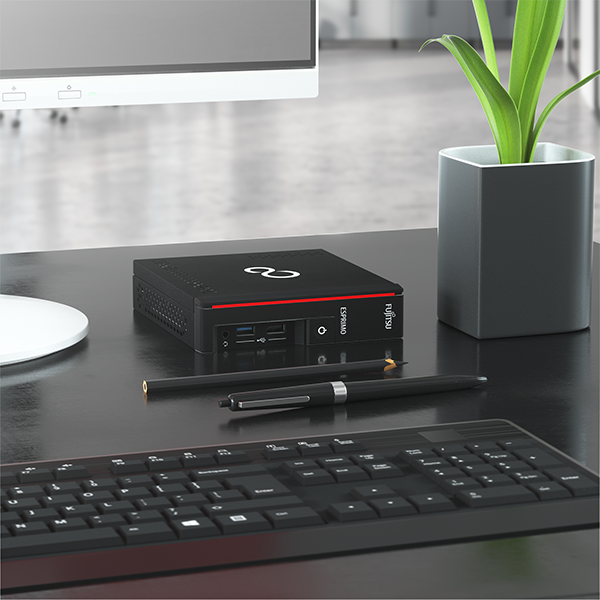 Windows – Easy integration into customers' existing infrastructure
Windows 10 Pro. Fujitsu recommends Windows 10 Pro.
Windows 10 Home
An Ultra-Compact Design – Small footprint; energy and space-saving device for clean, clutter-free desk
Desktop performance in an ultra-small design (~ 0.86 litres)
Superb Visibility - Flexible mounting options and wide range of usage scenarios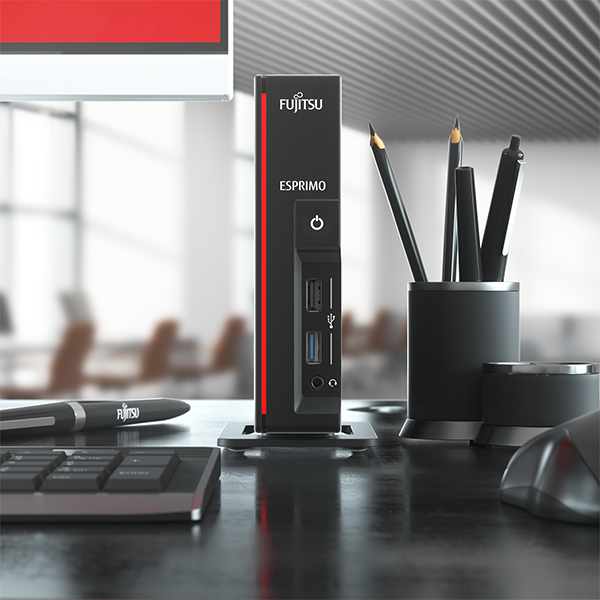 Small yet grand - High performance in a small mini PC design
Latest 8th Gen Intel® Core™ processors, dual display support, USB Type C (optional), advanced security features (embedded TPM, Kensington Lock support, optional EraseDisk, self-encrypting SSDs)
Perfect fit for modern offices and workplaces of tomorrow - Modular design that can transform your workplace
Create your own All-in-One (AiO) PC setup; support for up to two displays
Outstanding quality and reliability - Quality you can trust; based on German production standards
Designed, developed and tested in our own factory in Augsburg to meet Fujitsu standards and exceed industry requirements
ESPRIMO G558 Technical Features
Windows 10 Pro. Fujitsu recommends Windows 10 Pro. Windows 10 Home

Intel® Core™ i7-8700T processor, 12 MB, 2.40 GHz, up to 4.0 GHz
Intel® Core™ i5-8500T processor, 9 MB, 2.10 GHz, up to 3.5 GHz
Intel® Core™ i5-8400T processor, 9 MB, 1.70 GHz, up to 3.3 GHz
Intel® Core™ i3-8100T processor, 6 MB, 3.10 GHz
Intel® Core™ i5-8500 processor, 9 MB, 3.00 GHz
Intel® Core™ i5-8400 processor, 9 MB, 2.80 GHz
Intel® Core™ i3-9100 processor, 6 MB, 3.60 GHz, up to 4.2 GHz
Intel® Core™ i3-8100 processor, 6 MB, 3.60 GHz
Intel® Pentium® processor G5400T processor, 4 MB, 3.10 GHz
Intel® Pentium® Gold G5400 processor, 4 MB, 3.70 GHz
Intel® Celeron® processor G4900, 2 MB, 3.10 GHz

32 GB, 2 Memory slot(s) DIMM (DDR4), Dual channel support, For dual channel performance, 2 memory modules have to be ordered. Capacity per channel has to be the same. 2666 MHz may be clocked down to 2400 MHz depending on processor and memory configuration

Serial ATA III (6 Gbit), NCQ, AHCI

HDD SATA II, 5,400 rpm, 1,000 GB, 2.5-inch
HDD SATA III, 5,400 rpm, 500 GB, 2.5-inch
HDD SATA III, 7,200 rpm, 500 GB, 2.5-inch
SSD PCIe, 256 GB M.2 NVMe module
SSD PCIe, 256 GB M.2 NVMe module, SED
SSD PCIe, 512 GB M.2 NVMe module
SSD PCIe, 512 GB M.2 NVMe module, SED
SSD PCIe, 1024 GB M.2 NVMe module
SSD PCIe, 1024 GB M.2 NVMe module, SED
SSD SATA III, 64 GB, 2.5-inch
SSD SATA III, 128 GB, 2.5-inch
SSD SATA III, 256 GB, 2.5-inch
SSD SATA III, 512 GB, 2.5-inch
SSD SATA III, 1024 GB, 2.5-inch

1 x Front audio: headphone
3 (4 optional) x USB 3.1 Gen1 (USB 3.0) total
3 x USB 2.0 total
1x USB 2.0; 1x USB 3.0 x USB front
2x USB 2.0, 2x USB 3.0, optional 1x USB 3.0 Type-C x USB rear
1 x Ethernet (RJ-45)
1 x Kensington Lock support
1 x DisplayPort
1 x HDMI

Intel® UHD Graphics 610, Intel® UHD Graphics 630, Up to half size of total system memory

10/100/1,000 MBit/s Realtek RTL8111G
1 (optional with Bluetooth together) x Integrated WLAN

146.9 x 164.5 x 36 mm
5.78 x 6.48 x 1.42 inch

power supply efficiency at 115/230V: 88% average efficiency

Ultra space-saving design, EraseDisk functionality, Low Power Active Mode, Made in Germany, SmartCard reader (external), Ultra-compact housing, USB Type-C Power Delivery

3 years, Next Business Day Onsite service (within Onsite coverage area) within Australia and New Zealand
3 years, Pickup/Return service (outside aforementioned coverage area)

USB Type-C to DisplayPort Adapter
USB Type-C to VGA Adapter
FUJITSU Display P24-9 TE
Keyboard KB950 Phone
Wireless Mouse Touch WI910
FUJITSU Mounting Kit for Height Adjustable FUJITSU Displays
More Resources
News