<!-Subtext (optional)->
A feast for your eyes.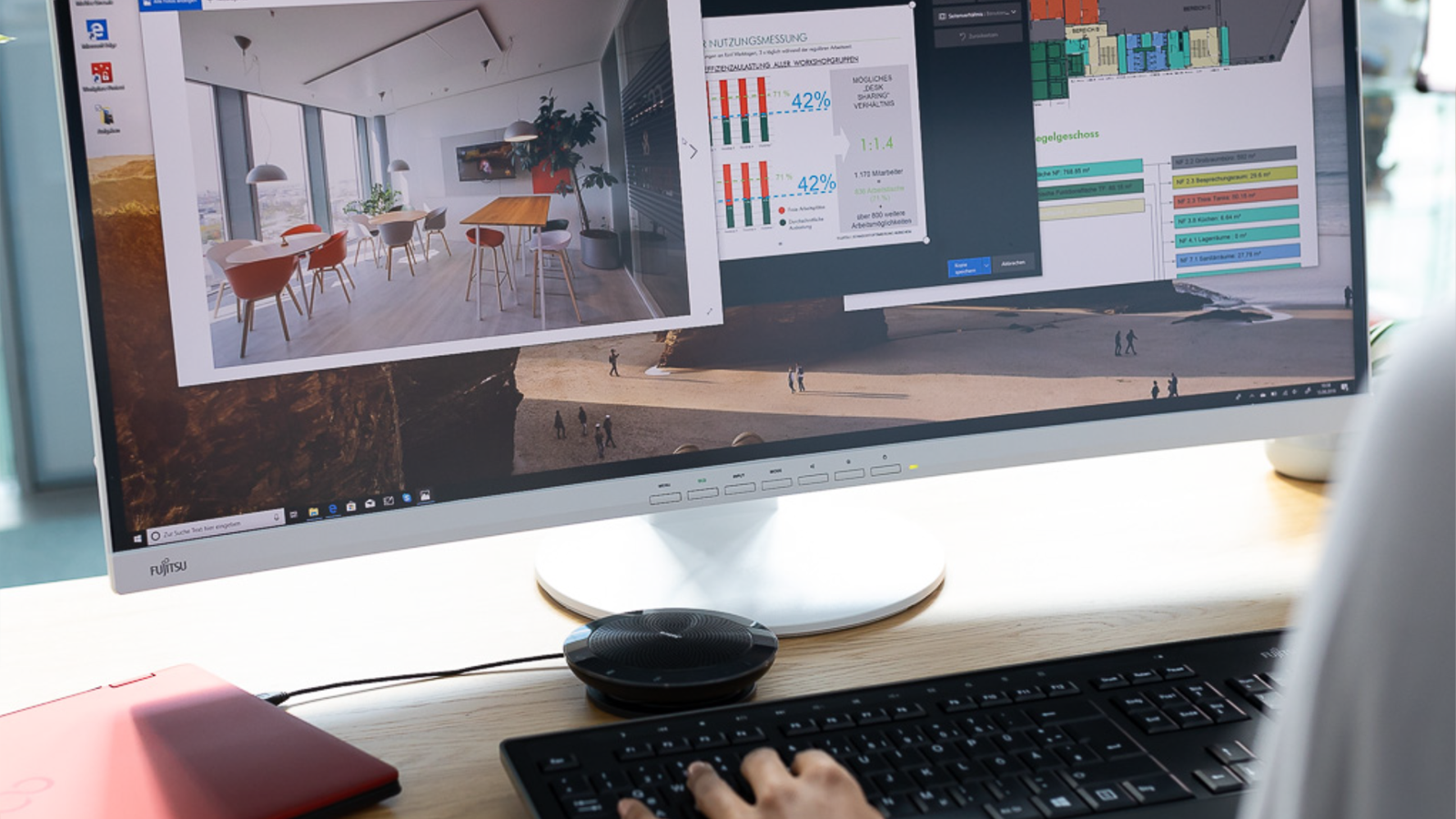 FUJITSU Displays
A Feast for your eyes
Find the ideal, balanced combination of ergonomics and productivity with FUJITSU Displays to get the most out of your work. Covered in a modern design, our displays provide usability, reliability and individual user comfort to make them suitable for all environments in small-, medium- as large-sized enterprises. Discover brilliant, environmental-friendly display solutions with a wide range of connectivity and security options for a smarter working – whatever type of office you prefer.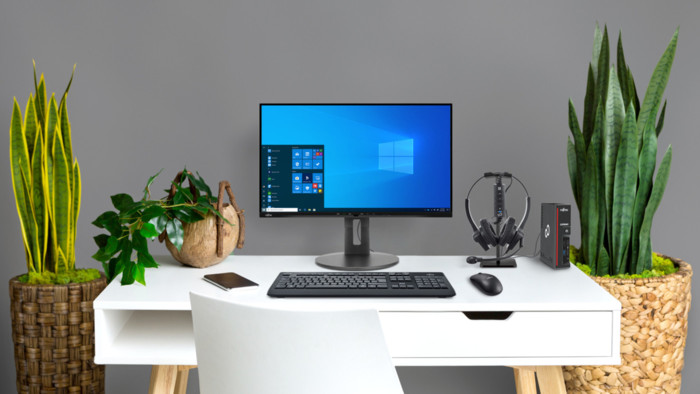 Smart Working
Smart Working with FUJITSU Displays
The future of workspaces starts now: enjoy a facilitation of work for a performance boost.

A seamless, bezelfree design combined with features like DisplayPort, DaisyChain and USB Type-C Port replicator, makes our B-Line and P-Line displays perfect for multi monitor scenarios without any cable clutter. Just connect FUJITSU devices to the monitor arms and share power delivery as ON/OFF-button with the monitor.\

Fujitsu Software DisplayView™ suite offers an easy display configuration with just one mouse click. It comes with a split-screen function and Anti-Spy functions for secure working.

Using our displays, the workspace meets your ergonomic needs with the high flexible stand base and a workplace lighting guide for healthy eyes.

Short and crisp: configure your own, individual All-In-One (AIO) solution on a clean desk with a wide range of possibilities!
A sea of possibilities – in one product!
The world of ergonomics, high performance and sophisticated display solutions

Our display solutions adapt the user profile and his requirements. Choosing sizes from 19 to 34 inches, ultra-wide or curved monitor and your required configuration of features like USB Type-C functionality.

Our AIO Solution with FUJITSU P-Line displays and latest FUJITSU G558 Mini-PC or LIFEBOOK U-Series comes with a holistic fitting. The PC system is switched on and off via display, even with a closed notebook and a single USB Type-C cable provides 65 W power supply as data transfer.
Share keyboard, mouse and LAN* between two PC devices using the built-in KVM function* to open the possibility of creating next-generation PnP 'shared desks'. so you can share standard thin-client infrastructure peripherals with temporarily used notebooks.
Safety first: FUJITSU P-Line displays detect user presence automatically and lock the workspace, making them ideal for public areas and offices where security is paramount at every stage. As the backlight gets turned off until the user returns back to the workspace, the presence detection helps you on saving energy.
*Available in Select models only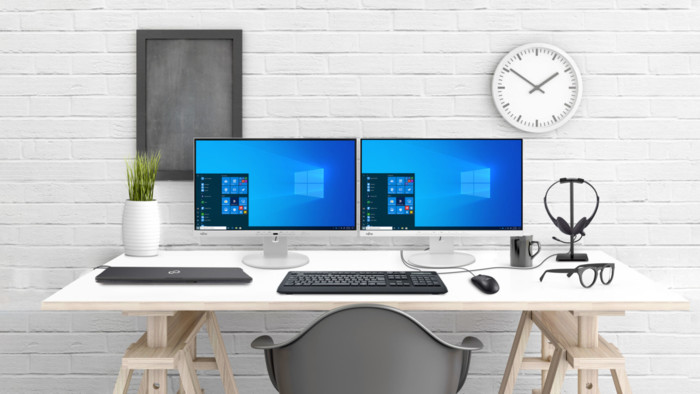 Comfort & Ergonomics for a performance boost
Ergonomics directly impacts user productivity
That's why our displays offer height adjustment for different user heights and enables tilt, swivel, rotation to portrait mode. Cable guides prevent clutter and promote a clean desk workspace.
Enjoy comfortable and ergonomic working with FUJITSU Display accessories including Dual Monitor stand and Universal Monitor stand. The FUJITSU Dual Monitor Stand in particular can accommodate displays from 21.5 inches to 27 inches, enabling users to individually extend their workspace with ease.

Comfort means health
Difference in display lighting and ambient lighting conditions risk eye strain and have greatly impact user productivity in the long run. Our displays come up with a unique solution for this scenario: Auto Brightness Control (ABC) .
Once activated, the ABC sensor measures ambient lighting condition and adjusts display brightness accordingly.
Long days with PC-work will no longer impact your health negatively with our intelligent and ergonomic display solutions!
Display Accessories
Fujitsu delivers a comprehensive range of intuitive and useful accessories to increase user satisfaction and productivity.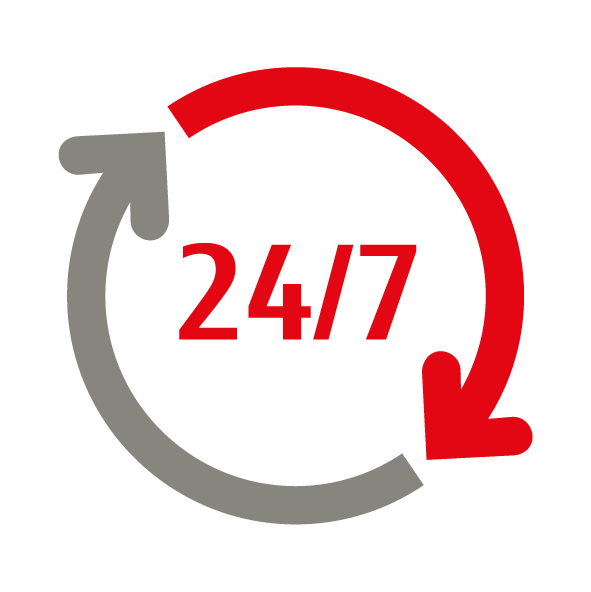 Reliable
Human Centric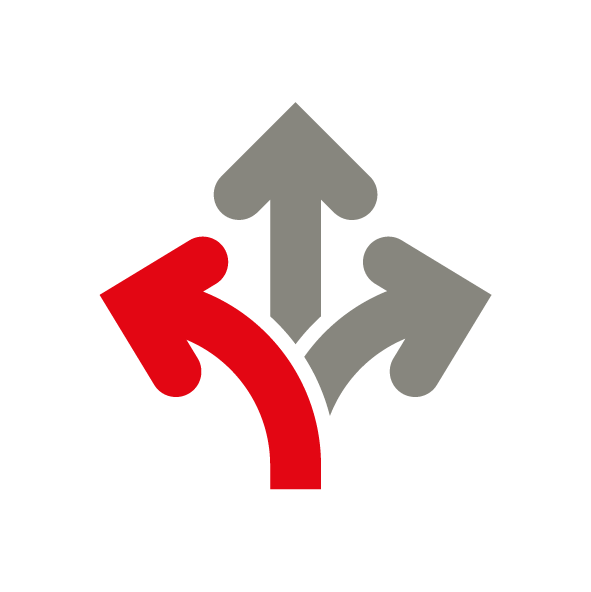 Innovation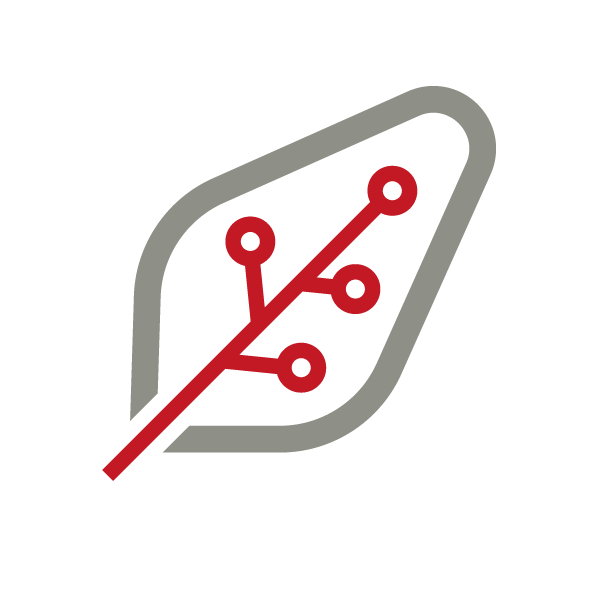 Green