Fujitsu Demonstrates Open Optical Control in TIP CANDI Proof of Concept
Virtuora NC provides multi-vendor SDN control in real-world use case
Fujitsu Network Communications Inc.
Richardson, TX, June 02, 2021
— Fujitsu Network Communications, Inc. has completed a successful demonstration of open optical network control in collaboration with the Telecom Infra Project (TIP) Converged Architectures for Network Disaggregation & Integration (CANDI) project group. The proof of concept, conducted in collaboration with the project team including tier one network operators, demonstrates end-to-end service operations and network visibility across multi-vendor optical networks.
Fujitsu contributed the Virtuora® Network Controller (NC) to enable multi-vendor SDN control across a partially disaggregated Open Line System (OLS), helping to define real-world operator use cases to accelerate adoption of open converged and packet optical networks. The controller supports both a standard T-API interface for the ROADM network as well as an OpenConfig interface for the transponders.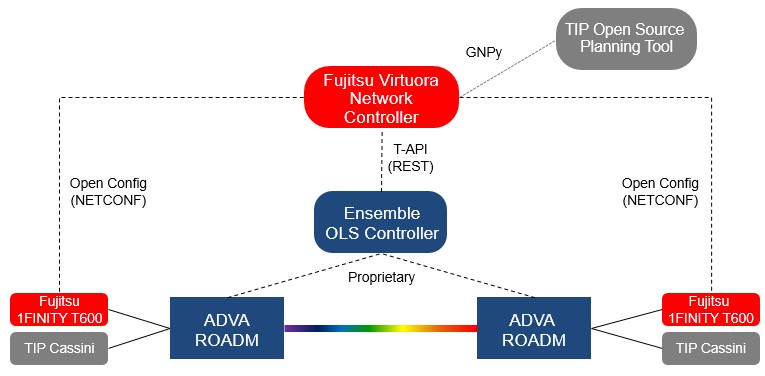 Figure 1: TIP CANDI proof of concept open optical architecture. Fujitsu provided the Virtuora® Network Controller and 1FINITY™ T600s for this proof of concept.
The proof of concept is the first integration of a commercial SDN controller based on the OpenDaylight platform, along with GNPy, the only vendor-neutral, open-source optical planning tool for optical reach verification. Virtuora NC supports both OLS domain control and optical SDN control, leveraging OpenDaylight to deliver a blend of openness and out-of-the-box capabilities for optical network design, installation, service creation, assurance and maintenance.
The proof of concept demonstrates how flexible, modular optical hardware products and software control solutions based on open-source platforms provide a unique offering that achieves immediate needs for new network infrastructure, while positioning the network itself for migration to open networking in phases. This inherent flexibility allows CSPs to deploy an optical architecture today and achieve an open network architecture tomorrow.
"The open optical control project is a major milestone toward enabling operators to achieve greater vendor diversity and efficiencies in their optical networks," said Francois Lafontaine, vice president and head of the software business at Fujitsu Network Communications, Inc. "This proof of concept clearly validates the capabilities of Virtuora NC as a true multi-vendor SDN controller."
To view the TIP CANDI PoC, visit the virtual Demo Zone during the virtual Optical Networking and Communications Conference and Exhibition, June 7 – 11, 2021.
About Fujitsu
Fujitsu is the leading Japanese information and communication technology (ICT) company offering a full range of technology products, solutions and services. Approximately 126,000 Fujitsu people support customers in more than 100 countries. We use our experience and the power of ICT to shape the future of society with our customers. Fujitsu Limited (TSE:6702) reported consolidated revenues of 3.6 trillion yen (US$34 billion) for the fiscal year ended March 31, 2021. For more information, please see
www.fujitsu.com
.
About Fujitsu Network Communications Inc.
Fujitsu Network Communications, Inc., is a leading provider of digital transformation solutions for network operators, service providers and content providers worldwide. We combine best-in-class hardware, software and services with multivendor expertise to enable cost savings, faster services delivery and improved network performance. Working closely with our customers and ecosystem partners, we design, build, operate and maintain better networks for the connected world. For more information, please see
http://us.fujitsu.com/telecom
or connect with us on LinkedIn at
www.linkedin.com/company/fujitsu-network-communications
.
---
Fujitsu (and design)®, 1FINITY™,  Virtuora® and "shaping tomorrow with you" are trademarks of Fujitsu Limited in the United States and other countries. All rights reserved. All other company or product names mentioned herein are trademarks or registered trademarks of their respective owners. Information provided in this press release is accurate at time of publication and is subject to change without advance notice.

Date: June 02, 2021
City: Richardson, TX
Company: Fujitsu Network Communications Inc.