Fujitsu Develops Automotive Relay FTR-K5 Series for 6.6kW EV/PHV On-Board Chargers
Fujitsu Components America Inc.
San Jose, CA, June 18, 2019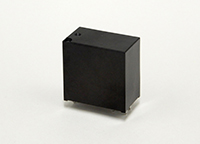 Fujitsu Components America, Inc. today announced it is now sampling a 6.6kW (32A-250VAC) switching automotive relay for on-board battery chargers in electric and plug-in hybrid vehicles (EV/PHV). Volume production is expected to begin in March 2020.

The FTR-K5 is a 1 Form A PCB relay series that assists with faster EV/PHV battery charging while also meeting automotive vibration and shock resistance specifications. Moreover, its 105degC temperature rating and 8mm insulation distance between coil and contact exceed those of any currently available power relay in this class.

The relay features a 5,000VAC withstand voltage between coil and contact and 1,000VAC between adjacent contacts. Despite its low, 900mW power consumption, the relay can sustain a 40A continuous power supply (without switching).
The FTR-K5 series is available in either a flux-free or plastic-sealed enclosure. With a life of 30,000 operations, the flux-free type is recommended for sealed charger units. The plastic-sealed type has a higher resistance to dust and exhaust gas, making it suitable for non-sealed charger units.
To request product samples, go to: Relay Sales.

About Fujitsu Components America, Inc.
Fujitsu Components America, Inc. markets and distributes electronic and system components and sub-systems throughout North and South America. Products include relays, connectors, input and pointing devices, touch panels, thermal printers, and wireless modules. The company is headquartered at 2290 North First Street, Suite 212, San Jose, CA 95131. For product information, contact FCAI via telephone at 1-800-380-0059 or by email at 
components@us.fujitsu.com
. 
For more information, please see: 
us.fujitsu.com/components
Press Contact - Fujitsu Components America
Mary Jo Carlone
Phone: 414-425-6164
E-mail: mjccomm@att.net
Company: MJC Communications
---
All trademarks or registered trademarks are the property of their respective owners.

Date: June 18, 2019
City: San Jose, CA
Company: Fujitsu Components America, Inc.