Fujitsu (Thailand) Co., Ltd. introduces ScanSnap Update – Send email directly from ScanSnap models equipped with touch screens
Widens use to Education field with added Chromebook support
Bangkok, Thailand, May 25th, 2021 - Fujitsu (Thailand) Co., Ltd, -today, announced the latest ScanSnap*1 update on ScanSnap iX1600 and ScanSnap iX1500, models equipped with touch screens. With effect from June 2021, ScanSnap users are able to send scanned data via email without the use of PCs. "Set a destination email address to profile icons using the touch screen, select the preferred profile shown, and start scanning without the need for the PC. Enjoy posting to services that are email-linked, like the chat tools, too, at your own convenience." said Mr. Pornchai Ponganekkul, Head of DX Modernization, Fujitsu (Thailand) Co., Ltd.
In addition, ScanSnap mobile application "ScanSnap Connect Application", is now available on Chromebook, a widely adopted tool in the educational field. ScanSnap connects to Chromebook via Wi-Fi so that scanned data can be saved on Chromebook directly.
Send scanned data via email*2 directly from the ScanSnap models equipped with touch screens
Preset a profile icon with an email address, select this preferred profile icon, and scan documents, every step performed at ease and seamlessly on the touch screen without the need to start the PC, elevating business efficiency.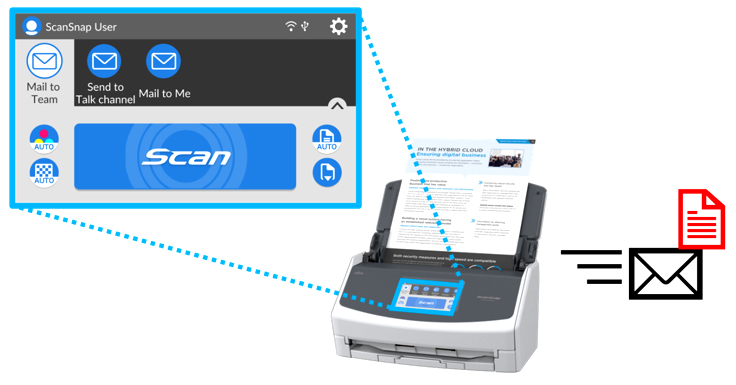 Promotes teamwork and document sharing
Preset team member profiles with their individual email address and share with one touch. Handwritten notes taken ad-hoc during meetings can be shared smoothly as well.
Wider service options by scanning to emails
Send scanned data to wider services that connect with emails. For example, sharing to your team's channels (e.g. Slack, Microsoft Teams)*3 is easy with one touch.

*Since the scanned data is sent from the fixed email address "noreply@mail.cloud.scansnap.com" , it may not be possible depending on the service you are using. For details, refer to the help of each services.
ScanSnap now supports Chromebook
ScanSnap models with Wi-Fi compatibility, now connect to Chromebook. Save scanned image data (PDF/JPEG) wirelessly using the ScanSnap mobile "ScanSnap Connect Application". Additional support of Chromebook, a widely adopted tool in the educational field, allows teachers and students direct access to paper-based materials from ScanSnap.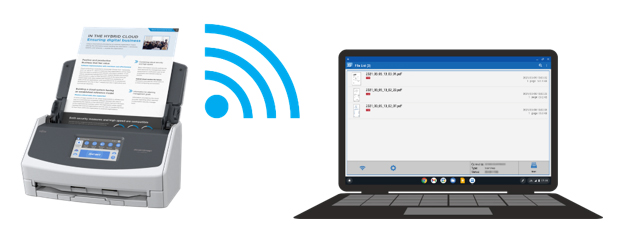 Additional updates: Advanced blank page removal for documents with bleed-through
Blank page removal is now more accurate with ScanSnap Home and ScanSnap Cloud by equipping with high-precision technology from our commercial scanners.*4
For more information on additional updates, please visit following website.
https://www.pfu.fujitsu.com/imaging/ss_hist/
About ScanSnap Series
The ScanSnap Series lineup comes with a variety of models, from mobile use to desktop use. Each can be used on Windows/Mac, and iOS/iPadOS/Android/Chrome OS*5

[Compatible models]
[Functional differences between Chromebook and Windows/Mac]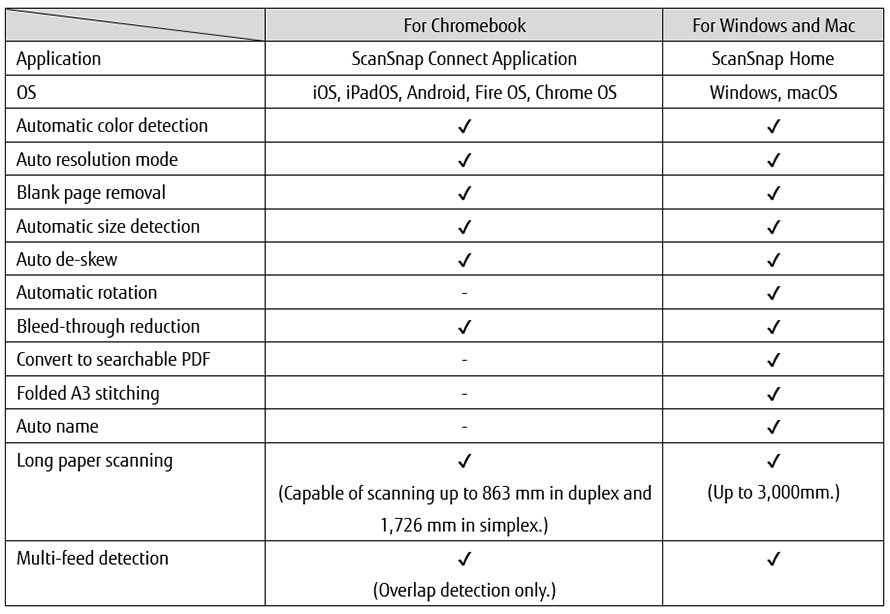 ---
Trademarks
ScanSnap is registered trademark of PFU Limited Japan.
Product names and company names are the registered trademarks or trademarks of the respective companies.
Notes
1 ScanSnap scanners are marketed globally as a unified global brand by PFU Limited, PFU Group Companies, Fujitsu and Fujitsu Group Companies.
2 The email sending function is using ScanSnap Cloud.
3 details on how to post by email, please refer to the website for individual services (Slack, Microsoft Teams).
4 ScanSnap Connect Application does not support this improvement.
5 Can be used with Wi-Fi compatible models.
6 Discontinued product.
7 Initial settings such as Wi-Fi setup require operation on Windows or Mac.
About Fujitsu
Fujitsu is the leading Japanese information and communication technology (ICT) company offering a full range of technology products, solutions and services. Approximately 130,000 Fujitsu people support customers in more than 100 countries. We use our experience and the power of ICT to shape the future of society with our customers. Fujitsu Limited (TSE:6702) reported consolidated revenues of 3.9 trillion yen (US$35 billion) for the fiscal year ended March 31, 2020. For more information, please see : www.fujitsu.com.
About Fujitsu (Thailand) Co., Ltd.
Fujitsu (Thailand) Co., Ltd. provides the highest standards in IT solutions and services, with a team of highly qualified and motivated technical professionals. FTH, incorporated in Thailand in September 1990, provides a wide range of computer and telecommunication products and solutions for manufacturing, education, retail, banking and other business sectors. We also offer a full range of services such as consulting, system design and development, network design, help desk, training, system installation, and maintenance. For more information, please see: http://www.fujitsu.com/th/en/
Fujitsu Thailand
Press Contacts
Phone:
+66 (0) 2302-1778
Fax:
+66 (0) 2302-1555
E-mail:
wanpen@th.fujitsu.com
Company:
Fujitsu (Thailand) Co., Ltd.