Fujitsu (Thailand) Co., Ltd. introduces significant enhancements to fi Series software lineup "PaperStream"
- New software "PaperStream ClickScan" to make scanning simpler -
Bangkok, Thailand, June 22, 2021 - Fujitsu (Thailand) Co., Ltd, today, announced significant enhancements to fi Series software lineup "PaperStream", compatible with our commercial image scanners "fi Series 1*"and" SP Series 1* 2*"

"'PaperStream ClickScan', our new add-on to the PaperStream lineup is ideal for people who would like to digitize documents more easily. The scanner driver 'PaperStream IP', the conventional capture software 'PaperStream Capture', and 'PaperStream Capture Pro' now comes with an enhanced UI and boosted features to meet customer needs.", said " Mr. Pornchai Ponganekkul, Head of DX modernization, Fujitsu(Thailand) Co., Ltd.". "In a society whereby digital transformation has become a necessity in light of the recent pandemic, it has become more important to accommodate new working styles. PaperStream ClickScan is the easy solution for customers to rollout without IT assistance."

PaperStream ClickScan - 3 simple steps to complete scanning
Using PaperStream ClickScan, scan and save in 3 simple steps. Keeping operation to the bare minimum, administrators do not need to preset scan settings or output destinations, so that operators can start using the scanner right away. In addition, once you assign the output destination to the scan button, you can also save the scan data with just "one push" in a simpler way.
If you want to change scanning settings, you can easily select and change basic settings such as color mode, resolution, page size, and file format on a single panel. File formats can be selected from PDF, Searchable PDF, JPEG, TIFF, and BMP.




Download PaperStream ClickScan
PaperStream ClickScan is available "http://imagescanner.fujitsu.com/global/dl/".

*Customers using the conventional software PaperStream Capture can also use in conjunction with PaperStream ClickScan. To use PaperStream ClickScan, installing or updating PaperStream IP 3.0 scanner driver is required.

Key Features of PaperStream IP / Capture / Capture Pro 3.0 Updates
The conventional scanner driver "PaperStream IP" and capturing software "PaperStream Capture/Capture Pro" have been updated with new features to increase workflow efficiency. With the enhanced "PaperStream Series", you can use the "fi Series" and "SP Series" more comfortably.




Renewed PaperStream IP user interface for more intuitive settings
The scanner driver, PaperStream IP, is now easier to use with an improved user interface. While retaining functionalities of the previous interface, the software provides better icon visibility for easier setting configuration. In addition, the preview screen displays the setting result in real time according to parameter, so you can set it while checking the desired result. All image processing functions are also available from "PaperStream ClickScan".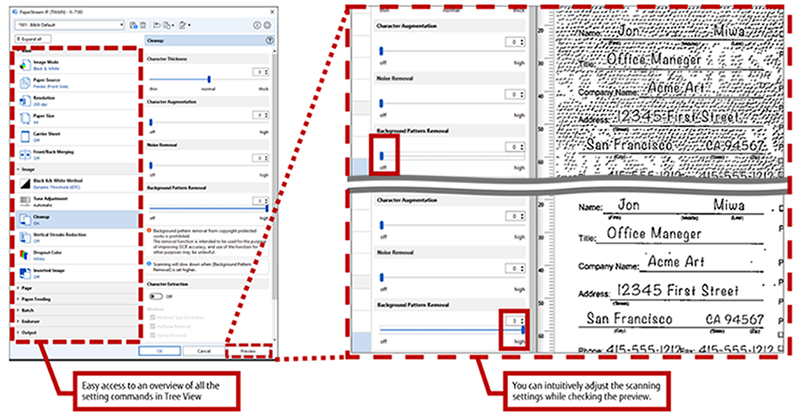 Improved accuracy of PaperStream IP's "Automatic Rotation" function boosts scanning efficiency
New engine developed using deep learning technologies
The "Automatic Rotation" function has greatly improved in its accuracy with the use of deep learning technologies in its engineering phases. For instance, delivery slips printed using dot matrix printers and documents with patterned backgrounds are successfully corrected to eliminate the need of adjusting document orientation before and after scanning.




Custom settings for reliable correction of standard forms
Document formats can be pre-registered, thereby ensuring accurate document rotation to be applied thereafter. Documents with layouts that were previously difficult to distinguish (e.g. Documents with a mix of vertical and horizontal letters, document with few characters, etc.) can be automatically corrected in orientation and streamline the reading of standard forms.




PaperStream Capture proposes optimal scan settings with "Setting Assistant" *3
Frequent, manual operations like deleting blank pages or correcting page orientation, can be significantly reduced and efficiency accelerated, by following the suggestions in the software notifications.



---
Trademarks
Product names and company names are the registered trademarks or trademarks of the respective companies.
Notes
1 FUJITSU Image Scanner "fi Series" and "SP Series" are marketed globally as a unified global brand by PFU Limited, Fujitsu and Fujitsu Group Companies.
2 Support for the SP series is scheduled for July 2021 or later.
3 The Blank Page Deletion function, Automatic Rotation function, Automatic Sorting function, are targeted proposed functions.
About Fujitsu
Fujitsu is the leading Japanese information and communication technology (ICT) company offering a full range of technology products, solutions and services. Approximately 126,000 Fujitsu people support customers in more than 100 countries. We use our experience and the power of ICT to shape the future of society with our customers. Fujitsu Limited (TSE:6702) reported consolidated revenues of 3.6 trillion yen (US$34 billion) for the fiscal year ended March 31, 2021. For more information, please see : www.fujitsu.com.
About Fujitsu (Thailand) Co., Ltd.
Fujitsu (Thailand) Co., Ltd. provides the highest standards in IT solutions and services, with a team of highly qualified and motivated technical professionals. FTH, incorporated in Thailand in September 1990, provides a wide range of computer and telecommunication products and solutions for manufacturing, education, retail, banking and other business sectors. We also offer a full range of services such as consulting, system design and development, network design, help desk, training, system installation, and maintenance. For more information, please see: http://www.fujitsu.com/th/en/
Fujitsu Thailand
Press Contacts
Phone:

+66 (0) 2302-1778

Fax:

+66 (0) 2302-1555

E-mail: wanpen@th.fujitsu.comCompany:

Fujitsu (Thailand) Co., Ltd.