High quality, durable receipt printer with compact size
Three models are available to choose from according to your needs.
The use of thin paper and the paper-saving function make it possible to reduce running costs and contribute to environmental impact.
1 Station Thermal POS Printer
FP-2200
High quality and function printer

FP-2100
Acheiving stable quality and printing

FP-2000
Acheiving valued cost for customer with high quality prinitng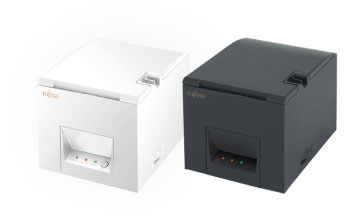 ---
FUJITSU certain technology and customers requests are packed into these thermal printers.
FP-2000 series have useful functions and the new reliable technology for not only POS system but also mounting KIOSK and order entry tickets in Retail, Hospitality and all other industries.
In other words, FP-2000 series will be your best business partner.
User friendly

No.1 printing speed in POS thermal printer

- Achievement of "Non-waiting" printing -


400mm/s is the Max. printing speed of FP-2200. This is the No.1 printing speed in POS thermal printer in the world.
FP-2100 and FP-2000 are also more enhanced printing speed than previous models.

Optimum driver/Firmware technology and High speed paper feed mechanism enhances the throughput. This enables customers not to waste time.

Printing thin paper (53µm)

- Helping running cost for paper consumption 30% OFF -

FP-2000 series support printing for thin paper thickness (53µm).
Comparing with 75μm thickness, there is 30% difference of receipt consumption.
FP-2000 series can helps support of low paper consumption for end users
(*53μm paper which width is 50mm and 58mm are not supported.)

Paper curl adjustment functions (FP-2200 only)

- Stress free operation -


When the end of paper roll is close, the paper curl becomes strong, and it is hard to pass the receipt straightly to show the receipt's surface.


This function loosens the strong curl of paper, and it helps for users to pass the receipt to the customers easily.

All in one box

- FP-2000 series have everything that you need -

All accessories to use this printer are prepared in one box. FP-2000 series can cover the procurement cost and time for preparing accessories.

Selectable interface cards

- Selectable interface cards to accomodate end users needs -

USB is a standard interface card with Drawer kick connector and AC connector on the main board. Also, various optional interface cards are available depending on end user's usage environments.
FUJITSU advanced technology of FP-2000 series
Simulated 180 dpi printing mode

- Similar printing quality with major printer maker -

From FP-2000 series, "180 dpi mode" function is added as the new function. After replace your using POS printer to FP-2000 series, the printing result is similar by this mode. One thermal head can print 203dpi and simulated 180 dpi printing result.

Automatic optimum printing mode

- For the POS system which only provides low power -

Printer calculates the density of print data before printing. Depending on the print density, printer controls power and speed to print clearly. FP-2000 series keep high quality printing result even though your POS system provides low power.

Completed drivers and software

- Preparing necessary drivers and software for your connectivity -

Various drivers and software are available with an easy software installer.

Support of decreasing rush current (FP-2000, FP-2100 only)

- Advanced connectivity for hardware -

FP-2100 and FP-2000 are supported by down rush current circuit to decrease the peak of sudden current's start up. This support prevents the printer from system down in the environment of not using specified FUJITSU AC adaptor or using powered USB.
Specifications (Planning purpose only)
- Functional specifications
- Reliability
- Physical specifications
Brief version
FP-2200
FP-2100
FP-2000
Printing Technology
Direct Line Thermal Method
Print Resolution
8 dot/mm (0.125mm/dot) 203dpi
Printing Speed
Max. 400 mm/sec.
Max. 300mm/sec.
Max. 230mm/sec.
Cutter Method
Partial cut /Full cut
Partial cut
Paper curl Ejection
Available
N/A
N/A
16 Gray Scale Printing
Available
Available
N/A
Paper
Roll Paper, Paper width: 80mm, 58mm, 50mm
Outer Diameter of Roll Paper: less than Φ83mm
Paper Thickness: 53µm - 85µm
*53µm thickness paper which width is 50mm and 58mm are not supported.
Interface
USB
USB(2.0 Full-speed)
USB+RS232C
USB(2.0 Full-speed) + RS232C Serial
USB+LAN
USB(2.0 Full-speed) + Wired, 10BASE-T/100BASE-TX
USB+Powered USB
USB(2.0 Full-speed) + Powered USB (2.0 Full-speed)
N/A
USB+RS232C+LAN
USB(2.0 Full-speed) + RS232C Serial + Wired, 10BASE-T/100BASE-TX
Barcode
1D
UPC-A, UPC-E, JAN13(EAN), JAN8(EAN), CODE39, ITF, CODABAR(NW-7), CODE93, CODE128
2D
QR code, PDF417, Data Matrix
QR code
Receive Buffer
Max. 4KB
Logo Store Memory
Max.576KB
Paper Near End
Available
Paper End
Available
Software Interface
ESC/POS emulation, 180DPI ESC/POS emulation
Software
Printer Driver
Windows *1
Windows driver
OPOS driver (Ver.1.13)
JavaPOS driver (Ver.1.10)
Linux
JavaPOS driver (Ver.1.10) *2
CUPS driver *3
Printer Utility
Software to set the printer's setup items(only Windows OS)
SDK

Android :
LAN :
2.3.3 or more
USB :
3.1 or more

iOS :
LAN :
6.1.3 or more
*1

Support OS
Windows® 10, Windows Server® 2016,Windows Server® 2012 R2, Windows® 8.1 Windows Server® 2008 R2, Windows® 7, Windows Server® 2008, Windows Vista®

*2

Support OS
Linux SuSE11.4/13.2, Cent OS 6.4.

*3

Support OS
Ubuntu 14.04
Download Brochure
Download Driver
Updating Firmware for Interface Cards (RS-232C / LAN)