[ PRESS RELEASE ]
April 1, 2021
Fujitsu Business Technologies Asia Pacific Limited
Fujitsu Business Technologies Asia Pacific Announces New CEO
Hong Kong, April 1, 2021 - Fujitsu Business Technologies Asia Pacific Limited (FBTA) announces the appointment of Ms. Stephanie Leo as Chief Executive Officer, effective from April 1st, 2021. Stephanie is a highly accomplished and seasoned business executive who will collaborate with local country management teams to lead FBTA's corporate direction and business strategies. Stephanie will assume responsibility for Client Computing Devices and Workplace Solutions to build business success throughout the Asia region.
The world is currently facing unsurpassed new challenges. At Fujitsu, we believe an adaptive enterprise is critical to unlocking success in uncertain times. It enables corporates to pivot from risk, continuously add value, deliver new customer experiences and improve operational effectiveness. One of Stephanie's missions in her new role will be to support and enliven users to embrace a digital transformation. FBTA offers business solutions that will help users to reimagine the world of remote working in this transformed environment. FUJITSU Work Life Shift helps companies become adaptive enterprises, this accelerates corporates' cost restructuring activities, enabling them to emerge in a more agile, resilient form.
"I am thoroughly honoured to lead Fujitsu Business Technologies on this exciting and challenging journey of adapting new, creative workplace solutions and embracing seamless digital transformations for a new workstyle. As an organization, we aim to empower our commercial customers along this journey of workforce transformation as they create more resilient and borderless operations, redefining the workplace in order to optimize resources," said Stephanie.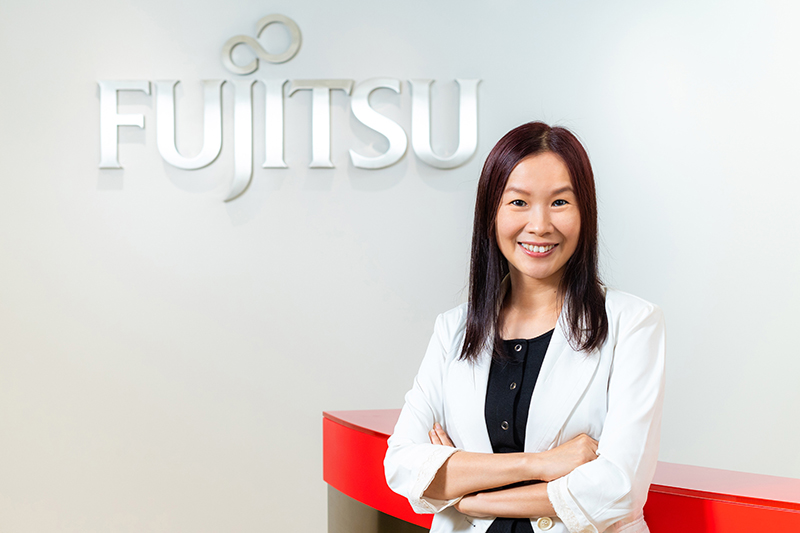 In her new role, Stephanie aims to enable customers to build flexible enterprises and raise new workstyle productivity to a new level with solutions that support hybrid workplaces, mobility and security. Reinforcing the company's regional presence, she will work closely with Fujitsu local country management teams to drive business success, strengthening Fujitsu's position as one of the top ICT Companies in Asia.
Stephanie joined Fujitsu PC Asia Pacific (FPCA) in February 2011 and brings more than 15 years of experience from multinational companies in the APAC and EMEA regions. Her diversified business knowledge comprises a wide spectrum of management accomplishments which makes her the choice candidate to spearhead FBTA in supporting commercial users to reimagine workforce transformation and demonstrate smart working to the fullest as business styles evolve. Before joining Fujitsu PC Asia Pacific, Stephanie worked for several major international corporations including the Intel Corporation (EMEA) and the UTAC (APAC).
Online resources
- Follow Fujitsu Business Technologies on Facebook: www.facebook.com/fujitsu.business
- Follow Fujitsu Business Technologies on LinkedIn: www.linkedin.com/company/fujitsu-fbta
About Fujitsu
Fujitsu is the leading Japanese information and communication technology (ICT) company offering a full range of technology products, solutions and services. Approximately 130,000 Fujitsu people support customers in more than 100 countries. We use our experience and the power of ICT to shape the future of society with our customers. Fujitsu Limited (TSE:6702) reported consolidated revenues of 3.9 trillion yen (US$35 billion) for the fiscal year ended March 31, 2020.
For more information, please see:http://www.fujitsu.com
About Fujitsu Business Technologies Asia Pacific
Fujitsu Business Technologies Asia Pacific is the Asia Pacific Regional Headquarters for business technologies of Fujitsu Limited, Japan, responsible for wide range of client computing devices and business solutions for corporate users in Asia Market.
Media contacts
---
All other company or product names mentioned herein are trademarks or registered trademarks of their respective owners. Information provided in this press release is accurate at time of publication and is subject to change without advance notice.