Beyond optimisation to Always Optimal
Now more than ever, Financial Services businesses need to be as optimal as they possibly can be, not just to meet the challenges of the present and the future, but also to stand out from the competition and thrive.
That means being much better at predicting the future, preparing for it, and being able to profit from it while mitigating risk. To do that you need to be always optimal. But, that's difficult because the number of options that must be considered for each optimisation challenge are numerically vast. Even today's fastest computers can't deliver the computing power you need to get ahead of the game at speed. That's because there can be more possibilities in many optimisation calculations than there are atoms in the universe!
And even if you could get a good answer, by the time you have it the opportunity to profit has probably gone.
What if you could be Always Optimal?
So, the optimisation benefits are clear:

Productivity gains
With systems and processes transformed to drive even higher productivity by optimising processes, systems and assets

Greater Efficiency
Optimise your processes as often as needed, meaning you're constantly running at maximum efficiency

Transformation
By reaching a new level of business transformation in your Digital Transformation (DX) journey

Flexibility
Through the ability to become Always Optimal from a range of more dynamic processes, operation or environments

Trust
That your business is running at Always Optimal and there's no more cost/outcome trade-offs, with the comfort from more accurately constrained models, that are operating efficiently

Sustainability
By running at Always Optimal, your organisation is being a more resourceful and sustainable business
Financial Services organisations can be Always Optimal meaning they can; breakthrough challenges with confidence, drive growth, and stay ahead of both events and the competition.
Find out more how Fujitsu Quantum-Inspired Optimisation Services empower Financial Services organisations to successfully beat the challenges of the present and the future.
Read more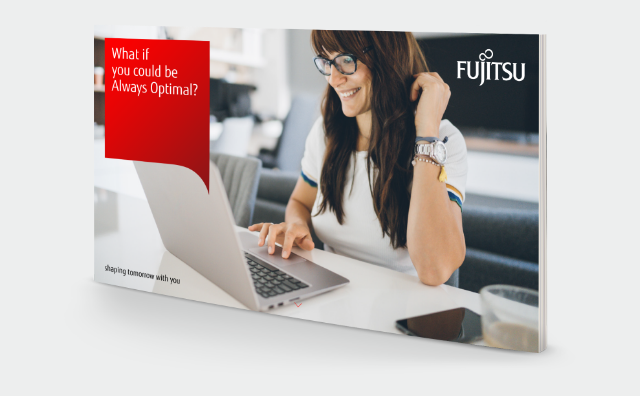 Four ways Quantum-Inspired Optimisation Services makes a big difference in Financial Services
Fujitsu applies quantum-inspired technology to deliver powerful combinatorial optimisation to a range of issues and needs across your business. We can run calculations and modelling at lightning speed to make a real difference to financial sector decision making. The use cases are endless: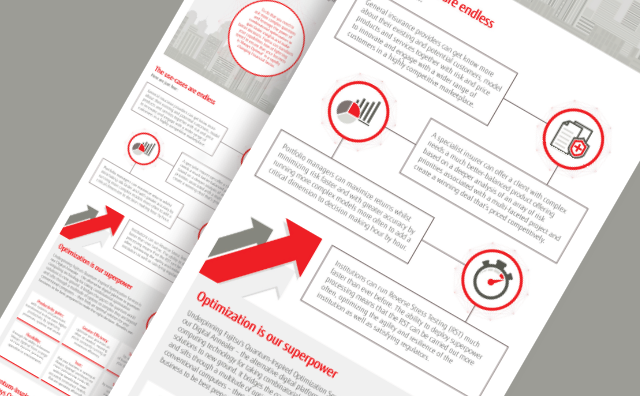 Optimise at lightning speed
Always Optimal depends on the ability to focus lightning speed combinatorial optimisation on specific areas of your business. It is an approach that has its own immensely powerful logic. The path to Always Optimal is summarised in our infographic.
View our infographic
Talking 'always optimal'
We are producing a series of informal podcasts which examine the potential of Fujitsu's Quantum-Inspired Optimisation Services from the financial services point of view. They're just ten minutes each and will get you thinking about how you can focus the power of lightning speed combinatorial optimisation to specific areas of your business.
Listen now to our first two Quantum-Inspired Optimisation Services Financial Services Sector Podcasts:
Episode 1: Intro - Always optimal
Episode 2: ReversedStress Testing - Don't be always stressed, be always optimal
Further quantum and quantum-inspired computing in financial services Documentation to get started
The case for quantum and quantum-inspired computing in financial services
CTOs in financial services industry are taking a close look at the emerging new classes of quantum and quantum-inspired computing.
Download White Paper »
Is perfect portfolio optimisation now within reach?
Quantum-inspired technology has the power to transform portfolio optimisation for Financial Services organisations.
Read the blog »
Learn how Fujitsu is working with MELCO Investments Inc. to use Digital Annealer to optimise asset allocations in financial portfolios
Watch the video »
Sundar Viswanathan – Head of Portfolio, Emerging Technologies
"We support our customers digitally transform their business by leveraging ubiquitous data, hyper connectivity and ambient intelligence to fundamentally change the way they deliver their product or service and grow their business in the digital era."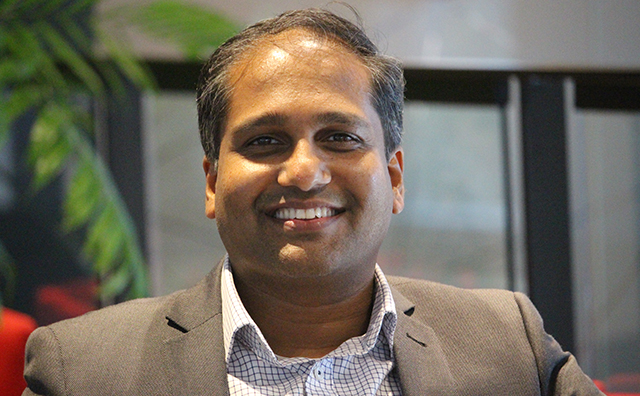 Get in touch
Let us assist you in solving your business challenges.
Thank you. We have received your request and will get back to you shortly.
Fujitsu Australia acknowledges all Aboriginal and Torres Strait Islander Traditional Custodians of Country and recognises their continuing connection to land, sea, culture, and community. We pay our respects to Elders past and present.