Simplify your business processes using Fujitsu SAP Services
In the digital age, application landscapes are subject to extraordinary stress. On the one hand, they must support daily business operations reliably and efficiently, and on the other, they must be designed to support new business models and allow the optimal transformation of business processes.
For many businesses this presents a challenge - have you worked out how to resolve this dilemma? Join us at Fujitsu, and together we can find the solution.
Fujitsu SAP Consulting and Application Management
Whether you're looking to enrich your user experience or increase your agility to quickly leverage new business opportunities, Fujitsu SAP Consulting and Application Management capabilities can unleash the full potential of your SAP application landscape and help you to gear up for the digital age.
Fujitsu SAP Consulting & System Integration lets you focus on your strengths. By working closely with our experts, you can identify your most beneficial SAP modules and develop strategies to make them even more effective in the future.
Fujitsu Transformational Application Managed Services bridge the gap between today and tomorrow. Our lifecycle solution offers bimodal management for your application landscape. Ongoing operations are constantly optimised, and further innovation of your application landscape can take place at the same time. With our SAP industry templates and drastically reduced implementation work, we simplify the realisation of innovation within your application landscape.
Working with Fujitsu you can shape your digital future, we can help you to:
Glide smoothly and seamlessly into the digital era.
Focus on the most crucial SAP modules and boost their effectiveness.
Fully utilise the savings potential in your application landscape.
Increase the flexibility and agility of your application landscape.
Increase your agility to better support strategic and organisational change with speed and efficiency.
Fujitsu Operations Management - Simplifying Operations.
We should not fool ourselves - modernising and transforming software landscapes is not a simple matter that can somehow be done 'on the side'. You will need to utilise all of your strengths to realise your digital goals both now and into the future.
At Fujitsu, we can help you to simplify your operations. We can ensure smooth SAP operations that deliver on-demand services, while at the same time reducing TCO to free up investment for innovation. SAP Simplify can support your digital transformation projects well into the future.
If you're wondering how our SAP service implementation could benefit your organisation - just ask. We have solutions for several use cases:
Our SAP services deliver the agility you need to make the transition to the future.
We're a leader when it comes to provisioning standardised SAP services. With SAP Operations Management you can entrust us with responsibility for these services. If you opt for Fujitsu Cloud Services for SAP Solutions, we also take care of the resources for you.
PRIMEFLEX for SAP Landscapes - This integrated system simplifies and fully automates the management of SAP applications and SAP HANA or SAP S/4HANA. Users profit from reduced complexity, lower investment and increased agility, all of which are needed by enterprises in the digital age.
Working with Fujitsu you can shape your digital future, we can help you to:
Free up time for modernisation and transformation.
Enable agility and flexibility to keep pace with dynamic and changing business demands.
Ensure ample performance and availability for your SAP applications and databases.
Profit from better cost transparency and efficiency.
Cloud Services
Business digitalisation is disruptive by nature, therefore, when developing new business processes, you should always focus attention on customers, partners and employees. It's vital to have a foundation that's stable, powerful and easy to adapt – because the performance, security and availability of SAP services are factors that will build trust in the future – just as they do today. In addition, you will also need maximum transparency in terms of cost and services, because only then can you appraise the efficiency and effectiveness of your transformation.
Do you understand the impact that increased complexity in the digital age could have upon your business? Join us at Fujitsu, and together we can create a cloud solution to simplify your transformation.
Why choose Fujitsu as your SAP service provider?
We ensure that your new business processes can be deployed at speed. We offer customised solutions in response to any strategy and requirement.
Our comprehensive services cover the entire project lifecycle, from consulting and design through to management. We can deliver customised support for the further development and operation of your entire SAP landscape.
When you partner with us you gain access to more than 100 high-security data centres, seven global cloud service centres, and three global delivery centres for remote services around the globe.
Our cloud data centres deliver everything that's needed to satisfy any kind of demand. You may want to opt for Infrastructure-as-a-Service (IaaS) for maximum flexibility in resource utilisation, or perhaps your choice is a Managed Cloud Service allowing us to operate your SAP applications based on our proven management know-how and customised service levels.
With our integrated end-to-end solutions, we can build you a high-performance cloud solution with elastic resource utilisation, self-service functionality, and transparent usage-based billing.
Working with Fujitsu you can shape your digital future, we can help you to:
Free more time for business digitalisation.
React faster when new business processes are launched or whenever business demands change.
Deploy new applications at speed.
Eradicate capacity bottlenecks.
Transform CAPEX into OPEX and reduce TCO.
Vasanth Kandaswamy – Head of Portfolio & Alliances, Partner Business Solutions
"Our vision for the Partner Business Solutions Portfolio is to solve the business challenges of our customers using leading enterprise software packages such as SAP, ServiceNow, IBM Maximo, Microsoft Business Applications and integration platforms such as MuleSoft and Boomi. We will do this by leveraging our industry expertise, accelerators and experienced consultants in an optimised and highly automated way."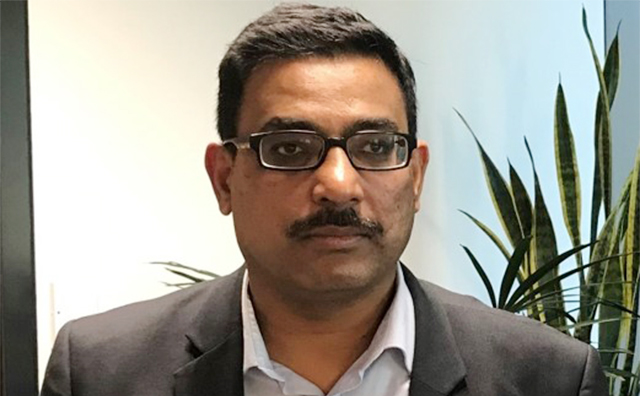 Get in touch
Let us assist you in solving your business challenges.
Thank you. We have received your request and will get back to you shortly.
Fujitsu Australia acknowledges all Aboriginal and Torres Strait Islander Traditional Custodians of Country and recognises their continuing connection to land, sea, culture, and community. We pay our respects to Elders past and present.