GLOVIA OM
Order Management Solutions
Solutions
Fujitsu's GLOVIA® OM has a heritage of over 50+ years in the order management space. GLOVIA® OM was rebuilt from the ground-up from on premise software, to a cloud-based enterprise solution on the world's most trusted CRM platform. This transformation enables our customers to fully leverage the core capabilities and extensibility on the cloud from anywhere and on any device. 
GLOVIA® OM provides various solutions based on your core needs. 
Solutions:

Order Management
GLOVIA® OM's Order Management solution enables business to:
Better manage and fulfil orders due to the differentiating capabilities of Intelligent Order Routing and Fulfillment.
Empower their customers with the best customer experience that includes real-time visibility into their accounts, such as order history, status, and invoices.
Streamline pricing and promotions through unique pricing capabilities.

GLOVIA OM – Order Management Features:
Multi-channel Order Management
Order Management for various channels like B2B, B2C, B2B2C or D2C models. Manage different types of orders like standard sales orders, subscription orders, returns, credits, back-to-back orders for drop-ship, consignment orders, inventory transfer orders and rental orders.
Omni-channel Order Orchestration Hub
Digital platform to serve multiple order channels like Direct or Indirect Sales, Customer Self-service, Customer Service, EDI or Webservice, Marketplace (like Amazon, Walmart, etc.), B2B and B2C Commerce channels.
CRM Integration
Native integration with Salesforce CRM or utilize real-time APIs to connect with other CRM platforms. Combine the power of real-time CRM and Order Management data and events to deliver a meaningful customer experience. 
Reporting and Analytics
Provide easy-to-use reports and dashboards so that users can manage their work day and also optimize business processes.
AI-ready 
Utilize the Einstein AI platform to enrich any GLOVIA OM process tailored to your business needs.
Intelligent Allocation and Fulfillment
AI and data-driven, highly configurable order allocation and fulfillment engine that allows Customer Service, Supply Chain team and the channel partner to work together and enable the organization to be very responsive to changing customer demands. 
Pricing & Shipping rates Management
Robust portfolio of Pricing, promotions, programs, coupons, retail stores price list by zone, B2B customer price lists and other complex discounts management and orchestration for the entire enterprise. GLOVIA OM can act as the System of Record for pricing or can be used as System of Price management while integrating with your System of Record.
Order Fulfillment and notifications
Simple to complex Order fulfillment functions within GLOVIA OM or integrate with your distribution partners. It also provides real-time status of order stages to generate notifications for your customers to keep them informed.
Product Data Management 
Manage or integrate Product master to serve different order channels. Utilize multiple unit-of-measure, cross-sell, up-sell, substitution rules, product kits, services, value-added-services, and other attributes that empower your Customer Journey orchestrations.
Loyalty Management 
Reward your loyal customers with flexible loyalty programs
Credit and Returns Management
End-to-end RMA processing including returns receipts and disposition, managing Credits and settlements.
Subscription Orders
Flexible subscription order management capabilities to enable you to provide frictionless customer journeys to your customers.
Services and Value added Services
Manage Services and Value-added-services with your products including pricing, service delivery and fulfillment of value-added-services.
Extensive APIs
Using our 'API-first' approach, the entire architecture is built to support extensive integrations between GLOVIA OM and other enterprise applications like eCommerce, ERP, Data Warehouses, third-party services, etc. Leverage our pre-built integration templates to integrate with most common ERP applications like SAP, Oracle, Microsoft, etc.
Global Solution
GLOVIA OM runs natively on Salesforce.com platform so it is ready out-of-the-box to support global deployments with multi-currency and multi-language. 
Offline Capable Mobile Apps
These features empower sales teams to manage their quotes and orders anytime, anywhere, on any device, and with full or no internet connectivity. 
Enhanced Capabilities to Support Multiple User Personas
We understand our Order Management Hub can only be successful when it also acts as a collaboration engine for all stakeholders that play a role in delivering top Customer Experience. These roles can vary, from customer service and sales reps to suppliers and channel partners and includes machine-to-machine (M2M) integrated automation.
Search Recommendations
Ability to get recommendations and/or suggestions for other products based on current and/or past searches. 
No code / low-code / pro-code Platform
GLOVIA® OM is built and runs natively on Salesforce Cloud platform.  It is design and architected to support any type of development models that your organization wants to adopt.
Inventory Management
GLOVIA® OM's Inventory Management solution enables business to:
Track and control inventory seamlessly
Cater to supply, demand, fulfillment and order management needs
Enable visibility into processes to make more informed and data-driven decisions

Easy-to-use, Enterprise-grade, Industrial-strength, offline capable
With GLOVIA® OM reconciliation of inventory stock is automatic and provides a real-time visibility of inventory at warehouses across the network plus the ability for agents to confirm orders against supply at their warehouses, nearby agents, or at distribution centers. 
Inventory management with GLOVIA® OM contributes to increased average agent sales and greater utilization of the available product mix. Through the creation of creating a snapshot of inventory quantities, entering counts, and posting inventory adjustments GLOVIA® OM is able to ensure an accurate forecasting of supply and demand. 
GLOVIA OM – Inventory Management Features:
Intuitive User Experience
Easy for users with little to no application experience
Inventory visibility
Real-time inventory updates. 
Accurate order fulfillment status
Track suppliers and purchase orders
Reorder Planning
Proactive inventory replenishment with reorder point planning
Product Returns
Accurately tracks returns and adjusts inventory availability 
Inventory Transfer
Empower teams outside the warehouse with field inventory management
Cycle Counting
Reduce costs through simplified physical inventory cycle counting
Channel Partner Collaboration
Improve sales with deep partner engagement and rapid onboarding
Barcode Scanning 
Increase productivity through barcode enabled deliveries and fulfillment
Offline Capability 
Offline capable transactions ensure zero down time
Supply Chain Management
At Fujitsu, we understand that effective Supply Chain Management requires mastery of the connected processes. ASCM (Association for Supply Chain Management) defines the four stages of Supply Chain evolution in APICS as:
 Stage 1 – multiple dysfunction
 Stage 2 – semifunctional enterprise
 Stage 3 – integrated enterprise
 Stage 4 – extended enterprise
Fujitsu GLOVIA® OM Supply Chain Management solutions support businesses in their Supply Chain evolution journey to reach stage 4 – the highest stage that each organization strives to achieve. Whether the goal of your Supply Chain is to be highly efficient, highly responsive or be both, GLOVIA OM can help.
GLOVIA OM's capabilities are targeted towards the three key elements – 'the Three Vs' for Supply Chain Management: Visibility, Velocity and Variability. 
GLOVIA OM Supply Chain Management provides businesses the capability to:
 Increase visibility throughout the Supply Chain Network. It provide Supply Chain partners and Customer Service Agents with a real-time view of product inventory and availability and take real-time actions. It will enable you to keep your customers informed and notified about each relevant event throughout the network. You can also leverage these notifications to enable cross-sell and up-sell journeys.
 Increase velocity of products & services, information, cash and returns by leveraging the improvement in visibility. Shorten activation time by automating provisioning and field service processes when needed.
 Reduce variability while balancing supply and demand by streamlining processes. Support the heterogeneous provisioning model depending on products and services. It provides AI-enabled, data driven intelligent fulfillment through the network of warehouses (central, local & distributed), distribution centers and even micro-fulfillment locations. You can forecast and maintain products at supply chain locations, thereby improving efficiency.

GLOVIA OM – Supply Chain Management Features:
System of Engagement
GLOVIA OM acts as your 'System of Engagement' platform to maximize the efficiency of inter-connected processes, while integrating with your 'System of Record'. GLOVIA OM can be deployed without having to rip and replace your ERP and can easily co-exist with the complex web of legacy applications.
Inventory Visibility
A single harmonized layer that assembles inventory information across the entire supply chain network (factories, warehouses, channel partners like distributors, dealers & retailers, consignment locations and even field technicians) and makes that information actionable for improving your customer's experience. Your customer service team can use it to service their customers, your sales teams can use it during sales cycles, your fulfillment teams can use it for proactive or reactive supply chains, and your channel partners can use it to create win-win situations.
Intelligent Allocation
Provides an intelligent, integrated allocation and fulfillment engine to increase the velocity of your entire supply chain network. 
Channel Partner Engagement Platform 
Provides a digital engagement platform for your channel partners (distributors, dealers, agents, 3PL) to deliver end to end integrated processes. You can now have all of your teams – Customer Service, Sales, Demand Planning and Forecasting and Fulfillment engage directly with your Channel Partners on a single platform in real-time.
S&OP
Whether your business is demand-driven or forecast-driven, GLOVIA OM provides you with a single digital platform to capture real-time demand and forecast data across your extended enterprise. Use this reliable data to perform supply planning and execute your manufacturing, purchasing or inventory movement processes on the same digital platform.
Field Service Process Automation
Shortens activation time by automating provisioning and field service processes. Leverage a single digital platform to orchestrate your field service and inventory workflows to ensure that the right technician is available at the right time with the right part to deliver an engaging customer experience to your customers. 
AI and Data Analytics
Leverage the power of world's leading AI and Analytics platform to empower your supply chain processes. GLOVIA OM also provides real-time, API-enabled, data analytics that empowers your supply chain users and partners to predict and take immediate actions.
Inventory Tracking and Planning
Track all types of inventory flows (forward or reverse) across the network and leverage powerful, yet easy to use, inventory planning tools
Direct to Consumer (D2C) Channel Management
Manufacturers are continuously looking to disrupt their industry and GLOVIA® OM is one of the best tools to ensure success in the D2C space. Since one of the key focus areas for Manufactures in the D2C space is to ensure their Customer's Experience (CX) matches the quality of their products, we've worked to fill that gap with a solution that meets their unique needs. 
GLOVIA OM D2C Channel Management provides businesses with:
An order management system that captures pre orders, subscription orders, sales orders and returns 
A powerful pricing engine that can orchestrate pricing, tax, shipping charges, promotions and discounts, coupons and loyalty calculations across all channels.
The ability to accept multiple common payment methods like Credit, Debit cards, loyalty rewards, coupons and digital payment solutions such as PayPal  as well as accept new payment methods such as Bitcoin  and Apple Pay 
An AI (Artificial Intelligence) powered Intelligent Allocation and Multi-ship engine that will ensure adherence to the delivery promises of the D2C channel. It will manage optimized fulfillment routing based on a combination of factors from supply and demand attributes
The capacity to track an order through its entire lifecycle starting from order creation, inventory reservation, and fulfillment process like Pick, Pack and Ship
Accurate inventory visibility and product availability information in real-time
A rich set of API's for connecting with different systems that enable the end-to-end D2C journey
Access real-time actionable analytics, delivered at the fingertips of the key users to drive data driven decision points in the D2C journey 
Effective use of the full network of inventory and accurate inventory/order information, thereby improving customer experience
Reduced complexity by masking internal systems and processes from the consumer
Enhanced data collection to enable effective marketing strategies
The flexibility for future growth by adding more D2C channels to the landscape
The ability to capture sales that would be lost before, through efficient use of network wide inventory

Channel Partner Engagement Model (Dealers & Distributors)
GLOVIA® OM is designed for channel partners like distributors, dealers, agents and retailers. Whether your channel is B2B, B2C, B2B2C or B2B…C, we've got your needs covered. 
Since many of our customers depends on a network of channel partners for their success as much as they depend on their own employees, we've focused on building the GLOVIA OM solution to enable channel partner capabilities. This model allows our customers to improve visibility and better manage their multichannel operations. 
GLOVIA ® OM Lightning BOLT Solution for Channel Partners & B2B Customers
GLOVIA ® OM's Lightning BOLT solution leverages the next generation of Salesforce's community framework to enable organizations to:
Connect and collaborate with their customers, partners, and suppliers seamlessly.
Support channel partners and manage customer interactions in real time.
Cater to supply, demand, fulfillment, inventory, and order management needs.
Access real time inventory updates and accurate visibility across multi-tiered channel partner environments.

Last Mile Delivery Channels
Touchless Options for Retail Fulfillment
BOPIS
Curbside Pickup
Smart Locker Pick up  
Ship from Store
Drop Ship

We also have GLOVIA® OM quick start options available to empower retailers with the software and technology needed to enable BOPIS, curbside, and smart locker fulfillment; and various other touchless customer experiences.
The quick start options include three packaged offerings that enable customers to get up and running in two days. These offerings are fully tested for organizations of different sizes to take advantage of. We also have pre-built API's including API's to integrate with e-commerce solutions such as Shopify and Fujitsu Marketplace
BOPIS
Plug and play solution to rapidly start fulfilling orders from your stores as you reopen using a smart mobile device. 
Curbside pickup
Associates throughout the store can be alerted of pending orders. Order status and updates can be sent to customers via email or SMS text message using additional paid apps. 
Smart Locker (Remote Pickup) Fulfillment
GLOVIA OM API's can be integrated with your API enabled smart locker service providers for an additional fee. 
Ship from Store
Shipping from store is a great method to manage in-store inventory and provide high turnover for store locations. 
Drop Ship
Totally bypasses the in-store obligation altogether with our direct drop shipping capabilities. Access can be provided to your suppliers to fulfill orders on the same platform.
Intelligent Order Allocation Engine
The biggest differentiator for GLOVIA® OM Order Management solution is its Intelligent Order Routing and fulfillment capabilities enable customers to better manage and fulfil orders.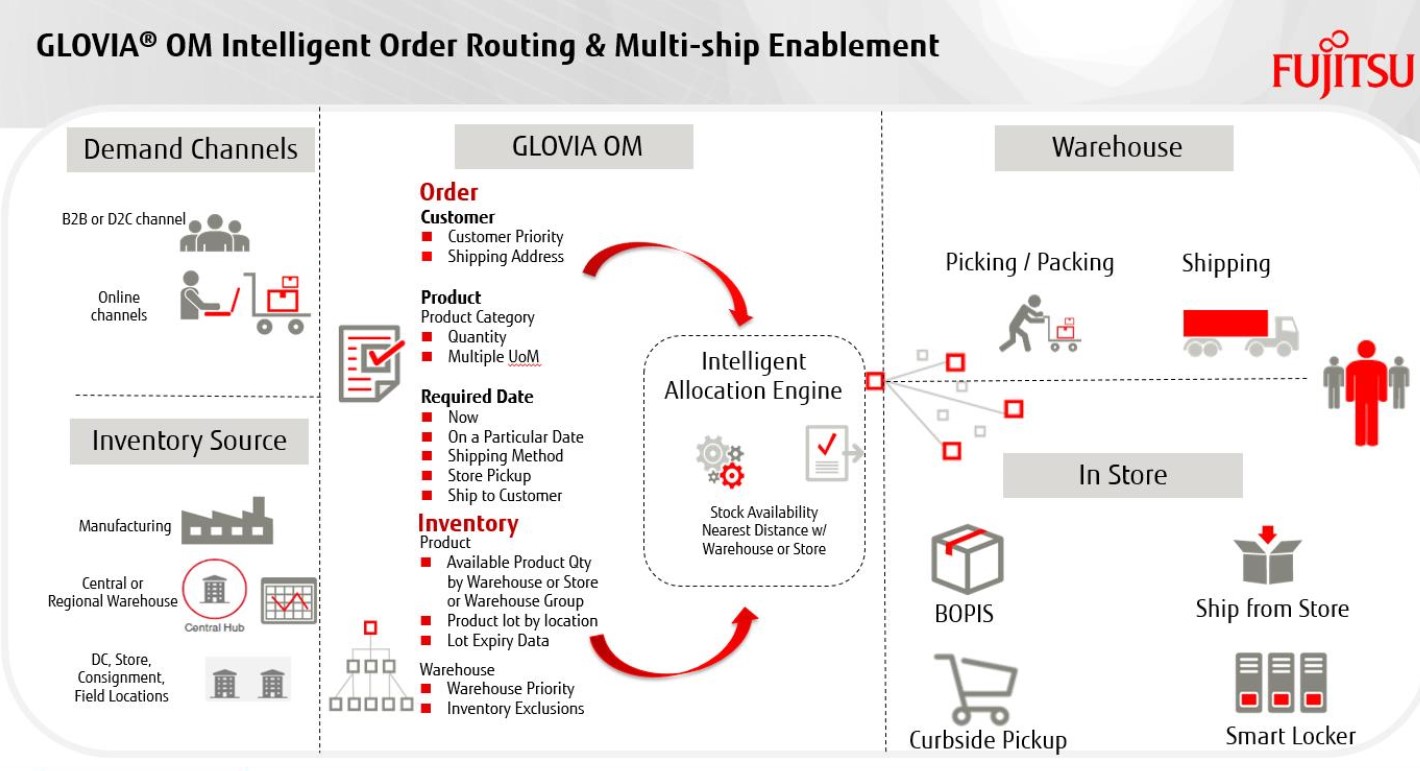 The most important lesson we learned from the COVID-19 pandemic is that Supply Chain disruptions can occur without notice and require quick response. Hence, we incorporated a lot of capabilities to provide an Intelligent Cockpit that lets Customer Service teams, Supply Chain managers and even Store Manager to react to dynamic supply chain and fulfillment situations. This enables the users to analyze real-time data and make adjustments to the fulfillment settings without requiring system changes or lengthy deployment cycles.
Equipment, Assets & Field Service Operations Management
Customers can subscribe to a service that can be tied to a field service contract such as:
Warranty service contract
Maintenance service contract
Repair service contract
Installation service contract
Consultation service contract


"Without the strong foundation of the Glovia Order Management system, I can't imagine how we'd have kept pace with changing demand patterns as the Covid crisis unfolded."
Miao Song, Global CIO
Mars Petcare