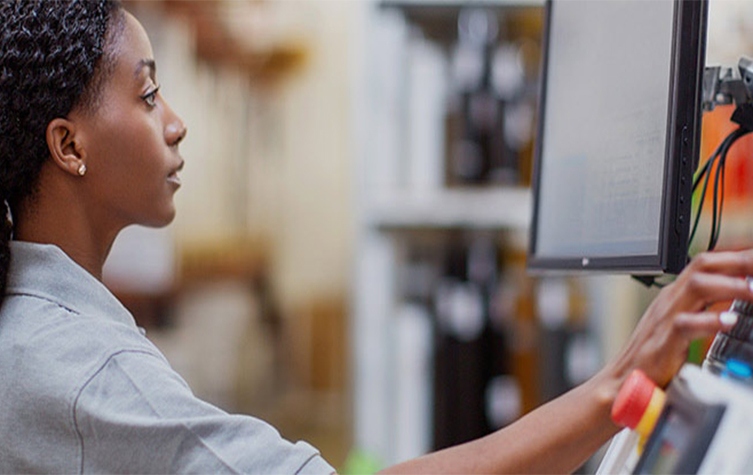 Feature-packed Solution Supports Businesses on their Supply Chain Evolution Journey
At Fujitsu, we understand that effective Supply Chain Management requires mastery of the connected processes. ASCM (Association for Supply Chain Management) defines the four stages of Supply Chain evolution in APICS as:
Stage 1 – Multiple dysfunction
Stage 2 – Semi-functional enterprise
Stage 3 – Integrated enterprise
Stage 4 – Extended enterprise
The Fujitsu GLOVIA® OM Supply Chain Management solution supports businesses in their Supply Chain evolution journey to reach stage 4 – the highest stage that each organization strives to achieve. Whether the goal of your Supply Chain is to be highly efficient, highly responsive or be both, GLOVIA® OM can help.
GLOVIA® OM targets 'the Three Vs' of Supply Chain Management—Visibility, Velocity and Variability
GLOVIA® OM Supply Chain Management provides businesses the capability to increase visibility throughout the Supply Chain Network. It provides Supply Chain Partners and Customer Service Agents with a real-time view of product inventory and availability, and enable them to take real-time actions. GLOVIA® OM will enable you to keep your customers informed and notified about each relevant event throughout the network. You can also leverage these notifications to enable cross-sell and up-sell journeys.
With the improvement in inventory visibility, GLOVIA® OM increases the velocity of products & services, information, cash and returns. Activation time is shortened by automating provisioning and field service processes when needed.
GLOVIA® OM reduces variability while balancing supply and demand by streamlining processes. It supports the heterogeneous provisioning model depending on products and services. In addition, it provides AI-enabled, data-driven intelligent fulfillment through the network of warehouses (central, local & distributed), distribution centers and even micro-fulfillment locations. You can forecast and maintain products at supply chain locations, thereby improving efficiency.
GLOVIA® OM – Supply Chain Management Features:
System of Engagement
GLOVIA® OM acts as your 'System of Engagement' platform to maximize the efficiency of interconnected processes while integrating with your 'System of Record'. GLOVIA® OM can be deployed without having to rip and replace your ERP and can easily co-exist with the complex web of legacy applications.
Inventory Visibility
A single harmonized layer that assembles inventory information across the entire supply chain network (factories, warehouses, channel partners like distributors, dealers & retailers, consignment locations, and even field technicians) and makes that information actionable for improving your customer's experience. Your customer service team can use it to service their customers, your sales teams can use it during sales cycles, your fulfillment teams can use it for proactive or reactive supply chains, and your channel partners can use it to create win-win situations.
Intelligent Allocation
Provides an intelligent, integrated allocation and fulfillment engine to increase the velocity of your entire supply chain network.
Channel Partner Engagement Platform
Provides a digital engagement platform for your channel partners (distributors, dealers, agents, 3PL) to deliver end-to-end integrated processes. You can now have all of your teams – Customer Service, Sales, Demand Planning and Forecasting, and Fulfillment engage directly with your Channel Partners on a single platform in real-time.
S&OP
Whether your business is demand-driven or forecast-driven, GLOVIA® OM provides you with a single digital platform to capture real-time demand and forecast data across your extended enterprise. Use this reliable data to perform supply planning and execute your manufacturing, purchasing or inventory movement processes on the same digital platform.
Field Service Process Automation
Shortens activation time by automating provisioning and field service processes. Leverage a single digital platform to orchestrate your field service and inventory workflows to ensure that the right technician is available at the right time with the right part to deliver an engaging customer experience to your customers.
AI and Data Analytics
Leverage the power of the world's leading AI and Analytics platform to empower your supply chain processes. GLOVIA® OM also provides real-time, API-enabled, data analytics that empowers your supply chain users and partners to predict and take immediate actions.
Inventory Tracking and Planning
Track all types of inventory flows (forward or reverse) across the network and leverage powerful, yet easy-to use, inventory planning tools.