Fujitsu promotes Asif Poonja to CEO for the Americas Region
Richardson, TX, May 15, 2023
Fujitsu recently announced the promotion of Asif Poonja to CEO for the Americas Region as part of new fiscal year global management changes which took effect in April.
Formerly Chief Technology Officer and Head of Customer Markets, Asif has already built a solid track record as an innovative leader in the Americas region and will leverage this experience to work with the regional leadership team to drive growth in the Americas and accelerate its position as a Digital Transformation leader.

"Throughout my 8 years at Fujitsu, I have had the great opportunity to serve in a variety of positions and acquired a significant depth and breadth of knowledge about our business. I know our people, our capabilities and our customers and that knowledge has increasingly fueled my passion about delivering on Fujitsu's purpose: To make the world more sustainable by building trust in society through innovation. It is truly a honor to be entrusted with this responsibility by our senior executives in Fujitsu Limited, Japan." said Asif Poonja, CEO, Americas Region.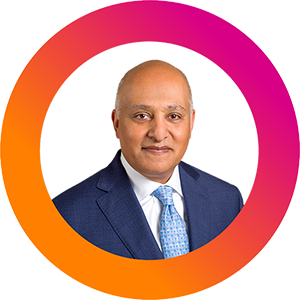 Hidenori Furuta, Representative Director, COO of Fujitsu Limited, said, "Asif has built credibility and trust with clients and worked through the many ways technology can provide viable solutions to the most complex problems, partnering globally to leverage the best of Fujitsu and help our clients and Fujitsu thrive. I am confident he will do well leading the Americas forward in its next phase of growth. I am sure his previous experience in the Americas will enhance his success in this expanded role."
Asif is a highly respected and proven leader in the technology industry. He brings more than 25 years of leadership, deep consulting and technology services expertise when he joined Fujitsu in 2014 to lead the Americas' SAP Services Business. Since that time, he has held a number of leadership positions and provided keen direction as he established thriving teams and drove success.
In his first 30 days as CEO, Asif has challenged the team to drive growth Better. Stronger. Faster. during the company's recent sales kick off. "We will work collaboratively, globally and grow our business in FY23 via our 5 growth themes: Focus, Agility & urgency, Effective communication, One team, and Think global". said the new CEO.
Fujitsu Limited has simplified its management structure through the establishment of four regions - Japan, Europe, Americas and Asia Pacific, to drive sustainable transformation and deliver greater value to its global customers.
About Fujitsu
Fujitsu's purpose is to make the world more sustainable by building trust in society through innovation. As the digital transformation partner of choice for customers in over 100 countries, our 124,000 employees work to resolve some of the greatest challenges facing humanity. Our range of services and solutions draw on five key technologies: Computing, Networks, AI, Data & Security, and Converging Technologies, which we bring together to deliver sustainability transformation. Fujitsu Limited (TSE:6702) reported consolidated revenues of 3.7 trillion yen (US$28 billion) for the fiscal year ended March 31, 2023, and remains the top digital services company in Japan by market share. For more information, please see www.fujitsu.com.
About Fujitsu Americas
Fujitsu North America, Inc. is the parent and/or management company of a group of Fujitsu-owned companies operating in North, Central and South America and Caribbean, dedicated to delivering a comprehensive range of digital transformation solutions and services to clients in the Western Hemisphere. These companies are collectively referred to as Fujitsu Americas. Fujitsu enables clients to meet their business objectives through integrated offerings and solutions, including consulting and professional services, systems integration, managed services, outsourcing and cloud services for infrastructure, platforms and applications; AI and data analytics; cyber security and quantum-inspired computing solutions. For more information, please visit:http://fujitsu.com/us
http://twitter.com/fujitsuamerica
Sandra Jones
PR, Americas Region
VP, Marketing, and Communications
Caribbean and South America
Phone:
(876) 565-1445
E-mail:
Sandra.Jones@fujitsu.com
Company:
Fujitsu North America, Inc.

Date: May 15, 2023
City: Richardson, TX
Company: Fujitsu North America Inc.