Fujitsu introduces all-in-one thermal printer mechanism with adjustable features
Sunnyvale, CA, October 04, 2021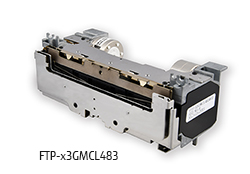 Fujitsu Components America today introduced a 3-inch, high-speed, thermal printer mechanism with user-selectable printing parameters, including speed, paper width, paper thickness and three black mark sensor locations. This flexibility allows customers to easily adapt their printing solution to meet the demands of various receipt, ticketing and labelling/tagging applications using a single printer.
Target markets include gaming, logistics, transportation, and parking.
Capable of print speeds up to 350mm/sec., Fujitsu's 24V, FTP-x3GMCL483 printer series is one of the fastest on the market. It also has a compact 123.7 x 40 x 61mm footprint, including the auto cutter, making it up to 50 percent smaller than printers with similar features.
The series comes in two models: the FTP-63GMCL483 (203dpi resolution, print speed up to 350mm/sec) and the FTP-83GMCL483 (300dpi resolution, print speed up to 200mm/sec). Both feature the same modular design that lets users utilize papers ranging from 58mm to 86mm wide and 60um and 150um thick to accommodate a variety of receipt, label and ticket stock, depending on the application. The availability of 300dpi resolution allows customers to reduce their print size, thus reducing the amount of paper needed to print.
Additional features such as three paper sensors, a one-touch platen release, auto paper loading, multiple paper insertion options, and top paper exit maximize the printer's versatility.
Designed for heavy-duty performance and reliability, the print head life is rated at 100 million pulses and 200km abrasion resistance. The embedded cutter has a maximum life of 2 million cuts for 60 to 100um-thick paper, and 1 million cuts for 101 to 150um-thick paper.
The FTP-x3GMCL483 printer series is available immediately. Serial and USB interface boards are also available. More information and pricing, can be obtained here.
For more information:
About Fujitsu Components America
Fujitsu Components America, Inc. markets and distributes electronic and system components and sub-systems throughout North and South America. Products include relays, touch panels, thermal printers, wireless modules, and input and pointing devices. The company is headquartered at 1230 E. Arques Ave., M/S 160, Sunnyvale, CA 94085. For product information, contact FCAI via telephone at 1-800-380-0059 or by email at 
components@us.fujitsu.com
. 
For more information, please see: 
https://www.fujitsu.com/us/products/devices/components/
Press Contact - Fujitsu Components America
Mary Jo Carlone
Phone: 414-425-6164
E-mail: mjccomm@att.net
Company: MJC Communications
---
All company or product names mentioned herein are trademarks or registered trademarks of their respective owners. Information provided in this press release is accurate at time of publication and is subject to change without advance notice.

Date: October 04, 2021
City: Sunnyvale, CA