Fujitsu releases USB dongle series that easily adds Wirepas Massive functions to existing networks and equipment
Sunnyvale, CA, September 21, 2021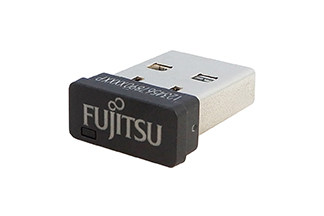 Fujitsu Components America, Inc. has introduced a series of USB dongles featuring built-in Wirepas Massive network connectivity.
The FWM8BLZ09x USB dongles provide a simple and cost-effective way to bring Wirepas Massive Anchor or Tag functions to any equipment with a USB port or Wirepas Massive Sink function to any existing Wi-Fi gateway that is capable of supporting Wirepas gateway software. Anchor functionality could also be added to an existing Wi-Fi gateway for asset tracking via an extra USB port, without needing any gateway software.
The series includes Anchor (FWM8BLZ09P), Tag (FWM8BLZ09T) and Sink (FWM8BLZ09S) dongles based on the Nordic nRF52833. All are powered by a standard, Type A USB interface, with only the Sink node utilizing any data communication for a Wirepas gateway application.
Target applications include indoor location and tracking of people and assets on a massive scale with the Anchor and Tag nodes. Additionally, existing mesh sensor networks can be extended utilizing the Sink node and a supporting gateway for industrial IoT monitoring solutions within smart offices, factories, warehouses, hospitals, schools, and more.
The dongles have a compact 17.5 x 14.2 x 6.6mm footprint, an LED power indicator light and an operating temperature of -30 to +60 deg C. They are currently FCC/ISED, CE and Radio Act Japan certified, with RCM certification (Australia) in-progress and RSM certification (New Zealand) planned.
Samples are available immediately, and production orders will begin in September. More information and pricing for the FWM8BLZ09x Wirepas Massive USB dongles can be obtained here.
For more information:
•
Download high-res photo
•

FWM8BLZ09P/T/S Datasheet
About Fujitsu Components America
Fujitsu Components America, Inc. markets and distributes electronic and system components and sub-systems throughout North and South America. Products include relays, touch panels, thermal printers, wireless modules, and input and pointing devices. The company is headquartered at 1230 E. Arques Ave., M/S 160, Sunnyvale, CA 94085. For product information, contact FCAI via telephone at 1-800-380-0059 or by email at 
components@us.fujitsu.com
. 
For more information, please see: 
https://www.fujitsu.com/us/products/devices/components/
Press Contact - Fujitsu Components America
Mary Jo Carlone
Phone: 414-425-6164
E-mail: mjccomm@att.net
Company: MJC Communications
---
All company or product names mentioned herein are trademarks or registered trademarks of their respective owners. Information provided in this press release is accurate at time of publication and is subject to change without advance notice.

Date: September 21, 2021
City: Sunnyvale, CA