Fujitsu Releases IoT Connectivity Solutions Mesh Evaluation Kit
Allows simple, low-cost evaluation of different use cases for wireless mesh IoT before investing significant time and budget.
Sunnyvale, CA, April 07, 2021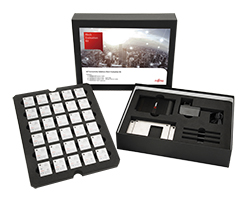 Fujitsu Components America, Inc. has released a low-cost IoT Connectivity Solutions Mesh evaluation kit that simplifies feasibility testing of all use cases for wireless IoT solutions driven by fully scalable and robust Wirepas mesh technology and Fujitsu hardware.
Each Fujitsu mesh evaluation kit ships with all the required components and tools to build a mesh network of sensors, including:
•   5 x FWM8BLZ07Y sensor nodes with the following sensors onboard: temperature, humidity, barometric pressure, accelerometer, luminance and sound level
•   5 x FWM8BLZ07P mesh nodes set as asset tags
•   20 x FWM8BLZ07P mesh nodes set as Wirepas anchor nodes for location awareness
•   1 x FWM8GWZ01 Wi-Fi gateway with two Wirepas sink nodes to connect the mesh network to the cloud service
•   1 x concise manual explaining the usage and installation of the included hardware and software package

The kit comes with a three-month software evaluation license that gives customers access to the full-production grade Wirepas network tool, the Wirepas positioning engine and the sensor data webpage, which are all connected to a cloud instance.
Installation and Features
The mesh evaluation kit contains all the necessary settings and cloud setup to ensure a quick and easy installation.
Once installed, a web-based monitor presents all the sensor data, which visualizes the asset location tracking function and provides insight on how the Wirepas network works.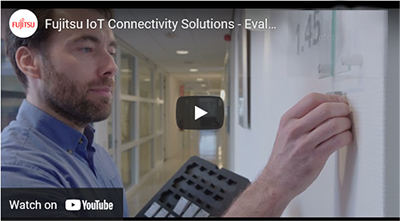 Fujitsu works with a host of industry partners who specialize in back-end software and can design a custom offering to fit special use cases.
The Fujitsu IoT Connectivity Solutions Mesh evaluation kit is available beginning April 7, 2021.

Contact Fujitsu sales for more information.
For more information:
•
Download high-res photo
•

Evaluation Kit Overview
•

Mesh Unit / Mesh Sensor Unit / Mesh Module Datasheet
About Fujitsu Components America
Fujitsu Components America, Inc. markets and distributes electronic and system components and sub-systems throughout North and South America. Products include relays, touch panels, thermal printers, wireless modules, and input and pointing devices. The company is headquartered at 1230 E. Arques Ave., M/S 160, Sunnyvale, CA 94085. For product information, contact FCAI via telephone at 1-800-380-0059 or by email at 
components@us.fujitsu.com
. 
For more information, please see: 
https://www.fujitsu.com/us/products/devices/components/
Press Contact - Fujitsu Components America
Mary Jo Carlone
Phone: 414-425-6164
E-mail: mjccomm@att.net
Company: MJC Communications
---
All company or product names mentioned herein are trademarks or registered trademarks of their respective owners. Information provided in this press release is accurate at time of publication and is subject to change without advance notice.

Date: April 07, 2021
City: Sunnyvale, CA