Fujitsu's New Point-Of-Sale Printer Generates Receipts and Linerless Labels
All-in-one printer tackles multiple printing tasks; enhances efficiency
Sunnyvale, CA, February 16, 2021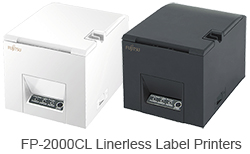 Fujitsu Components America has released the FP-2000CL, a high-speed, direct thermal printer capable of printing both linerless labels and paper receipts. The dual-output capability offers an efficient and cost-effective way to execute multiple printing tasks within a wide range of applications.

Typical applications include:
Generating removable labels to expedite and ensure accuracy of orders and deliveries, and identify container and product contents at quick-service/fast casual restaurants, delis and grocery store counters. See video:

Printing checkout receipts, customized coupons and special offers for retail and restaurant locations.
Producing labels for COVID-19 temperature-check validations in corporate, education and hospital environments.
The compact 5.0(W)x6.8(D)x4.9(H)-inch FP-2000CL features a top paper exit while accommodating a wide range of paper widths (50/58 and 80mm) and stock thickness (84µm linerless labels, 65µm-85µm receipt paper). Notable performance specs include print speeds up to 230mm/second and a cutter life of up to 1.5 million cuts.
Adding to the exceptional performance, software features include 180dpi font mode,16-level grey-scale output for logo and image printing, logo storage memory and two-dimensional bar code support (QR code, PDF417, Datamatrix).

The printer offers flexible connectivity options with industry-standard USB, RS232 and LAN interfaces. It also supports printing from smartphones and tablets with the provided Windows drivers and SDKs for both iOS and Android.
The FP-2000CL is the latest addition to the FP-2000 POS printer family. Fujitsu also offers a variety of printer mechanisms for additional OEM designs.
Available immediately, contact sales for more information and pricing.
For more information:
About Fujitsu Components America
Fujitsu Components America, Inc. markets and distributes electronic and system components and sub-systems throughout North and South America. Products include relays, touch panels, thermal printers, wireless modules, and input and pointing devices. The company is headquartered at 1230 E. Arques Ave., M/S 160, Sunnyvale, CA 94085. For product information, contact FCAI via telephone at 1-800-380-0059 or by email at 
components@us.fujitsu.com
. 
For more information, please see: 
https://www.fujitsu.com/us/products/devices/components/
Press Contact - Fujitsu Components America
Mary Jo Carlone
Phone: 414-425-6164
E-mail: mjccomm@att.net
Company: MJC Communications
---
All company or product names mentioned herein are trademarks or registered trademarks of their respective owners. Information provided in this press release is accurate at time of publication and is subject to change without advance notice.

Date: February 16, 2021
City: Sunnyvale, CA