Fujitsu Releases Low-Profile, Glow Wire-Compliant Power Relay Series
Sunnyvale, CA, January 26, 2021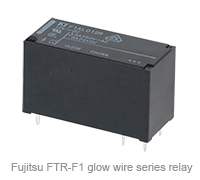 Fujitsu Components America, Inc. today released a DPST/DPDT 5A PCB power relay series that meets glow-wire test requirement IEC/EN60335-1 standard, which addresses the safe operation of consumer and commercial electrical appliances.


The low-profile (16.5mm) FTR-F1-GW relay series is rated from 1.5 to 110V. Designed for safety, it features a reinforced insulation construction, 8mm (min) insulation distance between coil and contact, a surge strength of 10,000 V and a dielectric strength of 5,000 VAC for extended flammability protection.
Typical applications include factory and office automation equipment, power protection equipment, solar panels and air conditioners.
The plastic, fully-sealed relay measures 12.8Lx29Wx16.5Hmm and weighs 12.0g. It is available with either standard (530mW and 550mW) or high sensitivity (400mW) coils and has an operating temperature range of -40 to +75 deg C.
Additionally, the series is UL, CSA, VDE and CQC recognized and is also RoHS compliant.
More information and pricing can be obtained at sales support.
For more information:
About Fujitsu Components America
Fujitsu Components America, Inc. markets and distributes electronic and system components and sub-systems throughout North and South America. Products include relays, touch panels, thermal printers, wireless modules, and input and pointing devices. The company is headquartered at 1230 E. Arques Ave., M/S 160, Sunnyvale, CA 94085. For product information, contact FCAI via telephone at 1-800-380-0059 or by email at 
components@us.fujitsu.com
. 
For more information, please see: 
https://www.fujitsu.com/us/products/devices/components/
Press Contact - Fujitsu Components America
Mary Jo Carlone
Phone: 414-425-6164
E-mail: mjccomm@att.net
Company: MJC Communications
---
All company or product names mentioned herein are trademarks or registered trademarks of their respective owners. Information provided in this press release is accurate at time of publication and is subject to change without advance notice.

Date: January 26, 2021
City: Sunnyvale, CA