Fujitsu Introduces Ultra-Compact, 50A PCB Relay for Medium-to-Heavy Automotive Loads
Fujitsu Introduces Ultra-Compact, 50A PCB Relay for Medium-to-Heavy Automotive Loads
Maintains the same size and weight of 40A counterpart
Fujitsu Components Europe
Hoofddorp, The Netherlands, November 11, 2020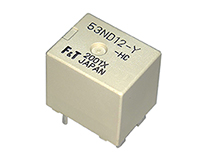 Fujitsu Components Europe has expanded its automotive relay offering with a new 12VDC PCB relay featuring a switching capacity of 50A at 14VDC. The FBR53-HC offers a higher contact rating than its 40A FBR53-HW counterpart, yet occupies the same 12.1 x 15.5 x 13.7mm footprint and weighs the same 6g.

With a maximum carrying current of 62.5A, 14VDC (30minutes at 125°C) and an operating temperature of -40 to +125°C, the FBR53-HC is suited for medium-to-heavy loads, such as electric power steering, radiator fans, fuel pumps, seat heaters, head lamps and motor braking circuits.

The FBR53-HC is a mini ISO relay replacement that employs a 1 Form U dual contact arrangement normally open for high contact reliability. It features a typical electrical life of 100,000 operations and power consumption of approximately 600 mW.

Available immediately, the RoHS-compliant relay is offered in a plastic sealed package and is also in a through-hole reflow version.


Fujitsu Components Company Information
Fujitsu Components is a leading manufacturer of relays and offers a full range of relay products. Through its heritage of over 100 years of experience Fujitsu is able to offer high quality relay products and service alike. Fujitsu Components Europe B.V., headquartered in Hoofddorp, The Netherlands is responsible for managing the sales, marketing and distribution in Europe, Middle East and Africa. 
Shaping tomorrow with you

www.fujitsu.com/components -Twitter -LinkedIn
Essiena Uyttenbroek
Diamantlaan 25
2132 WV
Hoofddorp
The Netherlands

Phone: +31 (0)23 556 0936
E-mail: essiena.uyttenbroek@fceu.fujitsu.com
Company: Fujitsu Components Europe B.V.
Manager, Marketing and Communication
---
All trademarks or registered trademarks are the property of their respective owners.
The Bluetooth® word mark and logos are registered trademarks owned by Bluetooth SIG, Inc. and any use of such marks by Fujitsu Component Limited is under license.

All information including price, specifications, services in this release are current information as of the announcement date. Please be noted that information in this announcement is subject to change without notice.


Date: November 11, 2020
City: Hoofddorp, The Netherlands