See more, sell more
Your business needs end-to-end visibility across its entire operations. That's a given. But what really makes the difference is when store associates – the people who encounter REAL consumers everyday – have just as much visibility as the people above them.
That's when digital makes a difference to sales. The right technology in the right hands on the shop floor, means that you can make more sales in the aisles, by the displays, and even at the checkouts! Operational Excellence involves an increase in central and local efficiency to bring down operational costs using digital tools and processes and by empowering staff to deliver higher value services.
Jan Stoetzel, Fujitsu´s Global Head of Marketing for Retail, argues that the tech can ensure you have the right people in the right place every time in his new blog
Blog
Operational excellence helps your people close more sales each day
Operational excellence in retail means nothing unless it delivers one thing: sales. The sale is the point of retail. It's obvious, but it needs to be said plainly.

That's why the concept of operational excellence can only be defined by sales. It can only be measured by sales. And sales – increasing sales – are evidence that customers like what you have to offer, how you offer it, and are more likely to become and stay loyal to your brand. So, it's not just about cutting the cost of what goes into each sale – important as that is – it's about maintaining service standards. Consumers can see that lower prices come with a costless service. They want service. That's why they've gone to store.

Connected Retail is all about delivering the cost savings and efficiencies, while empowering store associates to be able to do more selling on the shop floor. The technology – like handheld devices which show stock levels, enable orders, and take payment on the go – frees them to upsell, cross-sell and… plan old sell! Even in the time of rising online sales, people buy from people.
And, at a time when recruitment can be a problem, technology (cleverly deployed) means you can do more with fewer staff on the shop floor. Staff-less operational excellence means your people are better able to focus on customers. What does that mean?
Shelves that alert the stockroom that products are running low and need to be restocked. Recycling bins that tell you they are about to be full and need emptying. Fridges that alert you to both stock levels and any temperature fluctuations which demand attention. Systems that know where stock is in the warehouse, in transit, or on order and transmit that data to handheld devices used by staff on the shop floor. Queue management systems that boost self-checkout coverage, or alert staff to man tills before queues begin to grow.
You can now deploy your resources efficiently and – most importantly – cleverly so that you can leverage the power of real-time information that empowers staff in real time. When a customer asks a question about a product, they have the information; how it works, what stock levels are like, where they can get a different color or make or size, how it can be delivered or configured or personalized.
That's the information and support which delivers sales. It also empowers retailers to manage their stores efficiently and productively hour by hour, day by day. The key is, of course, data. So, it's vital that the stores – individually and as part of your estate – are connected seamlessly, securely, and with real-time visibility.
And all because closing the sale is the key. Empower your staff to make more sales. Deploy technology to automate, alert, and inform to make more sales. Let your staff do what they do best – make the sale.
That's Connected Retail brought to (profitable) life.
Outcome Story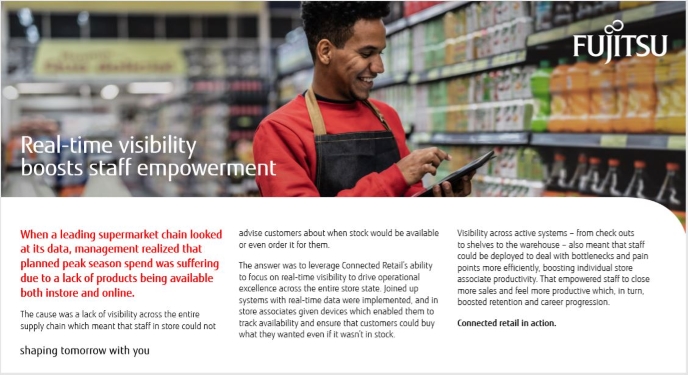 Real-time visibility boosts staff empowerment
When a leading supermarket chain looked as its data, management realized that planned peak season spend was suffering due to lack of products being available both instore and online.