Frictionless shopping
Open, closed, or in between – modern connected retail is all about making it easy for consumers to engage with your brand and your goods. And that means reducing any kind of friction between the consumer's desire and the final checkout.
At Fujitsu, we're focused on friction reduction via digital means. And digital can ease the shopper from intent to completed checkout with ease.
Jan Stoetzel, Fujitsu´s Global Head of Marketing for Retail, links the easy flow of information across your operations to delivering more sales in his new blog below:
Blog
The fiction of friction: make closing the sale easy any time, all the time
The obvious answer to delivering frictionless shopping is speeding up lines at the check-out by using automation, AI, RFID tags, and emulating the Amazon Go model that hit the headlines not so long ago.

The technology isn't the only answer to friction, it's how you balance the need of customers instore and online for a rewarding, easy experience. First, you need to start with that – the experience – and then apply the tech to remove any obstacle (however small) between desire, decision, and debit-card.

That means focusing on the pain-points in store, online, or anywhere in between. It also means understanding that shopping is never done in a straight line. It's easy to get too focused on a linear view of the customer – especially when you're working inside a retail operation – and plan your strategy based on a customer taking a seemingly logical journey from desire to purchase. They don't. You don't. None of us do.
We get an idea we need something, we browse, we go into a store, we touch the product, perhaps ask for more information, then we go home because we can't quite decide. We browse some more, we go back to the store perhaps, make the purchase… or not. Then we're lying in bed checking the news or Facebook and suddenly get the urge to make that purchase from the first place we looked. The UK's John Lewis revealed that purchase made between midnight and 6am jumped by 23% in just a year! That's Connected Retail enabling your store to close sales even when the store is… closed!
Connected Retail make it easy to switch from real world to virtual and back again, in person or on any device. It means understanding that the customer's devices are key to the entire experience. It's important to offer them premium services and/or access to advice, offers, and information, as well as effortless payment that's secure and protects their personal data.
In store, it's about making the check-out experience smooth; avoiding queues is vital, but not just by automating tills (though that's important). It also means enabling store associates to take payment on mobile devices anywhere across the store, from the aisles to the café to the fitting room. The point is to make everywhere a store – your device through to the physical shop. It works.
And when you do automate a check-out remove the potential friction points that inevitably come with the technology: checking age for restricted goods and ensuring people don't swap bar codes to defraud you. That's possible with AI and cameras that understand the difference between a bunch of bananas and a bottle of champagne.
Of course, the fully automated store - where there are no check-outs products are tagged and logged by AI enabled cameras - is coming. But not just yet. Also, it's not appropriate for every kind of retail operation. I believe that the Amazon Go model will work for convenience store – small ones – but not for clothes or electrical goods or… furniture (though you never know!).
Sometimes, it's good to let the customer go slow. That's why I stress that speed isn't the point. Friction isn't about speeding customers to the tills or the online checkout. It's about enabling them to take their time whilst giving them the chance to buy what they want easily, without delay or complication. No pain - just gain.
That's true frictionless shopping. A totally connected retail outlet (real or virtual) that's seamlessly connected to everything behind the product (stock, range, personalization) and everything in front of it (delivery options, customer support, returns, replacements etc.)
That's how Connected Retail reduces friction, closes sales, and boosts revenues – even when you're closed!
Outcome Story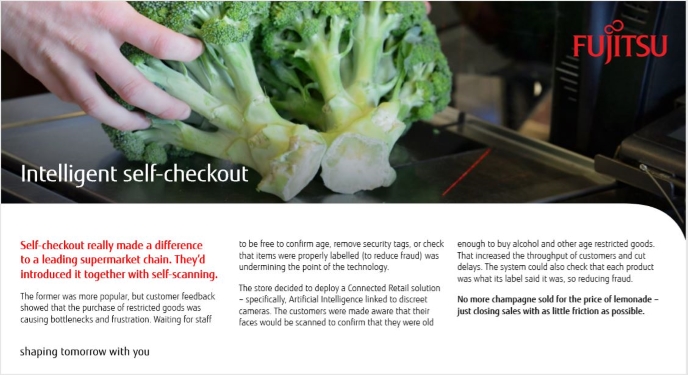 Intelligent self-checkout
Self-checkout really made a difference to a leading supermarket chain. They'd introduce it together with self-scanning