International Media Program
This year's Fujitsu Forum Munich 2019 event is underlining the theme of Driving a Trusted Future. The international Fujitsu Forum media program is rich with examples of how Fujitsu, together with its customers are combining technology know-how with specialist business insights to co-create effective solutions to today's business challenges.
On November 5th, one day prior to the official start of the event, Fujitsu will be hosting business, tech and channel media at its annual international flagship conference held in Munich, Germany. Journalists will have the opportunity to participate in face-to-face discussions and demonstrations showcasing Fujitsu's capabilities of supporting Digital Transformation in a unique, co-creation-based, customer-centric environment.
Fujitsu Forum media program
Highlights of the media program include:
Access to insights from Fujitsu executives, subject matter experts, customers and industry experts
A dedicated media track with deep-dive sessions focused on key technology trends including AI and Fujitsu's revolutionary Digital Annealer
A bespoke one-to-one briefings schedule with our key spokespeople
Participation in Co-creation workshops for first-hand experience of Fujitsu's successful human centric experience design (HXD) methodology and collaborative co-creation approach that we use with our customers and partners
Access to the Fujitsu Forum's packed program of inspirational keynotes, expert talks, customer insights, thought-provoking breakout sessions and demonstrations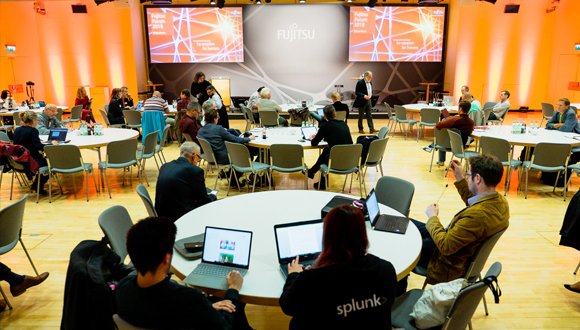 Press area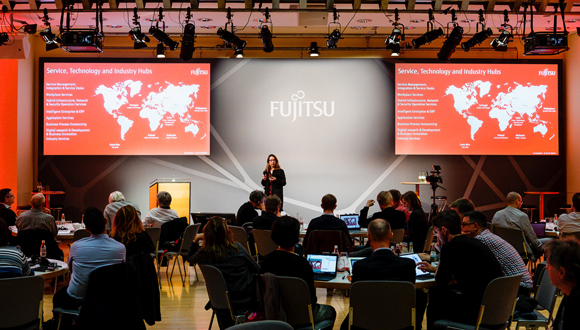 As a registered journalist, you will have access to our press lounge, where you will find space to work and find refreshments throughout the duration of the Fujitsu Forum. There will be a PR reception desk located adjacent to the press lounge, where our PR team will be on hand to answer any questions you may have, and provide any follow-up information you may need.
Registration
Space is limited, please secure your participation as early as possible – please register
Twitter / Social Media
Attendees of Fujitsu Forum media day are invited to attend the Fujitsu Social media Night. Before, during and after your visit to the Fujitsu Forum you can follow our social media feeds and blog posts here #FujitsuForum.
Session Overview:
Fujitsu Forum Munich International Media Program - November 5-6, 2019
This document gives you a brief outline of all the international media session
Time

November 5, 2019

12:45

Welcome to Fujitsu Media Day

The Fujitsu Leadership Team will present their respective vision and strategy for CE, NWE and the Global Service Delivery Unit, sharing top-of-mind and personal highlights at Fujitsu Forum.

13:00

Innovation and R&D strategy session with Fujitsu Laboratories

The Fujitsu Laboratories' media session will cover the spectrum of the Labs' R&D activities and strategy, including the latest technologies, and new developments in AI collaboration between Fujitsu and INRIA (the French National Institute for computer science and applied mathematics).

13:00

Workplace Transformation media roundtable/survey launch

At Fujitsu's request, the Economist Intelligence Unit is undertaking a survey-driven research project examining the topic of strategic workforce transformation. In this session, we will be analyzing if companies that have undergone workforce transformation in pursuit of strategic goals will have been more successful in both, taking a closer look at which strategic objectives are best served through workforce transformation, the impact of technology and the demographic make-up of a company's workforce and what transformation initiatives organizations should prioritize.

14:00

Digital Annealer media roundtable

There is a widespread real-world demand for the ability to choose the most optimal solution from a number of different feasible options, which are classified as combinatorial optimization problems – essentially finding the best combination from an enormous set of potential elements.

Using quantum-inspired computing technology, Fujitsu's Digital Annealer computational architecture paves the way for much faster, more accurate business approaches; making Digital Annealer the most powerful and economically viable acceleration technology. This panel of industry experts will evaluate status of quantum-inspired technology is poised to revolutionize industries and proofs its capabalities with 2 concret customer projects.

14:00

International Channel media roundtable

While AI and Deep Learning can take enterprise efficiency to a new level, it can require significant investment in AI platforms before the benefits can be realized. Whether we talk about a traditional distributor, a service provider or partners who are trying to pave the way for digitization, in this session, Fujitsu reveals the cards: Is AI only for big business? How do customers position themselves? What drives customers and how partners can play a role? What is the impact in the product world, and what opportunities are created which translate into real business? How partners can position themselves? Which technologies, skills and above all: business cases have to be considered? How do partners and the channel deal with the topic? What feedback does the customer get from our daily AI business? What are the requirements? And much more.

14:15

Co-Creation Workshop: Creating an AI based strategy for media to deliver even greater audience trust and relevance

This co-creation workshop based on its unique HXD digital transformation methodology will offer journalists a competitive advantage in their actual work. Objective of the session is to provide media with a toolset of the methodology used, based on a relevant topic that should impact their future working.

15:30

Artificial Intelligence panel discussion

For businesses worldwide, artificial intelligence has become an indispensable and widely used tool with the power to deliver competitive advantage. The most effective method in AI has been found to be Deep Learning which makes the computation of multi-layered neural networks feasible. Widely adopted across multiple industries, deep learning provides the technology needed to work with extremely large data sets, enabling businesses to address a wide range of areas. A proof point is the Zinrai Deep Learning System powered by Deep Learning Unit (DLU) which will be introduced during the panel.

Futhermore this panel of industry experts will evaluate how the Artificial intelligence will change business, will introduce new technology and showcases use cases with real customer examples.

15:30

Co-Creation Workshop: Createing an AI based strategy for media to deliver even greater audience trust and relevance

This co-creation workshop based on its unique HXD digital transformation methodology will offer journalists a competitive advantage in their actual work. Objective of the session is to provide media with a toolset of the methodology used, based on a relevant topic that should impact their future working.

16:30
What's on the CTO's mind? With Dr J. Reger
17:30
Evening Event: Trust in the Age of Fake News (Social Media Night)

Time

November 6, 2019

9:00
Guided Tour of the Demo Center
11:00
Main keynote attendance
14:00

Service Provider Program media roundtable (with partner speaker)

Co-creating better solutions together: Service Providers around the world are under pressure to offer their customers high value service offerings. Recognizing the complexity and time to put those services together, Fujitsu opened up access to its powerful, worldwide ecosystem of 30,000 partners. The approach allows partners to make use of other capabilities and provide a comprehensive solution to their customers. During the media session, journalist will be guided through this micro-alliance approach and learn how service providers co-created solutions to deliver AI offerings or full datacenter services to their datacenter.