Hybrid Cloud – Data Center Services


The changing role of the data center within a Hybrid IT environment.

Fujitsu provides secure, high availability data centers equipped for Hybrid Cloud computing. We have over 5 decades of data center experience, and were the first service provider in Europe to be awarded the Uptime Institute Gold Operational sustainability award.
We are a leader in the Gartner Magic Quadrant for Data Center Outsourcing.
Our data centers are certified as Tier III by the Uptime Institute.
Over the last few years we have seen the market for Cloud based services increase and grow. This has led to a change in the way IT services are provisioned and delivered, which has had significant implications for the traditional data center.
With a shift to the Hybrid Cloud model, data centers must evolve and change in order to manage the complexity of a Hybrid IT environment. A data center that's equipped for Hybrid IT blends the best of cloud and on-premises IT, to drive forward innovation and enable agile service delivery.
The future of the Hybrid IT data center
Most organizations' legacy data centers aren't fit for purpose in a Hybrid Cloud world. In the majority of cases, they're costly to run and lack the flexibility to support dynamic and rapidly changing business needs.
A Hybrid IT data center needs to deliver agility, compliance and security for both physical and cloud-hosted services. It must provide an environment capable of delivering data and applications to people and devices securely and effectively.
The traditional data center must therefore be optimized, and become significantly more cloud-like in the way it operates. This requires automation and consolidation of data center infrastructure to improve operational costs, increase flexibility and rapidly scale IT systems and services up or down on demand.
Fujitsu data center transformation

Fujitsu data center services are designed to complement your in-house expertise.

Using our

Hybrid IT Transformation Blueprint

, our experts analyze your data center based systems before developing a transformation plan. We provide you with fact-based advice to enable you to move forward and capitalize on the value of Hybrid IT.

We modernize and migrate your data center services to deliver efficiencies and meet your compliance and security needs. We enable you to;
lower your costs
lower your system deployment times
improve your service levels
increase your efficiency
Fujitsu outsourced data center services
For organizations wanting to outsource and reduce their data center expenditure, we provide fully
managed data centers
that deliver highly available, secure, flexible and efficient solutions with unrivalled connectivity. We deliver a state-of-the-art data center environment for all your mission critical IT and network infrastructure.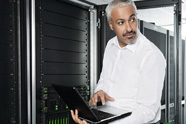 The future of the data centre in the age of Hybrid IT
(PDF 2.83MB) (1.20 MB )
A data centre equipped for the Hybrid IT era blends the best of cloud and on-premise to drive innovation.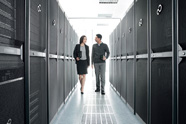 7 top data security risks for Hybrid IT - and how to tackle them (PDF 2.68MB) (2.83 MB )
Learn how to tackle new security challenges and unlock the benefits of the cloud and Hybrid IT.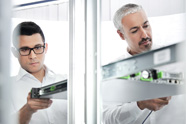 The new security challenges for delivering bimodal IT (PDF 1.20MB) (499 KB)
Tackling security challenges around bimodal IT delivery will enable businesses to unlock the benefits of the cloud and Hybrid IT.

Top of Page