Sponsorship Activities
We take part in a variety of Sponsorship activities.
Sponsorship of Kawasaki Frontale SDGs food drive
Kawasaki Frontale holds food drive at every home game. Food drives are activities in which people bring unused food that cannot be consumed at home and donate it to food bank groups and local welfare facilities. The food collected at Kawasaki Frontale SDGs food drive will be distributed to local welfare facilities and people in need of food through Food Bank Kawasaki (Tama-ku, Kawasaki City).
We sympathize with these activities and support the Kawasaki Frontale SDGs food drive in the 2023 season.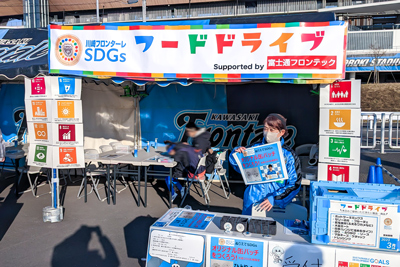 Kawasaki Frontale SDGs food drive Booth
As part of their activities, we have also set up collection boxes within Fujitsu Frontech to bring unused food items that cannot be used up in employees' homes and donate them.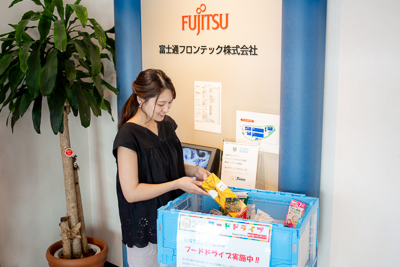 Collection boxes within Fujitsu Frontech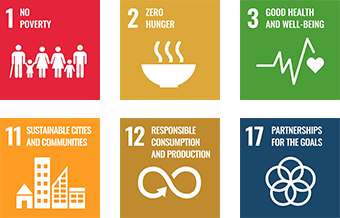 Sponsorship of the Japan Amputee Football Championship
Amputee Football is football for persons having upper and lower extremity amputations. Many sports for persons having amputations use special equipment, but amputee football can be played with lofstrand crutches on which they usually use for daily life and rehabilitations. For this reason, persons having amputations can have an easy access to amputee football, and can enjoy the world-class sport.
The Japan Amputee Football Championship has been held since 2011, and our company is a co-sponsor of the 9th championship in 2019 and the 10th championship in 2022.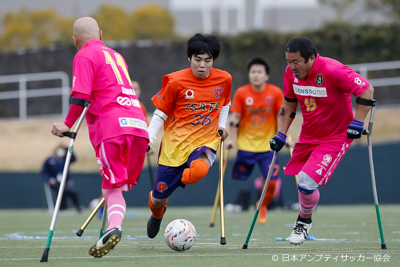 Amputee Football play

BOOK MAGIC (Donations of Used Books, etc.)
We collect the used books and CDs, etc. lying around in the house or office, which will not be read or listened anymore, and donate the sales to the NPO, JEN (Japan Emergency NGO), who organizes the BOOK MAGIC. The fund earned from the donated items is used to build schools in the developing countries.
We've joined this activity since FY2014, and ever been able to donate a total of about 276,000 JPY. (As of the end of March 2023.)
Incidentally, in FY2022, we started a scheme which enables employees to easily participate in this event by donating items directly from their homes.
The letter of thanks

Donations of Used Postal Stamps, etc.
Since 2005, we have continuously collected used postal stamps and unused postal cards, etc., and donated to a foundation named "The Defense of Green Earth Foundation" once a year. The fund earned from the donated items is used to help tree-planting activities in Asia and Africa, where deforestation is very significant.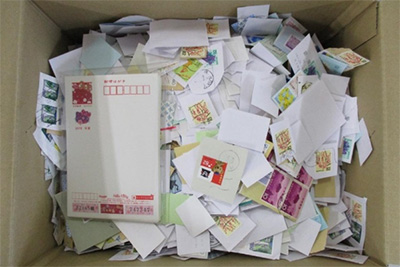 Collected postal stamps, etc.
Donations of Ring-pulls for Wheel Chairs
In Headquarter Branch of Fujitsu Frontech Labor Union, we collect ring-pulls of drink cans, and donate them to the NPO named "Ring-pulls Recycling Network", by participating in the activity of Fuji Electric Labor Union. Donated ring-pulls are sold for recycled resources, and the fund is used to purchase wheel chairs, which are donated to councils of social welfare, etc. in local community.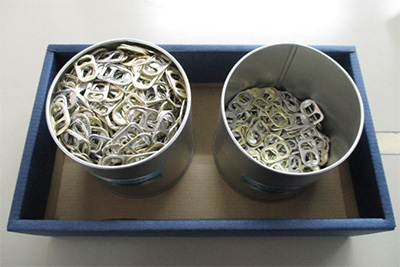 Collected ring-pulls

Delivery of Vaccines with PET-bottle Caps
We have continuously participated in the activity of collecting PET bottle caps, that an NPO named "Re Life-style" sponsors.
Collected caps are sold by way of the NPO, and the money is spent for vaccines to save children living in struggling countries.
Since starting this activity in November 2015, we have been able to donate a total of 926,000 caps which are equal to vaccines of 1,858 people. (As of the end of March 2023.)
Incidentally, Fujitsu Frontech Limited received a letter of thanks from the NPO in July 2016, and Fujitsu Frontech Systems Limited (FJFS) also received it in July 2017, as a result of our efforts.
The letters of thanks

Green Fund
In our Niigata Plant, we have continuously implemented the fund raising every year since FY2007, to support "Green Fund" activity sponsored by a public interest incorporated association named "Niigata Green 100-year Tale Promotion Committee". We provide the employees who donated, with the seeds of bitter melons and morning glories which have grown in "green curtain", in return.
And, Totalizator Engineering Limited (TEL), our Group company inside Japan, has continuously supported "Green Fund" sponsored by a public interest incorporated association named "National Land Afforestation Promotion Organization", since FY2002. TEL has ever donated a total of 333,559 JPY. (As of the end of March 2023.)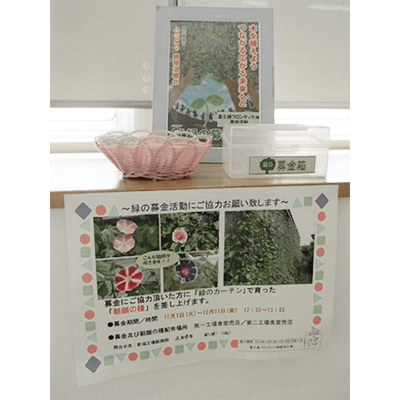 A booth of "Green Fund" (Niigata Plant)
Donations of PCs, etc.
Fujitsu Frontech Systems Limited (FJFS), in time of replacing into new PCs, not discharges old PCs but donates to welfare facilities for people with physical disabilities, etc. within Maebashi-shi, Gunma Prefecture, in the purpose of utilization of PCs in the local community.
Incidentally, in March 2018, FJFS received a letter of thanks from Council of Social Welfare of Maebashi-shi, because of this effort. In addition, it also received letters of thanks from a total of 21 welfare facilities, because of donating 1,700 dotch files in FY2018.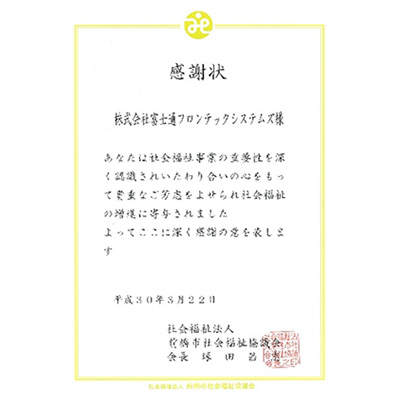 The letter of thanks